The 18th Annual IREM-LA Forecast Breakfast held at the Ritz Carlton at LA Live and themed "Breaking Barriers" garnered praise from over 400 attendees in the real estate industry.
First up was Christopher Thornberg, founding principal of Beacon Economics who assured the audience that things are improving for 2012 based on the upward trend of 2011 end results. This momentum should hold and carry the economy to a better position this year. .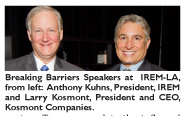 Tim Leiweke, President and CEO of AEG offered exciting predictions and with the future plans Los Angeles will become a destination city. He is hoping the private sector will step up and follow the lead of his company, AEG, which has spurred negotiations with the NFL to build Farmer's Field, paid for by AEG and not tax payers costs. This in turn will necitate 10,000 hotel rooms to be built and expansion of the convention center. To accommodate the influx of entertainment, convention, and sporting events AEG will update and expand the downtown area - all for the good of the city.
Larry Kosmont, President and CEO of the Kosmont companies acted as moderator for the panel which consisted of Carol Schatz, President of Central City Association, Bert Dezzetti, Senior Vice President of Brookfield Office Properties and Michael LoGrand Director of the LA City Planning Department. Kosmont's question to that panel was related to the critical mass of downtown investment.
Schatz commented on how the Adaptive Reuse Ordinance enabled productive conversion of antiquated Class B and C office buildings into vibrant mixed use and residential buildings, which reduced the overhang of vacant space, office space and downtown LA while attracting 10,000 new residents with incomes in excess of over $85,000 per year.
type retail center that Dezzutti is working on) He indicated that City will include a brand new urban type Target, geared to city dwellers including fashion forward offerings as well as other basics for downtown living. He also mentioned that food offerings were going to be diverse and upscale, as there are many new dining concepts that are interested in downtown LA which is becoming the restaurant center for Southern California.