Bryan Urias Elected President of Upper District Board of Directors At its first meeting of 2012, the Upper San Gabriel Valley Municipal Water District (Upper District) Board of Directors in unanimity voted for their colleague, Bryan Urias to be the new President of their Board. "I am honored to accept the position of President of the Board of Directors and to be able to lead Upper District in this great time of opportunities. I am especially excited to lead at a time when Upper District is committed to implement innovative solutions that will lead the San Gabriel Valley to greater water independence and reliability. I appreciate Board member Charles Trevino's efforts to help set Upper District on such course", Urias stated after his election.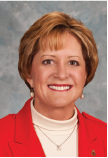 Sally M. Bixby, president of the Tournament of Roses Association, announced the leadership and organizational structure for the 2012-2013 Tournament year. Laura V. Farber, a Tournament volunteer since 1993, was elected to the Executive Committee and will serve as the Tournament's president in 2020. She will provide leadership for the 131st Rose Parade and 106th Rose Bowl Game on Jan. 1, 2020.
Farber most recently served as the chairman of Formation Area. She was appointed a Tournament Chairperson in 2004 and a Tournament Director in 2010.
Farber is a partner in the Pasadena law firm of Hahn & Hahn where she practices civil litigation with an emphasis in employment disputes.
Vaco Los Angeles LLC, a leading consulting firm specializing in financial systems, tax, audit and technology pla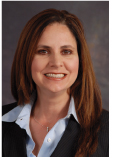 cements, recently announced that Frances Moreno was named a finalist in the Third Annual Latino Business Awards which seeks business professionals and companies throughout the Los Angeles area that set an example for excellence. Frances was recognized as the managing partner of Vaco Los Angeles, a consulting and executive search firm she co-founded six years ago to serve the community in the greater Los Angeles marketplace. Frances's firm was voted #1 Best Place to Work in Los Angeles in 2009 and 2011 and was also recognized in 2010 on this prestigious list. Frances and her firm were recognized in the privately held companies category for businesses earning $10M to $20M in revenues.
Further information on Vaco ,visit www.vaco.com/los-angeles.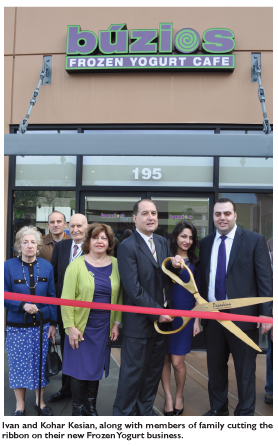 Buzau's Frozen Yogurt at 2345 East Colorado Boulevard (at Sierra Madre) in Pasadena opened with a ribbon cutting celebration. Assisting in the celebration was
The Pasadena Chamber Ambassadors Pictured here are Ivan Kesian and his family cutting the ribbon on their new business then offering samples of Buzio's delicious frozen yogurt to guests. Buzio's is a family business that serves frozen yogurt in a variety of custom flavors with many tasty toppings to choose from.
Stephen Millard was seated today as a member of the board
of directors of the Metropolitan Water District of Southern California.
Millard represents the Upper San Gabriel Valley Municipal Water District on
Metropolitan's 37-member board.. He was unanimously appointed to the Metropolitan board post by USGVMWD's Board of Directors.Metropolitan board Chairman John V. Foley appointed Millard to the board's Engineering and Operations Committee and Finance and Insurance Committee. A Covina native, Millard retired as a contracts manager with the Conrac Corp. in Duarte.