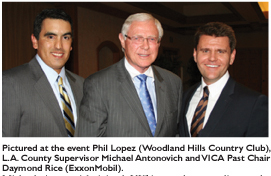 Michael Antonovich joined VICA members to discuss the many challenges facing the County of Los Angeles. During Wednesday's VICA After Dark reception, presented and hosted by Woodland Hills Country Club, Antonovich shared the local problems created by realignment—the shift of state prisoners to county jails. He discussed abuses to the pension system that are costing taxpayers money, the high unemployment rate in L.A. County and how California's regulation-heavy climate is unfriendly to businesses. Antonovich also compared the workings of the Board of Supervisors with the state Legislature and L.A. City Council, citing that the county governing body operates much more efficiently and collaboratively than the others.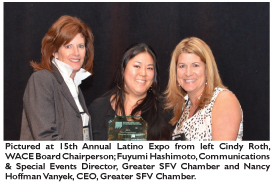 The 15th Annual Latino Expo, an event produced by the Greater San Fernando Valley Chamber of Commerce, brought home a national award this month. The Western Association of Chamber Executives honored the Latino Expo as "Program of the Year" under its Core Competency awards for promoting the community and creating a strong local economy. Wilsonville's organization was one of two winners at the association's annual conference.. Greater San Fernando Valley's Latino Expo was one of two winners at the association's annual conference in February in Las Vegas. The Latino Expo was created over 15 years ago to help businesses market themselves to a new demographic. Since then, the event has grown to be the Southland's only Latino expo of its kind connecting businesses with potential customers. Fuyumi Hashimoto, the Chamber's Communications & Special Events Director, said that the Latino Expo has become an example for other chambers. "People are asking if they can learn from us. They want to implement a similar program in their community." For more information contact Nancy Hoffman Vanyek, CEO at (818) 989-0300.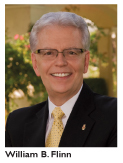 The Pasadena Tournament of Roses recently announced that William B. Flinn will assume the role of executive director, effective March 1, 2012. Flinn has been serving as both interim executive director and chief operating officer since September 2011. "Bill Flinn has demonstrated a unique combination of historical perspective, innovation, relationship building and commitment to excellence that we value," said Tournament of Roses President and Chairman of the Board Sally M. Bixby. "We are excited to work together as we plan for the future." Joining the Tournament of Roses staff as the director of public relations, Flinn served in various management positions before being named chief operating officer in 1997. As COO, he has been responsible for overseeing the Tournament's public and media relations, marketing, licensing, government relations, parade television broadcasting, membership services, procurement, and services to the Tournament's corporate and civic participants. Further information on the Tournament of Roses, visit www.Tournamentofroses.com.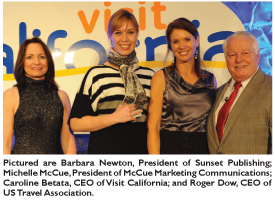 McCue Marketing Communications (MMC) scored the win for its multifaceted "California Wine Month" campaign. At the dinner gala hosted by state tourism board "Visit California", MMC was awarded Best Public Relations Campaign for Excellence in Tourism Marketing.. "We are honored to be recognized by our marketing industry peers, especially in light of the admirable work displayed by the other award finalists," says MMC President Michelle McCue. We are very fortunate to have the Temecula Valley Winegrowers Association as a client, as they allow us the creative freedom and resources to design award-winning campaigns like this." Further information about McCue Marketing Communications, visit www.mccuecommunications.com.

The Corporation for National and Community Service (CNCS) and the U.S. Department of Education honored California Lutheran University (CLU) as a leader in volunteering, service learning and civic engagement. CLU was named to the 2012 President's Higher Education Community Service Honor Roll for engaging students, faculty and staff in meaningful service. About 2,400 CLU students completed a total of 44,000 community service hours in the 2010-2011 year. CLU faculty members provide service-learning opportunities as part of the effort to help students find their vocations. More than 60 students and faculty members in the Global Studies Program identified challenges facing immigrant communities and researched solutions. Seventy-five graduate psychology students counseled more than 200 low-income residents through the Community Counseling and Parent Child Study Center. The Intimate Partner Violence Intervention Program assisted more than 150 adults and 84 children. Fifty financial-planning students and faculty members provided free information to low-income women online. Volunteers recruited through CLU's Community Service Center contributed more than 10,000 service hours through 39 programs. Many CLU students spent their breaks rebuilding homes destroyed by hurricanes on the Gulf Coast and participating in a service mission in El Salvador._CNCS launched the Honor Roll in 2006 and oversees it in collaboration with the U.S. Department of Education, the U.S. Department of Housing and Urban Development, Campus Compact and the American Council on Education.

Elizabeth Manasserian, President of Glendale Council PTA, was awarded the highest PTA award; The National PTA Life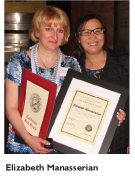 Achievement Award on Thursday, February 23 at the Glendale Council PTA's Founder's Day event at Hoover High School. Presenter Lynn Miyamoto, President of the First District PTA, read the multiple accomplishments, honors and awards received by Manasserian, who has volunteered for the Glendale community for years. Typically, the recipient of The National PTA Life Achievement award is someone who has given outstanding service to children and has promoted children's well-being by serving as an advocate for children in areas such as health, education, safety or legislation.