By: William R. Boyd, Jr.



The Tri-Cities (Burbank, Glendale and Pasadena) office market continued to experience enough leasing activity in 2011 to result in a decrease in vacancy to 18.2% from the 19.7% vacancy one year ago.
The dramatic turnaround in leasing activity created a positive net absorption of 192,600 square feet of office space in the Tri-Cities market during 2011 compared to negative absorption (tenants moving out of space) of 451,600 square feet in 2010.
Burbank and Glendale were the most popular cities for tenants in 2011 as Burbank had a positive net absorption of 235,000 square feet and Glendale at 84,000 square feet when both cities had negative absorption the year before. Pasadena's negative absorption of 21,000 square feet in 2011 was at least not as much as the 163,000 square feet of vacated space it experienced the year before.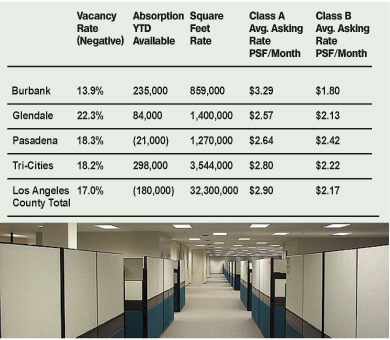 The positive absorption of office space in Burbank and Glendale was the result of some very significant major lease transactions in 2011. The offices of KCET relocated its headquarters to The Pointe development in Burbank while the long time Pasadena law firm Christie, Parking and Hale relocated to Glendale at the end of last year.
Most observers feel the worst is over for the Tri-City office market and most commercial real estate professionals believe the positive news for the Tri-City office market may continue this trend although modestly. "Several tenants within the Tri-Cities will be relocating to other buildings as effective rents continue to decline. However, that leasing activity will not reduce the Tri-Cities vacancy," said Mark Miller of Stevenson Commercial Real Estate, a Glendale firm.
The amount of Tri-Cities office space vacancy, 3.5 million square feet within the 19.4 million square feet total, and slow leasing activity is creating outstanding office space opportunities for those few tenants in the market seeking office space or those tenants looking to renew their current lease obligation. Glendale's quoted average rental rate for Class A office space has dropped over the past year from $2.76 per square foot per month in July of 2010 on a fully serviced basis to $2.57 per square foot today. While Glendale's Galleria office tower has experienced 100% occupancy over the last two years it will have approximately 5,000 square feet available at a quoted rent of $2.25 per rentable square foot to entice a prospective tenant. Burbank and Pasadena quoted rental rates are $3.29 and $2.64, respectively.
The average asking rental rate for Class A office space in the Tri-Cities office market was at $2.80 per rentable square foot per month on a fully serviced basis as of the end of 2011 which is up slightly from the $2.78 per rentable square foot per month at the end of 2010. It appears that the "rent erosion" over the last few years may have subsided.