Whether you're hosting a party or just enjoying some down time with friends, delicious, slimmed-down snacks and small plates made with lean pork are the perfect solution for the health-conscious host.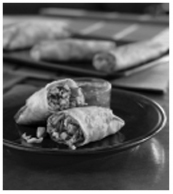 Chef and registered dietitian, Michelle Dudash explains the benefits of cooking with lean, delicious pork tenderloin. "Ounce for ounce, heart-healthy pork tenderloin is now as lean as a skinless chicken breast. That means you can enjoy serving a dish like Baked Pork Egg Rolls and still stay on track with your diet."

Try serving some of these slimmed down dipping sauces with them:

>Sesame Soy – Mix 6 tablespoons lower sodium soy sauce, 1/4 cup rice vinegar, 2 teaspoons sesame oil and 2 teaspoons honey or agave nectar.
>Hot and Sweet – 1 tablespoon Asian mustard, 2 tablespoons horseradish, 2 tablespoons red wine vinegar, 2 tablespoons lower sodium soy sauce, 1/2 teaspoon sweetener such as honey or agave nectar.

>Honey Apricot – Heat 1 cup honey, 3/4 cup low-sugar apricot preserves and 1/3 cup cold water in a sauce pan over low heat until boiling. Cool before serving.

>Sweet and Sour – Heat 1/2 cup low sugar pineapple preserves, 2 tablespoons vinegar, 2 tablespoons pineapple juice, 2 teaspoons soy sauce, 2 teaspoons ketchup, 1 1/2 teaspoons cornstarch and 1/2 teaspoon mild paprika over low heat until well blended and slightly thickened.

For more information, including recipes to help you maintain a healthy diet year-round, visit www.PorkBeinspired.com or www.Facebook.com/PorkBeinspired.