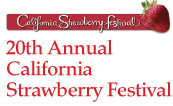 For a local weekend getaway jam-packed with delicious fun the California Strawberry Festival, on Saturday and Sunday, May 19 and 20th at Strawberry Meadows of College Park in Oxnard, is a sweet option, made even sweeter with a special group discount, available now through April.

Friends and families will enjoy more than 40 food booths sprouting with all things berry – from strawberry pizza and funnel cake to strawberry nachos, chocolate dipped strawberries, strawberry smoothies, and even a strawberry beer brewed just for the celebration. Best of all, piling on the calories only helps the cause when 100 percent of sales from non-profit food booths benefit 25 southland charities.

Whether you "build your own" strawberry shortcake or get blasted with a strawberry tart in the Tart Toss Contest, the fun is as plentiful as the celebrated fruit. An estimated 1.5 million strawberries will be consumed at the gathering and the region's finest strawberries are available for purchase by the pint or flat.

The Festival spans 50 acres where patrons can browse 250+ Fine Arts & Crafts exhibits, partake in gooey contests, enjoy concert performances on two stages, check out cooking demonstrations with Master Chef Adrien Nieto, view interactive displays, and more. Strawberryland For Kids offers an oasis for youngsters with free rides and attractions including the "Jest in Time" stage with puppet shows, magic tricks and comedy.



Among the top outdoor Festival's in the nation, the event has helped raise more than $3.5 million for various Southland charities while paying tribute to the region's agricultural heritage.

Oxnard is located 60 miles north of Los Angeles and 30 miles south of Santa Barbara. Taking advantage of the free Park & Ride "Strawberry Express" with shuttles from convenient locations off the 101 Fwy is the best way to get there. Limited parking is available on site for $10. Amtrak's special Festival weekend discount rates and kids ride free program works great with free shuttles meeting the trains (visit the CSF website for a direct discount link). Strawberry Meadows of College Park is located at 3250 S. Rose Avenue in Oxnard.

Groups of 20 or more who order tickers before April 30 will receive a $1 discount on all levels of ticket purchases. For more festival information, please visit www.strawberry-fest.org or 1-888-288-9242.