By: Laverne H. Bardy



For the more than 70 million baby boomers that are at or approaching retirement age, life has flown by rather quickly.

The general topic of aging is discussed from both a serious and comical aspect in each of the book's six sections. Through this compilation of columns, Bardy discusses her decision to end a 21-year marriage and re-enter the single life, which leads her to new encounters like singles dances where she meets some unforgettable personalities. She shares her often humorous adventures in dating from a vacation gone wrong to her relationship with a NASCAR fan who never quite got over Dale Earnhardt's untimely death.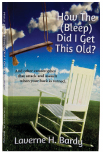 Gray hair, cataracts, increased doctors visits and other joys of aging have columns of their own where Bardy tries to understand when the transition from young adult to middle-aged took place, and how it flew by without her even noticing. Laughing with high school friends 50 years later and becoming enamored when an attractive guy tries getting her attention are a few of the lighter stories.

Bardy's column, "Laverne's View," has been syndicated with Senior Wire News Services since 2004. She builds on her popular column that has made readers laugh for years with more of her firsthand experiences into the world of aging. She hopes that the book can connect with her readers in the same way her column has.

"I want readers to read my book, and react as they have about my column for years. I want them to say, 'Yes, yes….Exactly! I thought I was the only one who felt that way. That's hilarious,'" Bardy says. "We're all going through the same experiences, and we only get to go through this journey once. We might as well enjoy it and laugh a little bit along the way."

Laverne H. Bardy, Author & Syndicated Humor Columnist. For information visit:
www.LaverneBardy.com or email: laverneb@ptd.net.