By: Elise Kalfayan



The American Nurses Association, public health agencies, and hospitals around the country and this region honored the critical role of nurses during National Nurses Week in May. The celebration begins each year on May 6 and ends on May 12, Florence Nightingale's birthday, as designated in 1974 by President Richard Nixon.

The nursing profession plays a critical role in patient care, coordination, and outcomes. The Centers for Disease Control notes that in the 2011 annual Gallup poll, nurses were rated the most trusted profession in the United States for the 12th time in 13 years!

Regional medical centers also understand the vital role nurses play in caring for patients. Local hospitals celebrated National Nurses Week with special activities and recognition of nurses' outstanding contributions.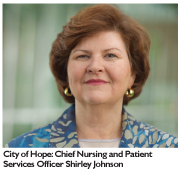 City of Hope's celebration was titled "Cultivating Nursing Excellence" and featured educational, recognition, and festive events, including a guided tour of City of Hope's landscaped gardens, a specially-prepared farm-to-table meal and farmer's market, an ice cream social, a seminar promoting excellence and leadership in nursing, and an official recognition ceremony.

Chief Nursing and Patient Services Officer Shirley Johnson said, "It is our honor to recognize our nurses for all that they do. At City of Hope, nurses drive innovation in cancer care deliver through a dedication to evidence-based practice: finding and applying the most widely recognized, rigorously tested approaches to caring for patients and their families. By reviewing the latest literature, research studies, clinical trials and mentoring each other, the nurses at City of Hope are constantly striving to improve the standard of care."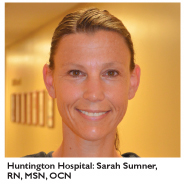 Huntington Hospital's nursing division received a Magnet® designation from the American Nurses Credentialing Center in 2001. Building on its outstanding work, the hospital has formed an academic partnership with Western Governors University online nursing program, continued nursing research initiatives funded by the National Institute of Health, increased specialty certified nurses from 12 percent (in 2009) to 32 percent currently, and just launched its Daisy Award for Nursing Excellence for the hospital's National Nurses Week celebration.

Sarah Sumner, RN, MSN, OCN, attended the National Magnet Conference in 2011, held in Baltimore, Maryland. "She came back to Huntington Hospital energized and eager to develop a structure that could be used to recognize the ongoing compassion, dedication and contributions of Huntington Hospital nurses. At the conference, Sarah learned about the Daisy Award and over the course of less than four months, working closely with administration and nurse leader Maureen Battle, RN, BSN, CNML, she established the Daisy Committee. Sarah has established a program that will enhance organizational growth and provide a venue for the community to recognize the value of nursing at Huntington Hospital," said Bonnie Kass, Vice President and Chief Nursing Executive.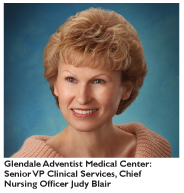 Glendale Adventist Medical Center's nurses use their skills and knowledge to extend the hospitals mission of sharing God's love with the community by promoting healing and wellness to the whole person. The hospital's care delivery is supporting by nursing practice that is evidence-based; nurses deliver whole person care through interdisciplinary, collaborative teamwork.

Senior VP of Patient Care Judy Blair honors the hospital's nurses as dedicated people playing many different roles. "From the Operating Room, Emergency Department, Cancer Center, or as Educators, each serves with a commitment to excellence, to care for patients with skill and compassion: every patient, every encounter. National Nurses Week is a great time to celebrate our nurses. Nurses nominate candidates and we choose a nurse for each of our service line areas, or 'neighborhoods' as well call them, to honor. We have special events all throughout the week, with messages, food delivered to the unit, a nurse recognition luncheon, gifts, and other events."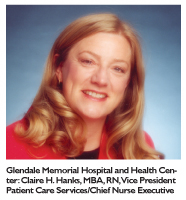 Glendale Memorial Hospital and Health Center is celebrating the success of its "Transformational Care" initiative launched more than a year ago with a core team led by a young staff nurse and comprised mostly of staff-level nurses. Improving the discharge process was one of the goals, and today nine out of 10 patients leave within 90 minutes of when a discharge order is written.

"This is an example of remarkable adaptability to achieve a goal," says Claire H. Hanks, MBA, RN, Vice President Patient Care Services/Chief Nurse Executive at Glendale Memorial Hospital. "It took the cooperation of hundreds of staff across multiple disciplines to achieve this five-fold improvement in discharge times."

"Not satisfied with our 90-minute target, we are setting our sites to become even more efficient and effective in the way we take care of patients," says Hanks. "In the end, our efforts are reflective of our mission: With caring and compassion, we will improve the health and quality of life of the people we serve."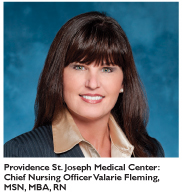 Providence Saint Joseph Medical Center encourages nurses to further their education by achieving graduate degrees, seek certifications in specialty fields, and participate in nursing research.

Chief Nursing Officer Valarie Fleming, MSN, MBA, RN believes in developing management from within the ranks. "We are on a relentless pursuit to constantly improve upon that excellence in nursing practice. We encourage our nurses to further their educations, we support their participation in nursing research. We are blessed with a team of more than 800 nurses, dedicated to our mission and core values, and we recognize our nurses every day for the work they do."

Long-time nurse Linda Lentz, RN, a wife and mother who had been with Providence Saint Joseph since 1977 serving in various capacities, including management positions, died suddenly of a stroke this year, and the hospital is honoring her posthumously. "Linda was known for her selfless nature in caring for patients and supporting her staff in the more difficult patient situations. She was a tenacious problem solver and never failed to jump in when she saw something that needed improvement. She also freely volunteered her time at a local homeless shelter, making meals for the less fortunate. We honor Linda as the model nurse, truly dedicated to her patients and their families and to her co-workers."

Business Life takes this opportunity to thank our community's nurses and also to recognize their critical contributions to regional health care delivery!