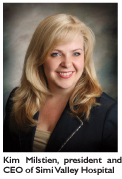 Kim Milstien, has been appointed president and CEO of Simi Valley Hospital (SVH), according to Bill Wing, senior vice president of Adventist Health and chairman of the board for the southern California facility "Kim's service to Adventist Health has been outstanding. Her strong leadership, commitment to our mission and familiarity with the Los Angeles area will benefit SVH," stated Wing. "Her strength is building new services through collaboration and relationships, which will allow SVH to meet more of the health needs in the community." No stranger to Simi Valley, Milstien began her career with Adventist Health at that hospital in 1996. In the intervening 16 years, she has also served in Adventist Health's Central California region and most recently at Glendale Adventist Medical Center (GAMC) in Glendale.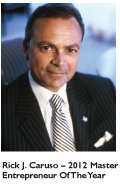 Ernst & Young LLP announced that Los Angeles developer and businessman Rick J. Caruso will receive the 2012 Master Entrepreneur Of The Year® Award for Greater Los Angeles. With this award, Caruso joins the ranks of past Master Entrepreneur Of The Year winners Earvin "Magic" Johnson, Alfred E. Mann, James Power and John E. Anderson. Caruso will receive this prestigious award during the Ernst & Young Entrepreneur Of The Year Awards gala in at the Beverly Hills Hilton on June 19, 2012.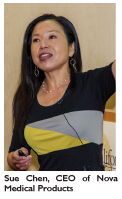 Sue Chen, the CEO of Nova Medical Products, spoke to nearly 200 people about "Leading with Passion to Change the World" at the final California Lutheran University Corporate Leaders Breakfast of 2011-2012. Chen was only 23 when she founded Nova in El Segundo in 1993. Chen is changing the look and perception of medical equipment and improving the lives of millions of Americans reliant on assistive devices by incorporating fashion and function in products such as designer canes and colorful walkers.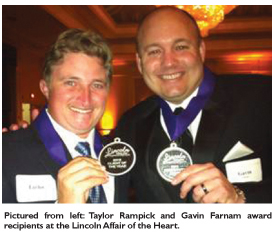 Lincoln Training Center's clients of the year and its honorees were recognized at the 28th Annual Affair of the Heart, Lincoln Center Honors, held at the Pacific Palms Hotel and Conference Center. Presented by National Certified Insurance. Lincoln Training Center (LTC) recognized Tania Pacheco, Taylor Rampick, and Meridith Blake as clients of the year for their outstanding service. Approximately 350 corporate and civic officials, community leaders, friends, and supporters attended, including Rep. Judy Chu (D-Calif.). The Westfield Group, received LTC's President Award. LTC and its clients perform grounds keeping and landscaping service for Westfield Shopping Centers. Currently, the Westfield Group employs 24 LTC clients, including client of the year Taylor Rampick. Also receiving awards were Superior Communication and Neufeld, Marks, & Gralnek. For more information visit www.lincolntc.org call (800) 949-4582.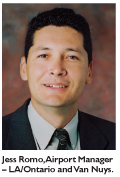 In an effort to provide increased coordination between divisions and improve continuity at Los Angeles World Airports (LAWA), Executive Director Gina Marie Lindsey has announced a structural change in reporting that involves two LAWA airports: LA/Ontario International (ONT) and Van Nuys (VNY) general aviation. Jess Romo, airport manager of both facilities, will report to LAWA's Chief Operating Officer Steve Martin in an effort to align the expanded duties associated with his position. ONT and VNY are part of a system of three Southern California airports – along with Los Angeles International – that are owned and operated by LAWA, a proprietary department of the City of Los Angeles that receives no funding from the City's general fund. VNY annually contributes approximately $1.3 billion annually to the Southern California economy and supports more than 12,000 jobs.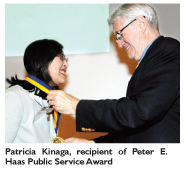 Patricia Kinaga was awarded the prestigious Peter E. Haas Public Service Award from the University of California by Berkeley's Chancellor Robert Birgeneau. This award is bestowed APIDC is the country's first advocacy organization to support Asian and Pacific Islanders with disabilities.




Excellence Awards to be recognized at the Chamber's Take Two – the 100th Inaugural Ball. Originally created in 1982, the Chamber reintroduced its Excellence Awards in 2011 after being retired for many years. They were brought back to recognize Chamber members for their extraordinary dedication to the community, business, and the Chamber. The following Excellence Awards will be presented: Chairman's Award of Excellence – VICA (Valley Industry and Commerce Association) Community Award of Excellence – Van Nuys Airport Chamber Award of Excellence – Law Offices of Asher A. Levin Committee Chairperson of the Year – Mary Helwig, Curves of Lake Balboa Volunteer of the Year – Mark L. Levinson, Attorney at Law Mendenhall Memorial Award – Bert Seneca, The Beverly Garland. For more information about the awardees or the celebration, contact the Chamber at (818) 989-0300 or visit www.sanfernandovalleychamber.com.