The North Valley center is one of six centers to replace the LA Business Assistance Program, which served the city for 11 years. In 2010, the Mayor's Office of Small Business and the Community Development Department realized that the LA Business Assistance Program was in need of improvement. The two offices worked together to find a new system that includes performance metrics to more efficiently track the success of the program as a whole.

The Valley Economic Development Center VEDC was chosen as one of the new Los Angeles BusinessSource Centers to service the West Valley Region. "We look forward to helping local businesses with Training, Consulting, and Access to Capital," commented Bob Holguin, VEDC's Director of Business Services who will be overseeing both offices. "We look forward to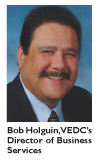 becoming partners in their efforts in the community and helping them to reach their growth and sustainability objectives to ultimately create more jobs in their communities."

"Thanks to the support and help from Valley Economic Development Center (VEDC) and the Business Centers Entrepreneurial Program (ETP) I was able to start my business and build strategic alliances to support other business," said Gail Lara, Founder/Owner Lara Unlimited LLC.

"The Business Centers Entrepreneurial Program (ETP) at VEDC allowed me to start a new chapter in life," said Lousine Karibian, CEO/Founder, The World Networks. "After being disabled from a previous job I decided to create my own business at which point I visited the VEDC for information. I was completely stunned to find valuable courses and resources being provided for FREE! I referred my friends and associates to take advantage of all the great resources VEDC has to offer to the community. Thanks to VEDC at age 24 I launched a corporation and my business continues to grow!"

For more information on the Los Angeles BusinessSource Centers visit www.LABusinessSource.org or call the West Valley Region office at (818) 705-9977.