TTG hosted its clients and staff for celebration of their new Pasadena office located at 300 North Lake Avenue. The evening was filled with fun festivities including a caricature artist, photo booth, and putting contest as well as a variety of delicious food stations. Also included were guest speakers: Jack Waizenegger, Assistant Director, Power System Engineering Division at LA Department of Water & Power; Douglas Sereno, Deputy Chief Harbor Engineer at Port of Long Beach; Douglas Failing, Executive Director at LA County MTA.
TTG President & CEO, Zareh Astourian commented, "The event was successful because we were honored by the participation of key executives of the largest governmental departments in Southern California and the support of a large number of clients and colleagues."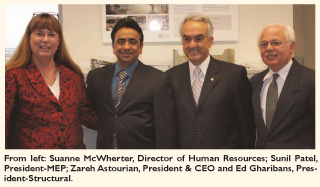 Through its comprehensive engineering services, TTG offers extensive experience to its clients. This is due to having engineered projects numbering more than 40,000, with an aggregate construction cost of over $40 billion of engineered systems. The firm has worked on numerous Aviation, Education, Government, Healthcare, Water & Wastewater, and Transit projects. A few of TTG's recent award winning projects include: The LAPD Headquarters Building (LEED Gold) in Los Angeles, CA; the Pasadena Department of Water & Power (LEED Gold) in Pasadena, CA; White Memorial Medical Center in Los Angeles, CA; Providence Holy Cross Medical Center in Mission Hills, CA (First LEED Certified Hospital In Southern California); and the Bradley West Terminal which is currently in construction at LAX.
A company privately owned by its active managers, TTG was established in California in 1955. It has a team of over 450 professionals throughout 13 locations in five States. TTG was ranked 7th Engineering Firm in the U.S. by Building Design + Construction Magazine in their Giant 300 Report issue. (2011). TTG's services include: structural, mechanical, electrical, plumbing, civil, bridge and fire protection engineering; telecommunications, commissioning, LEED, solar, and sustainability design; construction support services & strategic consulting.
For more information, please visit WWW.TTGCORP.COM