By: John Krikorian



Publisher John Krikorian with Business Life Magazine (BL), sat down with newly appointed District Director of SBA's Los Angeles District Office, Victor Parker (VP), for a question and answer session. The District Office is located in Glendale and covers all of Los Angeles & Ventura Counties.
BL- How have your first five months been on the job?
VP- It's been a learning experience. I've spent quite a bit of time meeting with the business community, lenders, small business owners, congressional leadership and other community-based organizations to take the pulse of the small business community. It's been enjoyable and it passed by quickly.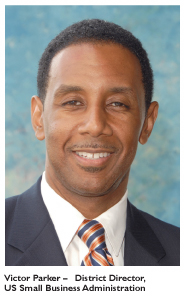 BL- When you began the job, was there something you wanted to accomplish your first or second year?
VP- The main thing I wanted to do is make sure the small business community had a grasp of what the SBA has to offer. Coming from the private sector, I know a lot of businesses could have utilized the services and programs of the SBA, if they had been aware of them. Also, helping small business access capital. The lending process has changed - based on the economy. So, making sure on the front end, how can SBA not only facilitate technical assistance but assist small business owner access capital. Those were the two main things from the outside looking in that were necessary to me.
BL- So now that you have been here for five months do those two concerns still hold true?
VP- Yes, but now there is another component. I'm proud that LADO is the largest market for SBA loans in the country in dollar volume but I would like to increase the number of actual loans. I would really like to see that because there are so many viable businesses that could use the capital to grow their business and hire employees. And, figure out a way to enhance our 8(a) Business Development Program in terms of government contracting. A lot of our 8(a) firms are good solid firms but they have had challenges obtaining government contracts. This will probably take longer than a year but part of my plan over the next two years, I would really like to see a way of increasing government contracting and see how we can further assist 8(a) firms.
BL- When you come to the office every day what motivates you?
VP- What motivates me is the need to help the small business community, get comfortable enough with knowing how to actually run their business…knowing that those owners and entrepreneurs are the ones that are going to drive our economy and recovery. And knowing that SBA has the tools and resources to grow their business, in some cases, sustain their business and ultimately create jobs. That gives me a lot of motivation and it's very rewarding.
BL- Did your private sector experience translate well into the SBA…did you work in a small business before?
VP- I came from a small business background…so I've spent the last twenty years working in small business. Ownership and the demands on a small business owner and wearing the multiple hats – I completely understand it…I get it. I think that has helped, because I can relate to small business owners when they come into talk and when they are looking for assistance. I know what they are going to say almost before they even say it, in certain cases. I understand their passion and their drive but it also gives me the ability to analyze the situation from both sides, and really know where they need the help. I think that has been a benefit in terms of having that understanding.
BL- What is the SBA doing right now to help small businesses through these tough times?
VP- We are doing a number of things. The Small Business Jobs Act with the increased loan limits has been great for small businesses. On the ground, one of the things we're doing is SBA's Capital Access leadership in Washington is going back and talking to the lenders and getting their feedback on how we can provide programs, and product if you will, that are a win, win. That is a win for the small businesses and a win for the lenders. I think it's great that we are going back and talking to the lenders and finding how we can improve our access to capital programs. The same thing for micro-lenders.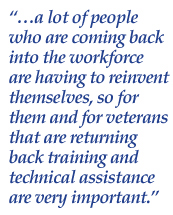 Also, a lot of people who are coming back into the workforce are having to reinvent themselves, so for them and for veterans that are returning back training and technical assistance are very important. For instance, the SBA is affiliated with UCLA Anderson School of Business with the Entrepreneurship Bootcamp for Veterans with Disabilities. This no-cost program is designed to assist veterans start businesses. SBA works closely with our extensive network of local resource partners such as our Small Business Development Centers, Women's Business Centers and SCORE Chapters of volunteer advisors. These local resources help entrepreneurs get their feet on the ground by providing long-term, one-on-one counseling to help them with all aspects of their business. Those are some of things we are doing overall as an Agency.