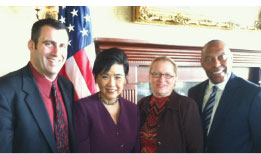 Foothill Workforce Investment Board(FWIB) and the Foothill Employment and Training Consortium held a joint meeting at the Altadena Town & Country Club. Keynote Speaker was Congresswoman Judy Chu. Rep. Chu serves on the House Judiciary Committee, were she is a member of the Crime, Terrorism and Homeland Security Subcommitee. She is also a member of the House Small Business Committee. Her comments covered Pasadena City College applying to become a Small Business Development Center (SBDC), Federal contracting for small business, women owned opportunities, along with other challenges for retooling to increase employment in the San Gabriel Valley. Pictured from left are: Tony Tartaglia, FWIB Chair, Public Affairs Manager So. California Gas Company; Hon. Judy Chu, Congresswoman 32nd District; Brenda Trainor, FWIB Vice Chair, President, Frontier Trail and Phil Dunn, Executive Director, FWIB.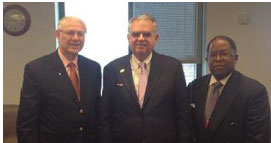 Supervisor Michael D. Antonovich, incoming MTA Chairman, and Supervisor Mark Ridley-Thomas met with U.S. Secretary of Transportation Ray La Hood to discuss the Light Rail Regional Connector, the Gold Line extension to the Ontario Airport, the Crenshaw Line to LAX,
Gerda Govine, Ed.D. was appointed by the five Los Angeles County Board of Supervisors as a member of the Commission for Women to serve a two-year term of office. The Commission is a 15-member body. There are 29 women's commissions in the State of California and 70 throughout the country. Dr. Govine was Executive Director of the Pasadena Commission on the Status of Women from 1983-1990. She spearheaded the formation of the Executive Director's forum as part of the National Association of Commission for Women (NACW) annual convention. She is the former National Director of Education for the NAACP and Assistant Dean of Continuing Education at Pace University in New York City. Dr. Govine was Honoree "Top 20 Women Achievers 1990-2010," Celebrating 20th Anniversary, Business Life Magazine. She has received numerous awards; among them was the Mary Lampsa for outstanding support and contributions to issues and programs impacting women from the Pasadena Commission on the Status of Women. Dr. Govine is CEO of G. Govine Consulting www.govineconsults.com.
The Cancer Care Guild established in honor of Dr. Norick Bogossian, who was a highly regarded plastic-reconstructive surgeon at Glendale Adventist Medical Center. With the help of the Guild members, including the board members: Karine Bagdasarian, President, Ramella Markarian, Vice-President, Donna Wammack-Treasurer and Christeil Gota-Secretary, collected more than $78,000 for the hospital's Cancer Center. Melina Thorpe, the Director the Cancer Services at Glendale Adventist Medical Center and guild members, have been instrumental in creating and offering cancer patients free wigs to counseling and the American Cancer Society's Look Good Feel Better Program. To learn more, please contact the Healthcare Foundation at Glendale Adventist Medical Center at (818) 409-8055 or visit us at Facebook.com/NB Guild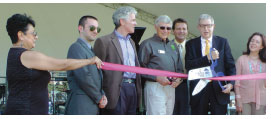 The Pasadena POPS moved into their new summer concert venue at the Los Angeles County Arboretum and Botanic Garden. This monumental event creates one of the most exciting entertainment options in the San Gabriel Valley. A ribbon cutting ceremony and grand unveiling of the brand new stage and shell constructed specifically for use at the Arboretum was presented. The presentation included a brief performance by Marvin Hamlisch. Present at the ribbon cutting shown from the left: Nina Montoya (Executive Assistant, Pasadena Symphony Association); Hovanes Gasparian (Field Representative with Assemblymember Anthony J. Portantino); Richard Schulhof (CEO, Los Angeles County Arboretum and Botanic Garden); Robert C. Harbicht (Mayor, City of Arcadia); Paul Jan Zdunek (CEO, Pasadena Symphony Association); Marvin Hamlisch (Principal Pops Conductor, Pasadena Symphony Association); Melinda Shea (President, Pasadena Symphony Association); Ivan Schustak (Marketing & Public Relations Manager, Pasadena Symphony Association)