By: Supervisor Michael D. Antonovich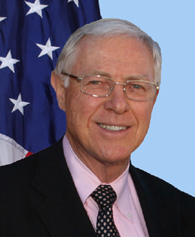 Chairman of the Los Angeles County Metropolitan Transportation Authority
To solve the transportation problems facing Los Angeles County's 88 cities and 134 unincorporated communities, what's needed is a regional approach -- as well as coordination with neighboring counties San Bernardino and Orange, that addresses cross-county transportation needs that affect mobility in Los Angeles County.
• Coordinate and upgrade regional rail in Southern California
• Connect regional airports to surface transportation
• Foster public-private partnerships
• Improve goods movement network
Gold Line Extension
While construction of the Foothill Extension to Azusa is under way, we have to address the funding gap that prevents us from extending the Foothill Gold Line to Ontario airport. On the south side of the San Gabriel Valley, we need to accelerate the construction of the Gold Line eastside extension to South El Monte to bring light rail to this underserved portion of Los Angeles County. The Measure R extension being discussed by the MTA board will provide no new money for the Foothill Extension until after 2055. It is possible to construct the Foothill Extension from Azusa to Claremont in an incremental, station-by-station approach if we were able to get smaller amounts of money over time. An MTA motion I authored in 2009 gives the Foothill Extension first priority to acquire new local, state and federal funding (excluding federal new starts) for construction of the project's next phase.
Regional Rail
The major problem we face is a lack of coordination and cooperation among our rail operators and the freight railroads to develop a rational, cost-effective and convenient rail system. Our focus should be to coordinate service on two 200- mile rail corridors that connect the counties of southern California – a north/south corridor between Lancaster and San Diego and an east/west corridor between Ventura and Indio. On the north/south corridor, Amtrak serves San Diego to Burbank, but not Lancaster.
Metrolink serves Lancaster to Oceanside, but not San Diego. Sprinter serves San Diego County but ends in Oceanside. On the east/west corridor, Metrolink serves Ventura to San Bernardino, but not Indio.
Amtrak service to Indio is not designed to accommodate effective travel between the desert and Los Angeles. We need to eliminate grade crossings, adding track capacity and increasing travel speeds.
Surface transportation and airports
Los Angeles County, and the Southern California region, is home to multiple airports that serve the national air traffic market. Unlike most major metropolitan areas in the United States, our airports are disconnected from regional rail, thus creating unnecessary traffic congestion and air pollution as a result of uncoordinated, decentralized regional air traffic. We need to connect the Green Line into the main terminals of Los Angeles International Airport, whether directly or via circulator. To correct this, MTA is working with Los Angeles World Airports, which operates LAX, and the Federal Aviation Administration to acquire the funding needed to link the future Crenshaw/LAX line into the airport. So far, LAWA has not committed to providing the funds to match the $200 million provided for this project through Measure R.
Ontario Airport
Ontario Airport must be developed into a stronger regional option for air travel for the San Gabriel Valley and the Inland Empire. It is time to transfer Ontario Airport from languishing under LAWA control to local control where it can be treated as a regional asset and a priority. Additionally, we need to link Ontario Airport into our regional transportation system more effectively by connecting the airport to the Metrolink lines which already pass by the airport. We also need to extend the Gold Line into Ontario Airport as currently planned to connect the San Gabriel valley from South Pasadena to Claremont into the airport.
Upgrade Metrolink and freight rail corridors
The San Gabriel Valley council of governments, MTA and SCAG have all approved my plan to study the Metrolink corridors between Los Angeles Union Station and the cities of San Bernardino and Riverside to identify upgrades that will allow for Metrolink trains to run safely at speeds up to 110 miles per hour, which is the federal railroad administration's standard for high speed rail. In the past year, Metrolink has conducted a successful pilot program to study express trains between San Bernardino and Los Angeles. These trains have cut the travel time between San Bernardino and Los Angeles from 90 minutes to 60 minutes simply by skipping certain stations-- a practice common in the rest of the country. The popularity of these express trains suggests that if Metrolink offered even higher-speed, faster trips between San Bernardino and Los Angeles, made possible by these kinds of track improvements, then ridership would increase exponentially and traffic congestion on the San Gabriel Valley freeways would be alleviated.
Alameda Corridor
We need to move the alameda corridor-east program forward by spending the $400 million in Measure R funds allocated to this program to build grade separations that will separate freight trains and passenger trains from vehicle traffic.
Regional Connector
The regional connector will unite the Gold, Blue and Expo lines through downtown Los Angeles, allowing for direct train trips between the San Gabriel Valley and Long Beach, Santa Monica, and USC, with easy transfers to LAX and the south bay.
The federal government has rated this project one of the strongest competitors for federal new starts funding because of the regional benefit in uniting different parts of Los Angeles County through the MTA light rail system. Another major bottleneck in the regional transportation system is the configuration of union station for Metrolink and Amtrak service. By continuing the tracks at Union Station through the south end over the 101 Freeway and back onto the mainlines just east of the station, these safety, capacity and speed issues will be greatly improved, thus reducing travel times on Metrolink trains through the San Gabriel Valley and allowing for direct train trips to all parts of Southern California.