By: Elsie Krikorian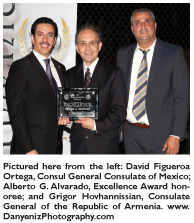 The Mexican-Armenian Task Force Committee recently held a reception hosted by Consulate General of the Republic of Armenia, Grigor Hovhannissian in an initiative designed by the Mexican-Armenian Task Force to engage both communities in mutual business ventures and cultural exchange. Addressing the attendees with special remarks were David Figueroa Ortega, Consul General Consulate General of Mexico and Grigor Hovhannissian, Consulate General of the Republic of Armenia. Alberto G. Alvarado, former District Director U.S. Small Business Administration was presented with an Excellence Award by The Mexican-Armenian Task Force.


MTA Approves Motion To Support Xpresswest Federal Loan Application
A motion by MTA Chairman and Supervisor Michael D. Antonovich, that asked the MTA Board to support XpressWest's Federal Rail Administration loan application to construct a high speed rail line between Las Vegas and Victorville, was unanimously approved by the MTA Board. "As part of our effort to develop a regional transportation system, the potential to link XpressWest to Palmdale and the entire Metrolink system creates enhanced opportunities for expanded mobility in Los Angeles County and throughout Southern California," said Antonovich. Prior MTA Board action approved an Antonovich motion to support connecting the southern terminus of XpressWest in Victorville to the Metrolink/future California High Speed Rail station in Palmdale with a High Speed Rail link within the multi-modal High Desert Corridor right-of-way. The loan to the privately-funded project will be repaid in full including interest.

Robert Stone, J.D., president and executive officer of City of Hope Medical Foundation and chief strategy and administrative

officer of City of Hope, has been promoted to president of City of Hope. "Robert Stone's leadership will continue to benefit City of Hope in this highly competitive and ever-shifting landscape of health-care delivery and research funding," said Michael A. Friedman, M.D., chief executive officer of City of Hope, director, comprehensive cancer center and Irell & Manella Cancer Center Director's Distinguished Chair. As president, Stone will report to Friedman in the City of Hope Office of the Chief Executive and will be responsible for executing City of Hope's strategy, driving business development and optimizing operations. He will oversee all operational, financial, human capital and strategic functions. Friedman served as both president and CEO since 2003, and will continue in his CEO and cancer center director duties. For more information, visit www.cityofhope.org .

Foothill Transit acknowledged an historic accomplishment at its recent meeting of their Executive Board. For the first time in its 24-year history, the five members of the board were all women. Sitting on the dais on June 29, 2012 were Pasadena Councilwoman Margaret McAustin; Pomona Councilwoman Paula Lantz; Board Chair Patricia Wallach, Covina; Councilwoman Peggy Delach; and Diamond Bar, Councilwoman Carol Herrera. The historic roster was noted for the minutes and was acknowledged and re-acknowledged by each successive presenter. "I am so happy to be the first presenter today," said LaShawn Gillespie, herself a trailblazer as the first woman at Foothill Transit to serve as Director of Planning. "Congratulations and thank you."

Michael A. Rembis, named as the new chief executive of Providence Saint Joseph Medical Center, bringing 25 years of expertise in expanding quality medical services. Rembis, will take his new role in mid-September. He leaves his post as president and CEO of Hollywood Presbyterian Medical Center where he oversaw a range of specialty programs similar to those at Providence Saint Joseph. Rembis replaces Barry Wolfman, who left the Burbank hospital earlier this year to return to his alma mater, George Washington University, where he is the medical center's top administrator.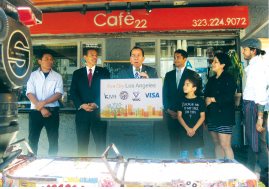 Kiva City LA was launched in front of VEDC's Kiva loan recipient Café 22 in Los Angeles. Pictured left to right: Yotcel Reyes, representing Kiva loan recipient Betty Paleteria, Los Angeles Mayor Antonio Villaraigosa, Roberto Barragan, President of VEDC, Premal Shah, President of Kiva, Yesenia Monroy, small business owner of Café 22 and her husband/café manager Edwin Del Rosa.

Art Center Provost Fred Fehlau of Center College of Design recently named Gary Goldsmith as its Chair of Art Center College of Design's Advertising Program. Bringing more than three decades of experience as a top creative at such firms as Lowe

Worldwide, DDB, Chiat/Day and Young & Rubicam, Goldsmith will lead the program as the industry continues to undergo
revolutionary change. "The landscape of advertising has changed drastically, and the redefinition of our business is only just beginning to accelerate," said Goldsmith. "In five years most of the current sources for jobs won't exist. But I believe that Art Center, with our strong parallel programs in entertainment, digital, film, photography and environmental design, is positioned to build not only the first truly modern advertising program in the world, but one that will prepare our students to tap into broader sources for careers than ever before."

The Boys & Girls Club of the West Valley highlighted their year-long 20th Anniversary celebration with a Founders' Gala which raised more than $175,000 for programs at the Club. A high point of the event was the Voit Challenge, where $50,000 was raised from supporters attending the event; Club Founder Bob Voit then matched that amount, for a total of $100,000. The event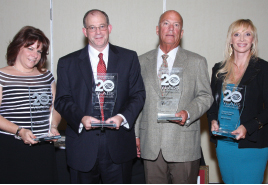 also honored Bob Voit, CEO of Voit Real Estate Services, as well as other supporters and organizations. For information call: 818-610-1054 or visit website wvbgc.org. Award recipients at the Boys & Girls Club of the West Valley's 20th Anniversary Gala, held at the Woodland Hills Marriott (from left) Blue Shield of California, Hands & Hearts Award, represented by Ronda Wilkin; David Rainer, President/CEO of California United Bank, Champion of Youth Award; Robert D. Voit, Founder/CEO of Voit Real Estate Services, Founders' Award; Wells Fargo Bank, Corporate Caring for Kids, represented by Marla Clemow.