By: John Krikorian and Elise Kalfayan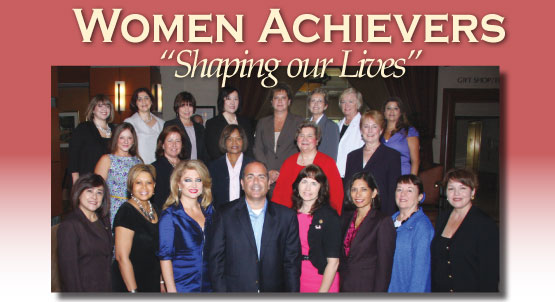 Business can't succeed without community: a fact Business Life Magazine's Women Achievers for 2012 truly understand. As the magazine, the host committee, and honorees prepare for the 22nd annual Women Achievers celebration, the prominent role that these women play in service, charitable, and civic organizations is remarkable.

Business Life is proud of its ties with thriving local chapters of professional women's service organizations, including Soroptimist International, which focus on encouraging women to become leaders, business owners, and advocates for their families and communities. Many of this year's honorees also belong to Kiwanis, Rotary, and local economic development organizations.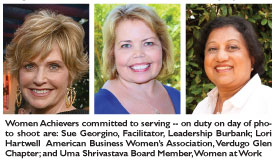 The Glendale Hilton's Rooftop Lounge was the venue for a congratulatory reception on August 23rd, and on September 10 honorees gathered again for coffee at the hotel to talk with each other and to pose on the lobby steps for this issue's cover photo. Nominated from all corners of the San Gabriel and San Fernando Valleys, these women had so much in common. Conversations dwelt on drumming up support for nonprofits, creating a healthy environment for children and families, and helping businesses succeed.

Women Shape our Lives. They are mothers, sisters and daughters, but also leaders in every imaginable field. The 23 women you'll read about in the following pages are some of the most important, influential, innovative and intelligent women. Women who lead by example, who inspire those around them, who break new ground in the fields of science, education, the arts, business, philanthropy and law. We are proud to honor these exceptional women.

Business Life once again gave its women achievers the option of responding to a series of questions. Below are their Answers, each edited by our editors.

Lola Abrahamian
Lieutenant, Glendale Police Department

Lieutenant Lola Abrahamian is assigned to the Glendale Police Department's Investigative Services Division, Criminal Investigations Bureau. Abrahamian has been with the GPD since 2000 and was promoted to the rank of Lieutenant November 2010.

"My career goals are to always challenge myself and advance, not only in position but through continuous learning," says Abrahamian. "I began my career in the field of Reproductive Biology and became a lead embryologist and lab manager. In 1997, I changed the focus of my career and became a Reserve Police Officer and in 2000 was hired as a full time officer. I returned to school and earned a Masters in Public Administration. A chance meeting with a Glendale Police Captain exposed me to this career and I am forever grateful to that individual for taking the time to meet with me and discuss future career options. I have learned that career changes are not only possible but fulfilling as we evolve as individuals. I have also learned that taking just a few moments out of our busy schedules can have a lasting impact on someone's life."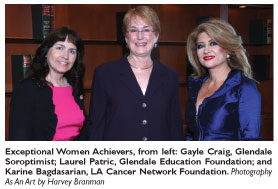 Pat Anderson
President & CEO
La Cañada Flintridge Chamber of Commerce

Pat Anderson has given ten years of service as President and CEO of the La Cañada Flintridge Chamber of Commerce. Her goals are deliberately aligned with her Chamber's 5-point mission. "In all things we are the advocates for business, the watchdog for residents, and as our motto states, 'Big Enough to Serve You, Small Enough to Care.'"

Anderson says there are four ingredients for success: 1) Choose a career you love, 2) Give it the best you can be, 3) Grasp your opportunities, and 4) Always be a team player.

"I was among a small group of women who founded a professional women's group and I currently belong to other women's organizations. There is a great deal to learn from the successes and challenges of other professional women. And, as always, there is strength in numbers."

Anderson's election season priorities are fixing the economy, creating more jobs, reducing and eliminating needless government interference with small businesses and improving our public education system.

Judith Arandes
Executive Director, Burbank Housing Corp.

Judith Arandes has led Burbank Housing Corp., a non-profit affordable housing development organization, for 13 years as Executive Director. She has been in the field of housing for more than 25 years.

"Growing up in a comfortable, loving family, I felt a sense of responsibility towards those who did not have the same luck I did," says Arandes. "Early career choices taught me that where you live—the place that you call home—defines who you are and your sense of the world in deep ways. So my job became about doing my best to make sure that I helped provide safe, decent homes for everyone and a supportive healthy environment for families and kids."

Judith strongly believes that to be effective in a mission-driven organization requires a clear vision of your goals, a willingness to create strong partnerships and to learn from successful models. "Oh yes, and a lot of hard work!"

Karine Bagdasarian
Los Angeles Cancer Network
Dr. Norick Bogossian Cancer Care Guild, GAMC

Karine Bagdasarian works as Vice President of Business Development at Los Angeles Cancer Network, which provides advocacy and resources for patients affected by cancer. "We raise funds to provide financial assistance, complementary support for patients and families currently fighting cancer, as well as support for projects and organizations that provide charitable services to our community in the field of cancer care, education and prevention," says Bagdasarian.

Bagdasarian is also President of the Dr. Norick Bogossian Cancer Care Guild at GAMC. "My definition of success is the overwhelming satisfaction I have when I see the comfort, joy and profound gratitude of those we have been able to help," Bagdasarian says. "Since our inception in May of 2011, we have raised over $78,000. Every day, it seems that healthcare concerns grow larger, yet benefits get smaller. This award winning Cancer Center provides FREE support services to anyone with cancer. Services such as personal and family counseling, fitness programs like yoga, beauty enhancements programs that give free wigs and makeup, enrichment classes such as jewelry making and knitting. All of these programs enrich and enhance the emotional well being of the individual thereby helping to fight the cancer."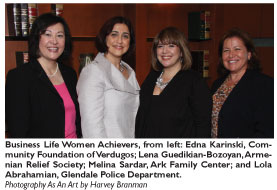 Elizabeth Bagwell
Government and Community Relations Manager
City of Hope

Elizabeth Bagwell has been Government and Community Relations Manager for the past ten years, and at City of Hope for 26 years. "My goals are to consistently create accessibility to City of Hope and all of its resources for the men, women and children of the communities that we serve," says Bagwell. "My definition for success is finding happiness in my job by mentoring others."

Bagwell brings in students from Duarte High School for an annual field trip. They tour the labs, complete a science project, and enjoy a luncheon with speakers from the medical and research disciplines.

Bagwell's favorite program is the six-week summer session. She finds mentors for students and places them with departments. "Every year it is surprising and extremely rewarding. I always take one student to mentor and teach how to put together an event, which is the graduation ceremony. The happiest moments of all are when I hear a knock at my office door and it is one of my students from years past, stopping by to say hello. It always brings a smile to my face."

Berlinda Brown
Trustee, Pasadena City College

As an adult immigrant to the US, Brown understands immigrants' struggles to improve their quality of life. "In order for any individual to succeed they must set goals, both long and short-term," says Brown. "These will serve as a guide through the long journey that will eventually lead to success."

Brown has served on PCC's Board of Trustees for the past three years. One of her primary goals in that post is to increase educational access and the completion rate for African-American and Latino male students.

During her career as a Radiology Technologist at LA County-USC Medical Center, she advanced to upper management, retiring after 30 years of service. She successfully managed four apartment buildings for over 23 years, and worked with the Pasadena Housing Department to provide affordable housing to low-income families.

Brown finds that individuals with multiple careers have a more meaningful and successful life because they have more control. She credits one of her brothers who encouraged her to invest and to choose a career. "For me, mentoring, hard work and proper financial management are essential keys to any endeavor."

Lena Guedikian-Bozoyan
President, Armenian Relief Society Western Region

A finance and accounting consultant with over 22 years of experience in fields from real estate to nonprofit management, Bozoyan represents the Western Region of the Armenian Relief Society of the USA, Inc. ARS is dedicated to serving the community at large, offering humanitarian, social, cultural, civic, psychological and educational services.

"What motivated me to get involved was the need for social and economic assistance in my community, especially for women and girls," says Bozoyan. "Being a member of the Armenian community, I wanted to bridge our diverse communities and collaborate with other similar organizations to benefit our entire city and its families."

During her three terms on Glendale's Commission on Status of Women and two terms as Chair of the local Armenian Relief Society, Glendale Sepan chapter, she was successful in creating a beneficial network of friends and community leaders that collaborate and assist in providing resources to needy families, women and children. ARS has helped preserve Armenian Cultural Heritage, support youth activities, and provide scholarships to students, among many of its services.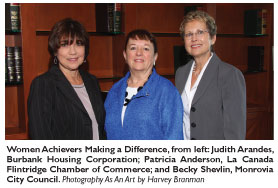 Marlene Cooper
Attorney
President Elect, Pasadena Altadena Chapter of the Links, Inc.

An attorney for more than 30 years, Marlene Cooper has her own practice focusing on estate planning and probate. A member of the Pasadena Bar Association, the Los Angeles County Bar Association and the Black Women Lawyers Association of Los Angeles, she is also a member of several civic organizations, and has taken a lead role in a LINKS mentoring program serving 20 students at her alma mater, John Muir High School.

She speaks to groups frequently, and writes a weekly column, "Estate Planning 101", for the Pasadena/San Gabriel Valley Journal News and for the Los Angeles Sentinel.

"I believe being caught in the 'sandwich' generation is the greatest social concern for women in the 40-60 age group," says Cooper. "We are trying to take care of our parents, our children and ourselves when there are not enough hours in the day or resources to do the job we would like to do." Cooper defines success as "The ability to maintain the correct balance in our personal and professional worlds."

Gayle Craig
President, Soroptimist International Glendale
Annual Giving and Special Events Manager, GAMC

Gaye Craig oversees Glendale Adventist Medical Center's signature Galas and Golf Tournaments –as well as the hospital's annual Employee Giving Campaign. She has worked for the Healthcare Foundation at GAMC for 10 years, but at the hospital for more than 25 years. She credits former Foundation President David Burghart with bringing her into the fundraising field and encouraging her professional growth.

"As President of Soroptimist International of Glendale this year, my theme is Soroptimist . . . A Work of Heart," says Craig. "I truly believe that as volunteers we all put our heart and soul into our mission and endeavors. This is a really important year for Soroptimist International of Glendale. In April 2013 we will be celebrating our 70th year in the community as a service organization, and we will also be celebrating the 10th anniversary of our signature event, 'Bras for a Cause.' During the past nine years the event has allowed us to give over $200,000 to 40 organizations, including our three local hospitals–Verdugo Hills Hospital, Glendale Memorial Hospital and Glendale Adventist Medical Center–who receive the funds for cancer services."

Martha Diaz Aszkenazy
Chair, Board of Governors
Valley Economic Alliance
President, Pueblo Contracting Services, Inc.

Martha Diaz Aszkenazy is in her 23rd year as President of Pueblo Contracting Services, Inc., a general contracting firm specializing in building schools multiunit retail centers, commercial properties, multifamily housing, and specialty projects. "Our goal is to complete our current work program on time, safely, and with the highest quality possible," says Diaz Aszkenazy. "We plan to continue adding to our work program in the coming years and adding to our management staff.

"At the Economic Alliance, we recognize the importance of diversifying our investor base and have implemented programs to reach out to not only minority business owners but to underrepresented industries as well. I have always enjoyed volunteering for organizations where I feel that my involvement will make a difference. Along the way I have made good friends and business contacts as a by-product of my involvement.

"My definition of success has changed over the years as I have matured to truly appreciate what matters in life. I am driven to achieve monetary goals but I temper those goals with what I am willing to sacrifice in personal time and lost opportunities to achieve them."

Sue Georgino
Facilitator, Leadership Burbank

Since her retirement in July of 2009 from a 28-year career in local government, Georgino says she has been fortunate to be engaged in community building in different ways. "I serve as an adjunct faculty member for Woodbury University in their Organizational Leadership Department with programs in Burbank, Glendale and Pasadena. Our focus is to help other leaders recognize and enhance their leadership skills. I also serve as one of three Burbank Commissioners on the Burbank Glendale Pasadena Airport Authority, as well as on numerous local non-profit boards.

I love the diversity and the challenge of learning new things. At the end of the day, the driving force for me in all that I do, is to use my capabilities (whatever they are) to help make our community stronger and more capable of creating important opportunities for all. Strong and vibrant cities recognize obstacles to true community driven leadership and work to eliminate them; and it is my honor to be engaged in that work."

Lori Hartwell
President and Founder of Renal Support Network
Vice President, American Business Women's Association, Verdugo Glen Chapter

Lori Hartwell struggled since early childhood with chronic kidney disease, and founded Renal Support Network in 1993. "RSN values people with kidney disease and helps them become self-sufficient through education, advocacy, and hope for a better tomorrow, says Hartwell. She is the author of Chronically Happy: Joyful Living In Spite of a Chronic Illness, now in its fourth printing.

Growing up as a child, Hartwell was mentored by many healthcare professionals. Through her organization, she in turn mentors and empowers people. "Having an illness teaches you to take risks and the lessons learned can be applied to the business world. A 'never give up' attitude is necessary in business and in fighting for your life!"

Hartwell believes that women need to know how to be more assertive and to ask for what they want and not expect people to be mind readers. As Vice President of ABWA, Verdugo Glen Chapter, she enjoys bringing together business women of diverse occupations and providing them with opportunities to grow personally and professionally through leadership, education and networking support.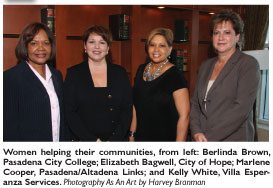 Marsha Jackson
Past President, Noon Kiwanis
President, Double "J" Packaging Co.

Marsha Jackson joined the Kiwanis Club of Burbank in 1988, the first year women were permitted to join. "My motivation was the enthusiastic people involved with Kiwanis who give tirelessly many hours back to their community. We serve the children of the world, one community and one child at a time."

Double "J" Packaging Co., Inc., of which Jackson is President, has hosted Kiwanis Gala lunch meetings, which Jackson started, approximately three months a year for 15 years. "We have had the privilege of raising in excess of $750,000, all of which has gone back into the City of Burbank for those in need."

Jackson also serves as Vice Chair and Secretary of the Burbank Healthcare Foundation and on the Wesley Homes, Inc. Foundation, which provides affordable housing for the community's seniors.

At her company, "My goal is to form lifetime relationships, both with customers and employees. All companies need to make a profit to stay in business. Together with my employees our goal is to grow our company and to be the leader in our industry. We specialize in military, industrial and commercial packaging."

Edna Karinski
CEO, Community Foundation of the Verdugos

Edna Karinski has headed the Community Foundation of the Verdugos since June 2008 and has been in the nonprofit field for over 25 years. The foundation, established in 1956, helps people create charitable funds from which they support nonprofits with grants. It serves Burbank, Glendale, and the Foothill communities.

"My goal is to have measurable increases in donations to our endowed funds because the stronger we are, the more funding is disbursed back to the community," says Karinski. "One challenge we have is to harness the power of women philanthropists and the leadership that these same women can bring to our Board, to achieve ongoing asset growth vital to our organization's expansion. This is necessary in order to address community needs ranging from education, healthcare, and the arts to social issues like aging, veterans, homelessness and even our environment. Identifying and connecting with such women who have community at heart strengthens our overall future."


Zizette Mullins
City Clerk, City of Burbank

As Burbank City Clerk, Zizette Mullins is responsible for maintaining all official City records; keeping a complete and accurate record of all proceedings, conducting municipal elections, and more. Mullins recently left employment with the City of Glendale as the Community Relations Manager to become Interim City Clerk for Burbank. This is an elected position for which she will be a candidate in the next election.

Among Mullins' goals are providing overall community services with the principles of integrity, responsibility, efficiency and accessibility. "I strongly believe that destiny does play a role in everyone's life, but it goes hand and hand with hard work, dedication, and integrity. I have been very fortunate to have had special people guide me through my career; they recognized and acknowledged my determination and dedication and helped me on the road to personal and professional success. I have mentored others in my career and will continue to do so whenever I have an opportunity. I feel this is one of the primary responsibilities of a leader.

"My personal definition of success is the satisfactory accomplishment of a task or event that is meaningful and lasting."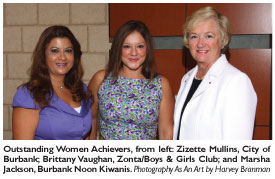 Laurel Patric
President, Glendale Educational Foundation
Commissioner, Glendale Parks, Open Space Foundation

Patric began her career as a Children's Librarian at the Glendale Public Library and stayed to become Director of Libraries from 1992 – 2003. "Both my parents were active volunteers, so after retiring I followed their example and turned to volunteer work, primarily with organizations benefiting children in some way," says Patric.

Patric is currently President of the Glendale Educational Foundation (GEF). "I believe that quality education is one of the most important gifts we can give to the children in our community. Of course this includes academics and the skills of how to learn, but it also needs to include the gift of delight through music, art, drama, sports, and other extra-curricular activities. This is what GEF does. We raise funds to enrich and enhance every student's experience in every school in GUSD. School districts are being forced to make many tough choices. If GEF can help fill some of the gaps, we are really doing our job!"

"Working with dedicated volunteers is both exciting and rewarding. I hope that my participation in volunteerism after a fulfilling work career will encourage others to follow the same path."

Arleen Penaflor
President, Soroptimist International Verdugos

Arleen Penaflor's mission is to continuously educate herself, provide outstanding services to her clients, and to be in line with her organization's (Keller Williams) philosophy to help others without expecting returns.

Penaflor believes education and a positive attitude will lead to magic sparks in one's career. "Attaining goals takes time," says Penaflor. Her advice to women: "Do not walk away from any dreams before you have given it your all."

As President of a local Soroptimist International chapter, Penaflor is committed to a world where women and girls together achieve their individual and collective potential, realize aspirations, and have an equal voice in creating strong, peaceful communities worldwide. "Our club has given $100,000 in grants to breast cancer patients over a period of 10 years. Getting involved in a women's organization is a challenge and a rewarding experience."

Melina Sardar, M.A.
Educational Director, Ark Family Center, Inc.

Melina Sardar has been an active volunteer for Ark Family Center, Inc. since 1999. At Ark, she teaches and coordinates Personal Growth and Empowerment seminars and provides coaching and mentoring services for teens and adults. Her full time job is with the City of Glendale as an Administrative Analyst since 1999.

Sardar works with clients of Ark Family Center to increase their emotional intelligence, helping them create lives based on healthy choices, and free themselves from unhealthy behaviors. "Ark Family Center is a place youth and adults choose to go to in order to receive training and coaching when they want to make positive changes in their lives," says Sardar.

"Success comes in many forms, and has many definitions. I believe to be successful is to be willing to consistently work on our own personal and emotional growth, to work hard and smart to reach our goals, and empower others to do the same. I have achieved many levels of success, and there are many more I still strive to achieve. My passion is to motivate others towards higher success and individual achievement."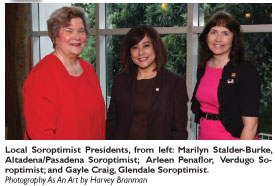 Becky Shevlin
Monrovia City Council Member
LA County Commission for Women

Becky Shevlin has represented Monrovia as a council member since May 2009. She has numerous liaison responsibilities: to the Southern California Association of Governments; the Foothill Transit Governing Board; the Foothill Employment and Training Consortium Policy Board; the Monrovia Old Town Advisory Board; and the Monrovia Community Services Commission.

Shevlin is a past president of the Monrovia Chamber of Commerce and a recipient along with her husband of the 2005 Chamber Citizen of the Year Iris Award. She continues to serve as Secretary of the Chamber's Business, Education and Community Outreach Committee. She also serves as a Board Member and Secretary—and is past President—of Monrovia Reads. Shevlin is also a Commissioner and currently Vice President of the Los Angeles County Commission for Women.

Shevlin, in writing about her goals, says, "It is very important to be an ongoing active participant in my community, and a positive role model especially for young girls and women. I hope by example that I can encourage everyone to get involved in their local communities and beyond."

Uma Shrivastava
Board Member, Women at Work
Senior Vice President, US Trust/Bank of America Private Wealth Management

Uma Shrivastava has worked in the financial services industry for the past 20 years, and has been in her current senior position for five years. Her goal as a Private Client Manager is to advise clients how to achieve their financial goals and provide exceptional service.

Prior to joining the financial services industry, she was an entrepreneur and owned a very successful travel agency in Pittsburgh, Pa., one of the official agencies for the Carnegie Mellon University and the University of Pittsburgh.

Shrivastava has been a Women At Work board member for the past 5 years and served as the Development Committee Chair, overseeing the funding of the organization through grants and other fund raising efforts. She is currently the Treasurer and a member of the Benefactor's Circle.

Shrivastava says, "I am passionate about protecting and enhancing women's rights. I am willing to work tirelessly to provide women with resources and skills that can enhance their opportunity to reach their employment potential and personal growth."

Marilyn Stalder-Burke
President, Soroptimist International of Altadena/Pasadena

Marilyn Stalder-Burke is a retired, 33-year veteran educator with PUSD, now busy with writing and community volunteer activities, and with Soroptimist International of Altadena/Pasadena as President. "I became involved with Soroptimist International in 1973, as faculty advisory of the John Muir High S Club," says Stalder-Burke. "Like learning, service to community should be life-long. Soroptimist supports The Door of Hope, the Women's Room, Silver Saturday and Laundromat Libraries.

She has found that stereotypes die hard, citing a Soroptimist International Study that found all city employees need awareness training to find and end sexual trafficking. "Success is the journey I am on. I endeavor to lead with integrity, kindness and joy. I live by Theodore Roosevelt's words: 'Do what you can, with what you have, where you are.'"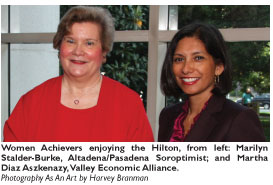 Brittany Vaughan
Director of Operations
Boys & Girls Club of Burbank and Greater East Valley
Treasurer, Zonta Club of Burbank

Brittany Vaughan has worked with the Boys & Girls Club since 2003 and has been Director of Operations since 2009. In addition to her service with Zonta, as a Z Club Advisor and Wings Grant Committee member, she is active in the local Relay for Life.

"At the Boys & Girls Club, it is my goal to clearly articulate the vision and priority outcomes of the organization to all staff, board members, and the community and to elevate all our professionals to be successful in pursuing excellence in their position," says Vaughan. "I believe we are always a work in progress and that success is shown in an individual's desire to constantly strive to be the best they can, even as that definition changes over time. My accomplishments thus far should be surpassed by my future endeavors."

Vaughan re-started Z Club, a leadership club for young women in high school. "Bringing back Z Club to Burbank has been a rewarding experience; I'm using my expertise in youth development to guide the young women of our community."

Kelly White
CEO, Villa Esperanza Services

Kelly White's career with Villa Esperanza spans over 16 years; she has been CEO since 2009. Villa, a pioneer in educating and integrating children and adults with developmental disabilities into the community, recently celebrated 50 years of service and serves 800 clients and families in Los Angeles and Ventura Counties. "My role as CEO is to guide and strengthen Villa's programs, grow our community collaborations and create an environment of sustainability while forecasting the changing needs of individuals with developmental disabilities," says White.

In the field for the past 25 years, and a Licensed Marriage and Family Therapist, White is active in the community with Rotary and Civitan, and serves as a provider representative on the Frank D. Lanterman Board of Directors.

White also co-established a local advocacy group, Coalition of Service Providers, to address state budget issues and advocate against cuts for individuals with developmental disabilities. "I have had wonderful professional mentors over the years and they continue to play a key role in my career development. My work with individuals with disabilities has been equally important and is where I feel most of my growth as a leader has come from."

Business Life staff Elise Kalfayan, Elsie Krikorian, Shant Krikorian and Angela Amirkhanian assisted in edition, proofing, gathering data for this story. Copy provided by the selected women achievers. This coverage will appear on our website: www.businesslife.com Photography As An Art, By Harvey Branman.