By: Whole Foods Market



These easy cookies are crisp on the outside, rich and chewy on the inside, and delicious all the way through. They make a festive addition to a holiday cookie plate, but will delight coconut fans any time of year.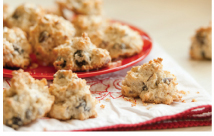 Ingredients- Makes 2 dozen Cookies
• 3 large egg whites _
• 1/8 teaspoon fine sea salt _
• 1/2 cup plus 2 tablespoons powdered sugar _
• 3/4 teaspoon pure vanilla extract _
• 1/8 teaspoon ground ginger _
• 1/8 teaspoon ground cinnamon _
• 2 2/3 cups unsweetened dried finely shredded coconut _
• 1/2 cup finely chopped dried cherries _
• 1/2 cup finely chopped hazelnuts

Method
Preheat oven to 300°F and line 2 baking sheets with parchment paper. In the bowl of an electric mixer, beat egg whites and salt together until the egg whites hold soft peaks. Slowly beat in powdered sugar, followed by vanilla, ginger and cinnamon. Remove the bowl from the mixer. Use a spatula to fold coconut, cherries and hazelnuts into the egg white mixture. Drop slightly rounded tablespoons onto the prepared baking sheets, making about 24 cookies. If you like, moisten your fingertips and shape the drops into rounded or peaked mounds. Bake in the middle of the oven until the tops and bottoms of the macaroons are golden brown and slightly crisped, 20 to 25 minutes. Cool the macaroons on the baking sheets. Serve immediately or store in an airtight container for up to 3 days.
Nutrition
Per serving (1 cookie): 70 calories (40 from fat), 4.5g total fat, 2.5g saturated fat, 0mg cholesterol, 20mg sodium, 7g total carbohydrate (2g dietary fiber, 5g sugar), 1g protein.