By: BeBe Williams



BeBe Williams met Whitney Houston 28 years ago, and they quickly developed a life-long bond. Side by side both personally and professionally from then on, they became family in the truest sense of the word. Winans, who knew both the Whitney in front of the camera and the Whitney far from the spotlight, opens a window into that relationship in his new book,

The Whitney I Knew, and offers readers a portrait of the real Whitney—the woman behind the voice.

Though everyone knew her music, for most of her public life Whitney Houston was a mystery. Bebe Winans has given readers a wonderful gift—the gift of understanding.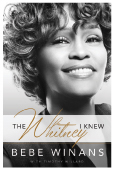 From profoundly moving personal moments to eye-opening accounts of triumph to the heartbreaking realities that led to her ultimate defeat, the untold stories are intimately woven throughout this book, along with links to never-before-seen private videos of Whitney and an extensive photo section from BeBe's personal collection.

"By embracing the pain that comes with [her death], I am better able to say good-bye, even though I'd rather not," cites Winans. He reminds readers that she will be remembered for her warm, lavish generosity and lighthearted humor—the positive truths that overshadow any missteps in recent years. He writes, "In my heart and in my mind, I have memories of so many great, great moments; she will live in our hearts forever." BeBe_s behind-the-scenes account of Whitney_s life and friendship will imprint her legacy in readers_ memories through his honest depiction of Houston as a treasured friend, sister, and artist without peer.

BeBe Winans is a groundbreaking inspirational, R&B, and gospel vocalist, writer, and producer whose albums have reached platinum status

Worthy Publishing (www.worthypublishing.com), a division of Worthy Media, Inc., is a privately held company whose mission is helping people experience the heart of God.