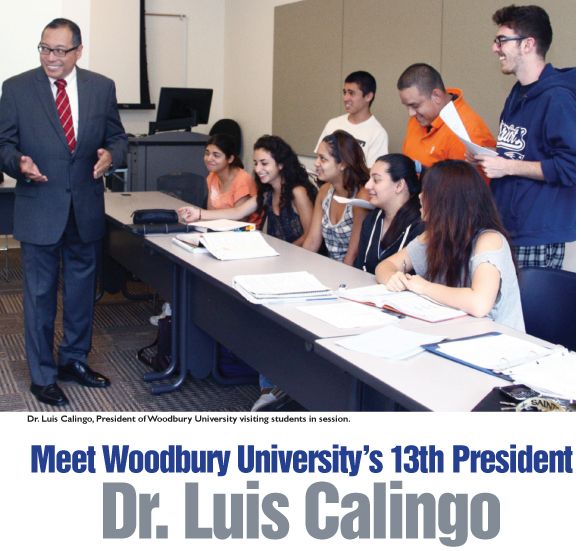 Who said being the president of a university is never an easy job, and when you are at the helm of one at the most challenging times the stakes are even higher.
Dr. Calingo joins Woodbury from Dominican University, where he was executive vice president and chief academic officer since 2009 and earlier was dean of the School of Business and Leadership.
He holds a PhD. From the University of Pittsburgh, an MBA from the University of Pittsburgh, a Master of Urban and Regional Planning from the University of the Philippines, and a B.S. in Industrial Engineering from the University of the Philippines. His professional interests are servant leadership, strategic planning, total quality management, and international business with a focus on Southeast Asia.
In Dr. Calingo's words "Woodbury University is a place that believes the best way to predict your future is to create it. I am honored to lead Woodbury and to work with students, faculty, staff, alumni, and the community to honor this institution's rich tradition of transforming lives through education, while embracing the many opportunities of tomorrow"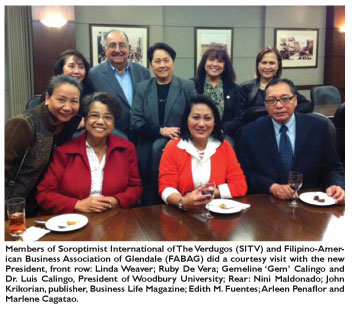 .
So that we could get to know President Calingo better, we submitted a question and answer dialogue, during his first months as Woodbury University's new president. Following are some highlights.
Q What about Woodbury University attracted you to the position?
A Woodbury's proud tradition and its bright future really attracted me to this university. Three specific things attracted me to Woodbury. First are Woodbury's academic programs that are highly respected for being practical, entrepreneurial, and career-oriented. Second is Woodbury's sustained investment to achieve the highest levels of accreditation in its degree programs, and third is its commitment to serve first-generation college students who would otherwise not have the opportunity to pursue professional careers in such fields as architecture, business, media entertainment, and fashion. I am very excited to lead a university that, for the past 128 years, has had a track record of success in delivering liberal arts-based professional education that effectively prepares students for careers and good citizenship.
Q What do you hope to accomplish during your first year? 5 Years?
A I am very much in a listening mode during these first few months, and have been engaged in dialogue with faculty, staff, students, and the community in considering how we should complete the following sentence: Woodbury University is the only university that…
This is an important question because, as the Grateful Dead's Jerry Garcia has suggested, "You do not merely want to be considered just the best of the best. You want to be considered the only ones who do what you do."
Q What experiences are you bringing with you that will contribute to your success in your new position?
A During my 30 years in higher education as both a professor and administrator, I have been focused on bringing people and processes together to achieve extraordinary performance. This is what we are doing now at Woodbury. I look forward to leveraging my competencies in strategic planning, organizational diagnosis, fundraising, and developing partnerships.
Q If you had to describe yourself in only a few words, what would they be?
A Family first. Work with a purpose. Never stop learning. Insist on integrity. Respect differences.
Q What do you see as your major challenge?
A The major challenge that faces Woodbury is to continually improve our academic excellence and reputation. The second is to enhance our passionate commitment to articulate and live our shared values as members of a university that is rooted in our mission. That mission is to cultivate students not only with professional competence, but also with a strong and enduring sense of personal and social responsibility.
Q Is there anything else you would like the university to know about you?
A The presidents and provosts for whom I had worked before knew where I stand on issues as I have clearly communicated my core values to them. My former faculty and staff colleagues would describe me as deliberative and one who takes personal ownership of my responsibilities. My former students would characterize me as one who demands accountability, setting very high and challenging standards of performance and rewarding achievement. The author Jim Collins (Built to Last, Good to Great, Great by Choice) have influenced much of my perspectives on organizations.
Q What role do you see for the university "Outside" in the community?

A Woodbury is very much a part of the greater community, working with the school districts, community colleges, business groups such as LAEDC, VICA, VEDC, Biz Fed, chambers of commerce, as well as partnering with the cities of Burbank, Glendale, Pasadena, Beverly Hills, and many others. Woodbury is very much a committed partner in our community and intends to continue that focus. We should strive for "win-win" solutions. Partnerships enable us to blend our capabilities with the complementary strengths and capabilities of partners to address common issues that we face.
For more iformation visit: www.woodbury.edu.