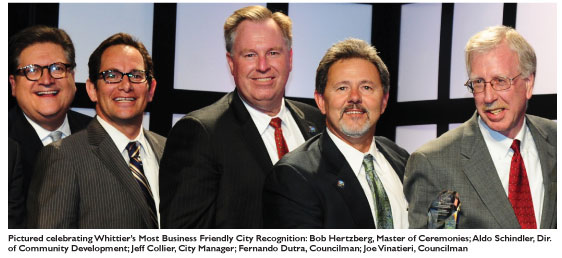 The Los Angeles County Economic Development Corporation (LAEDC) announced this year's winners of its Most Business-Friendly City in Los Angeles County competition live at the 17th annual Eddy Awards at the Beverly Hilton Hotel, naming Whittier winner in the population 60,000 and over category, and Duarte in the population 60,000 and under category.
In 2006, the LAEDC created the Most Business-Friendly City in Los Angeles County award category to recognize cities within the County that are proactively promoting business-friendly programs and services in the interest of attracting and retaining good quality jobs for their residents.
"We are delighted to recognize the cities of Whittier and Duarte with this year's Eddy Award," said Bill Allen, LAEDC President and CEO. "Both cities stand out as model communities in Los Angeles County by proactively engaging and working with businesses and the private sector to create jobs for their residents. Each year, this competition reveals that more and more cities in the county are proactively implementing strategies that are in alignment with L.A. County's first-ever Strategic Plan for Economic Development that will ensure a strong, diverse and sustainable economy for L.A. County.
60,000 and Over Category: City of Whittier
The City of Whittier values its unique history and works with local merchants and entrepreneurs to provide new opportunities, preserve its historic commercial shopping district, and maintain a healthy balance of social, civic and business activity. Whittier's significant investment and policies designed to support businesses have resulted in millions of dollars of private investment and business growth.
The City's film friendly ordinance makes filming easy, resulting in commercials, made-for-cable movies and major motion pictures, such as Disturburbia and the Back to the Future Trilogy filmed in the City.
Through the Gateway Cities Council of Governments, Whittier has supported the LA County Strategic Plan for Economic Development, led by the LAEDC. Whittier was a "Most Business Friendly City" finalist in 2009, 2010 and 2011.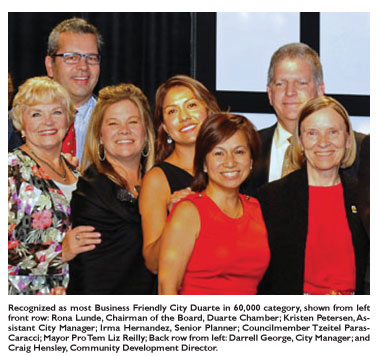 60,000 and Under Category: City of Duarte
Duarte has a history of a business friendly approach and exhibits its business friendly approach with programs and practices that make its community a great place to do business live and work.
In the past year, Duarte has amended its Filming Ordinance by becoming one of the first cities to adopt the California Film Commission's Model Ordinance and Guidelines for Best Practices in Film Regulations and Policies; in response to the voices of local struggling businesses, the City adopted a 12-month suspension of Code Enforcement on selected temporary sign regulations.
The City of Duarte has a pro-business attitude mindset that is shared by its entire staff and is driven by the overarching desire to encourage economic development, bolster the city's economy, and create a better Duarte for residents and employees alike. Through the San Gabriel Valley Council of Governments, the City has shown their support for the LA County Economic Development Strategic Plan. Duarte was a "Most Business Friendly City in LA County" award Finalist in 2010 and 2011.
For more information about the Eddy Awards®, visit www.laedc.org/eddy.
The LAEDC, the region's premier economic development leadership organization, is a private, non-profit public benefit organization established in 1981.