By: Patrick Rodriguez



The U.S. Small Business Administration Los Angeles District Office announced that its local lending partners led the nation in SBA loans for fiscal year 2012 in both dollar volume and number of loans.

For fiscal year 2012, SBA-backed loans in Los Angeles, Ventura and Santa Barbara counties remained near last year's high-water mark. SBA lending partners financed $1.50 billion in FY12 compared with $1.58 billion in FY11. The number of loans to small business owners also remained considerable with 2,465 loans in FY12 compared with 2,477 loans in FY11.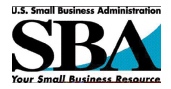 "SBA's lending programs and partners have helped create a path for small business growth throughout our district," said Victor Parker, Los Angeles SBA district director. "We are providing the tools to help small businesses access capital, which will ultimately lead to job creation and a stronger more vibrant economy."

"The LA SBDC Network is proud to work alongside the Los Angeles SBA District Office and a strong network of resource partners to increase access to capital for thousands of small businesses," said Jesse Torres, Los Angeles SBDC Network Regional Director. "We look forward to another record-breaking year of financing for our small business community."

"We inform the majority of our clients of all the SBA loan programs available to them and walk them through the process of obtaining a SBA loan," said Manuel Martinez, president of the Los Angeles SCORE Chapter. "Working with our SCORE clients and helping them start, grow and manage their small business is a pleasurable process with the help of our partners at the SBA."

In the local tri-county area, the near-record pace was driven in part by a record year for the Certified Development Company (504) loan program, which supported $530 million in small business credits. The strong performance of 504 loans was boosted by the temporary 504 refinancing program, which was responsible for 22 percent of the 504 program loans made in FY12 and 24 percent of the dollar volume. The recently expired 504 refinancing program was part of the incentive package under the Jobs Act.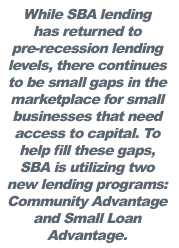 While SBA lending has returned to pre-recession lending levels, there continues to be small gaps in the marketplace for small businesses that need access to capital. To help fill these gaps, SBA is utilizing two new lending programs: Community Advantage and Small Loan Advantage.

The Small Loan Advantage lending programs provide streamlined applications for loans under $250,000 with the standard 7(a) guarantee in order to incentive lenders to make smaller-dollar loans. The smaller-dollar loans often go to underserved communities. Additionally, Community Advantage increases the points of access for small businesses by allowing "mission focused" lenders, such as CDFIs and microlending intermediaries, the ability to make 7(a) loans.

Promising Loan Data for Los Angeles, Ventura and Santa Barbara counties:
> Construction loans were up 14 percent in number of loans and 19 percent in dollar volume from FY11 to FY12.
> Community Advantage and Small Loan Advantage loans were up significantly in the 4th Quarter of FY12 - finishing the fiscal year with 21 loans for $3 million dollars with an average loan size of $140,567 and $147,483 respectively.

> Export Working Capital Program loans were up 100 percent in number of loans and 42 percent in dollar volume.
> SBAExpress loans increased 20 percent from FY11 to FY12 with an average loan size of $80,541.
> The industries with the most 7a and 504 loans were Manufacturing (29), Wholesale Trade (22), Accommodation and Food Service (17), Retail Trade (17), Health Care and Social Assistance (13); and Professional, Scientific and Technical Services (10).

The top ten lenders by number of SBA loans for FY12 are: JPMorgan Chase Bank, Wells Fargo Bank, CDC Small Business Finance Corp, BBCN Bank, U.S. Bank, Wilshire State Bank, Los Angeles County Small Business Development, EDF Resource Capital, Inc., Mortgage Capital Development Corp. and Pacific City Bank.

Patrick Rodriguez
Economic Development Specialist/PIO
Los Angeles District Office
U.S. Small Business Administration
Patrick.Rodriguez@sba.gov