2013 GOLDEN FUTURE 50+ SENIOR EXPO
SOUTHERN CALIFORNIA SCHEDULE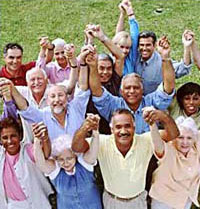 GREATER INLAND EMPIRE REGION
Saturday, April 27th 2013
10am - 3pm
Pomona Fairplex


LOS ANGELES
Saturday, June 22nd 2013
10am - 3pm
Hollywood Park Casino


VENTURA COUNTY
Saturday, August 24th 2013
10am - 3pm
Ventura County Fairgrounds


ORANGE COUNTY
Saturday, November 9th 2013
10am - 3pm
Angel Stadium of Anaheim



A DYNAMIC WAY TO REACH THE COUNTRY'S FASTEST GROWING MARKET!

• Meet hundreds of 50+ BabyBoomers and Seniors Face to Face!

• Showcase your business or organization throughout Southern California!

• Receive media attention via newsprint, radio, tv, internet, community partnerships, flyer/poster distribution, and more!

• Interactive Floor Plan, Entertainment, Mini Job Fair, Workshops, Health Screenings, Speakers, Food Tasting, Great Doorprizes, Entertainment and fun activities will make it an exciting day and generate a large attendee pool!

• Automatic post-show exposure in the Show Directory & Buyers Guide!

• Terrific Sponsorship Packages available!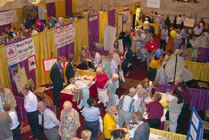 The Golden Future 50+ Senior Expo offers an opportunity for businesses and organizations to inform and educate baby boomers and seniors about their products and services and/or provide pertinent information which will benefit their overall lives. This event is designed to enrich the lives of the 50+ demographic by presenting in one convenient location a wide variety of products, programs, services, and information sharing.

We are currently accepting Exhibitors and Sponsors for our 2013 Golden Future 50+ Senior Expos. As an Exhibitor or Sponsor you'll enjoy being the center of attention for the day! By attending this event, you will make it easy for Southern California baby boomers and seniors to have direct access to YOU! They will ask questions, sample your products, and ultimately make a purchasing decision. They will also take your marketing materials and potentially refer others to your company or organization.



http://www.goldenfutureseniorexpo.com/

GFE Sales Team
Tel: 818-763-4197
E-mail: info@goldenfutureexpos.com

Thank You.
Golden Future Expos
827 Hollywood Way #139
Burbank, California 91505