By: Elsie Krikorian



Duarte City Council members elected Margaret Finlay, Mayor, and re-elected Liz Reilly, Mayor Pro Tem for 2012-2013 during the annual reorganization meeting of the Duarte City Council. Finlay has been a member of the Duarte City Council since 1990. She has served as mayor four times previously. Margaret is President of the Duarte Education Foundation, serving the educational needs of all students in the school district. Her recent awards include the prestigious Coro Fellowship and being honored by American Mothers Inc. as the 2012 California State Mother of Achievement.

Supervisor Michael D. Antonovich was sworn in for his ninth term as a member of the Board of Supervisors by the Honorable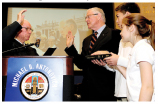 John A. Arguelles, Justice, California Supreme Court (Ret.). Among the other dignitaries present was Archbishop Jose Gomez, Archdiocese of Los Angeles, who delivered the Invocation, Michael Reagan, son of President Ronald Reagan, and George Cheung, actor, who emceed the event. Among the nearly 700 guests at the Kenneth Hahn Hall of Administration were Consulate Generals of 10 foreign nations, numerous city and town council members and community leaders. The Honorable Justice John A. Arguelles, Supervisor Michael D. Antonovich, and his children, Michael Jr., and Mary Christine


Leaders from all over Los Angeles County assembled in record numbers to plan the future of transportation for the region. Looking to the San Fernando and Santa Clarita Valleys—and beyond—participants took a realistic view of high-speed rail to San Francisco, and to Las Vegas, as well as other important rail corridors and improvements, such as Coast Rail to the Bay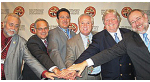 Area, the LOSSAN corridor from San Diego to San Luis Obispo, and the development of tourist-related routes and opportunities. The event covered sustainability, goods movement, freight, logistics, highways, freeways, the ports, global competition and transit-oriented developments such as the innovative Bob Hope Airport Regional Intermodal Transit Center in Burbank. The San Fernando Valley Council of Governments is a joint powers authority established two years ago, with the intent of bringing its members: the cities of Burbank, Glendale, San Fernando, Santa Clarita and Los Angeles—and the County of Los Angeles together in one forum to develop strategies for regional challenges such as transportation. A-LIST TRANSIT TEAM: Bart Reed, Transit Coalition; Don Sepulveda, Metro's Rail Executive; Jaime de la Vega, LADOT General Manager; Moderator Tom LaBonge, Los Angeles City Councilman, Fourth District; Greg McWilliams, President/CEO Newhall Land; and Doug Failing, Metro's Highway Chief.

Mt. San Antonio College Board of Trustees recently elected Dr. Manuel Baca as president, Fred Chyr as vice president, and Dr. David K. Hall as clerk. They will serve one-year terms, effective immediately. He is a career educator with over 30 years of experience within the state university and community college systems. Currently, Dr. Baca teaches government and business law/management at Rio Hondo College and has held numerous administrative positions there including interim president. Chyr last served as Board President in 2009. He has nearly 30 years of experience in business and education and currently serves as Associate Vice President and Chief Marketing Officer at the University of La Verne. Dr. Hall is currently the longest-serving member of the Mt. SAC Board of Trustees. He is Chairman of the Human Resources Committee for the City of Industry's Chamber of Commerce and Vice Chairman of the San Gabriel Valley Civic Alliance. Professionally, Dr. Hall is Senior Vice President of Hitchcock Automotive Resources, which owns and operates auto dealerships throughout Southern California.

The City of Monterey Park was awarded the Green Leadership Award from the San Gabriel Valley Energy Wise Partnership (SGVEWP). Monterey Park was selected for this award as the first city in the San Gabriel Valley to adopt a full Climate Action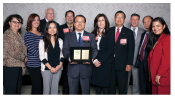 Plan (CAP). The SGVEWP is a partnership between the San Gabriel Valley Council of Governments and Southern California Edison to bring energy savings to the San Gabriel Valley. Monterey Park was recognized for being at the forefront of this undertaking. Monterey Park Mayor Mitchell Ing stated, "We are very pleased to receive this award since it recognizes our city's efforts to proactively address climate change and ultimately make Monterey Park a healthier and more environmentally friendly community." More information about these projects is available by contacting the planning department via email at planning@montereypark.ca.gov; or by calling 626-307-1315.
Receiving the Green Leadership Award shown from left: Lorena Egurvide – Senior Clerk Typist (MPK Staff): Crystal Landavazo – Assistant Planner (MPK Staff); Mike Cook – Account Manager So. Cal Edison; Samantha Tewasart – Associate Planner (MPK Staff); Sam Pedroza – EENR Committee Chair; Mitchell Ing – Mayor; Teresa Real-Sebastian – Vice-Mayor; David Lau – Council Member; Paul Talbot – City Manager; Anthony Wong – Council Member; Marissa Castro-Salvati – Local Public Affairs Manager So. Cal Edison.

Burbank Fire Chief Ray Krawkowski retired after 32 years of public service. Chief Krawkowski began his career with Burbank Fire in August of 1980 and promoted through the ranks as a firefighter and paramedic, engineer and captain. Krakowski was promoted to Battalion Chief in 1994 and held that rank 15 years before being named Interim Chief in 2009, and elevated to Permanent Chief in 2010. Interim City Manager Ken Pulskamp has begun an internal recruitment process to fill the Chief's position. Fire Marshal Tom Lenahan, himself a 25-year veteran of the Burbank Fire Department, will serve as the acting Fire Chief during the search for a permanent replacement.