By: Frank DeCaro



If you've ever fantasized about feasting on Frank Sinatra's Barbecued Lamb, taking a stab at Anthony Perkins's Tuna Salad, or wrapping your lips around Rock Hudson's Cannoli—and really, who hasn't?—
Frank DeCaro's The Dead Celebrity Cookbook is your kind of cookbook.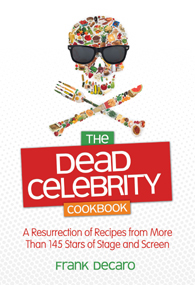 In The Dead Celebrity Cookbook: A Resurrection of Recipes from More Than 145 Stars of Stage and Screen, Frank DeCaro dusts off such culinary gems as Joan Crawford's poached salmon, Farrah Fawcett's Sausage and Peppers, and Elizabeth Taylor's Chicken with Avocados and Mushrooms, and serves them up with a side-order of smart pop culture commentary. The book is not just an ode to vintage cookery, but also an homage to some of the greatest stars of classic television, beloved films, and Broadway, and a viewing guide to boot. De Caro keeps our cherished dearly departed celebs alive in these recipes to die for. It's as much a movie trivia book as a cookbook. So foodies and movie buffs have something to talk about. Perhaps, at a party, while watching the Oscars or an old movie, sharing some of these classic gems from our favorite entertainment icons.
The Dead Celebrity Cookbook features such sumptuous recipes as:
An accomplished home cook and an even better eater, Frank DeCaro has been a New York Times columnist, a memoirist who one critic said "opened the door for David Sedaris," and the flamboyant movie critic on The Daily Show with Jon Stewart. In The Dead Celebrity Cookbook, he tells you what to cook and, more importantly, what to watch while you're enjoying the fruits – or fish or fowl – of your culinary labors. So grab a fork and dig in! And, during the holiday season, Frank's offers up goodies from his new: Christmas in Tinseltown: Celebrity Recipes and Hollywood Memories from Six Feet Under the Mistletoe.