By: Stuart Waldman



Only months after the conclusion of a seemingly endless election cycle, Los Angeles County voters in several cities will return to the polls on March 5, March 12, April 5 and May 21 to decide the fate of taxes, term limits, pension changes, and marijuana.

March 5

The Burbank Unified School District is proposing Measure S, which would allow the district to borrow $110 million in bonds to improve technology throughout the district, repair school roofs and plumbing, and replace aging portable buildings with new classrooms. To finance the bonds, Burbank property owners would pay an additional $5 annually in parcel taxes on top of the existing rate of $50 per $100,000 of the assessed property value. The parcel tax, initially instituted for 25 years in 1997, would also be extended by 16 years through 2038.

Voters in the City of Los Angeles will be asked about two issues: a sales tax increase and pension changes. The city is proposing Measure A, which would increase the city's sales tax rate by one half-cent to 9.5 percent. The estimated $215 million in annual revenue would be used to reduce the city's growing structural deficit. Charter Amendment B would, if approved, allow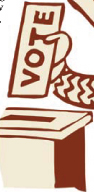 former General Services security personnel who are in the process of being transferred into the Los Angeles Police Department to purchase retirement credit in the LAPD's Fire and Police Pension Plan.

In Monterey Park, voters will determine whether to alter the city's utility tax structure and institute term limits for city officials. In order to continue the city's two-percent residential and five-percent commercial utility taxes, Measure DD would update the tax code language to include modern technology. Measure EE asks voters whether city councilmembers, the city treasurer and the city clerk should be limited to two consecutive four-year terms, with the opportunity to run again after two years out of office.

March 12

Facing an impending $2 million deficit, the South Pasadena Unified School District is calling on voters to renew a 2009 parcel tax, set to expire this June. The annual tax rate is $288 for single parcels and $95 for each unit in four-plex parcels, which is used to support 27 teachers and 12 student services positions. The mail-in ballots were sent to property owners in January and are due by election day.

April 9

The Burbank City Council is asking residents to approve a special tax on sewer and refuse services to subsidize reduced rates for low-income residents who are elderly or permanently disabled. If approved via mail-in ballot, ratepayers would be charged a two-percent tax on their water and sewer bill to cover the cost of the program. The ballot designation is Measure S – not to be confused with the March 5 Burbank Unified School District Measure S.

May 21

City of Los Angeles voters will determine how to regulate medical marijuana dispensaries. In response to the city council's decision to ban all dispensaries last July, three measures have qualified for the ballot. The first initiative would allow dispensaries registered with the city before 2007 to continue to operate, about 100 shops. The second initiative permits all dispensaries to operate—including the 500+ shops entering into business after 2007—and raises their tax rate from $50 to $60 per $1,000 in gross receipts. The city council qualified a third initiative, which allows pre-2007 dispensaries to continue to operate; institutes the $60 tax per $1,000 in gross receipts; and establishes requirements for distance from schools, libraries and parks.

VICA encourages all business leaders to vote in their respective municipal elections, in order to establish a better business climate in the San Fernando and San Gabriel Valleys. More information about these measures can be found on the Los Angeles County Registrar-Recorder/County Clerk's website (http://www.lavote.net).