By: Gerda Govine Ituarte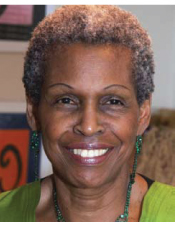 Poet Gerda Govine Ituarte read from her first poetry art book Oh, Where is My Candle Hat? published by Asterisco Editora de Poesia in Tijuana, Mexico. Candle Hat is a limited edition, handmade, English and Spanish book with translation and artwork by Luis Ituarte that includes a CD in both languages. The website www.poetryartbookstation was established by the Ituartes to create and nourish an international appetite for poets and artists that traverse cultural borders in innovative ways. World renowned poet Nikki Giovanni praised Candle Hat: "What a pleasure to see a very good journalist emerge into an excellent poet. That eye for the real wedded to the heart of a metaphor makes "Oh, Where is My Candle Hat? is must reading. It is wonderful to welcome Gerda Govine Ituarte to the world of poetry."

Govine Ituarte's poetry has appeared in Poetry and Cookies, 2012 Anthology of Poems Altadena Library District; The San Gabriel Valley Poetry Quarterly, Spring 2012; and Frontera Esquina Magazine, Olmeca Press, July 2012, Tijuana, Mexico. She read for Indelible Ink at Café Bizou, Pasadena; Flintridge Bookstore and Coffeehouse, La Canada; San Gabriel Valley Poets, Pasadena; and the International Black Writers and Artists Association of Los Angeles. She writes As We Speak for the Pasadena San Gabriel Valley Journal. Govine Ituarte's second poetry art book will debut Fall 2013.

She is the CEO of G. Govine Consulting (www.govineconsults.com). She believes that writing poetry allows her reservoir of memories and observations to flow freely and bring comfort and joy. Govine Ituarte's poetry reflect, illuminate and connect with others using words to create a sense of place. She is in love with words that anchor, touch and nourish her spirit and soul. She and husband Luis lives in Pasadena and Tijuana, B.C., Mexico.