By: Marci Alboher




Until recently, most Americans equated the end of a successful career with the beginning of retirement. No more. Now they want to stay in the game (or better, change the game). They want to leave a mark. Make a difference—and continue to make money. From Encore.org, the leading organization in the field, comes a road map to every step of the encore career journey. Here's how to plan the transition. How much you need to make. The pros and cons of going back to school. When to volunteer, and when to intern.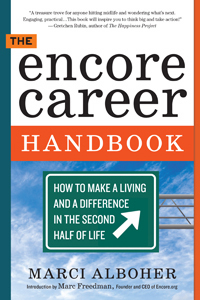 How to network effectively and harness the power of social media. Who's hiring and for what jobs? (Check out the Encore Hot List of 35 viable careers). A comprehensive, nuts-and-bolts guide, filled with inspiring stories and answering—in extensive FAQ sections—the concerns of its readers, this book is everything you need to help you strike a balance between doing good and doing well--in a way that will sustain you through this new stage of life.

Encore entrepreneurs aren't all that different from social entrepreneurs at any age.
If they have an idea for a fix to a nagging social problem, they do what any innovator does. They tap whatever resources they have — their network, their personal or professional skills, access to capital (both human and financial).

Where they differ from younger social entrepreneurs is that they tend to have a kind of seasoning and self-awareness that only comes with age. By the time you hit mid-life, you know your strengths and where you'd be better off bringing in outside help. Funny that you mention fear of defeat. Most encore entrepreneurs have already weathered plenty of failure.
More common is the fear of inaction. The idea that if you don't chase an opportunity and try to make it succeed,you'll regret it.

Do you feel that there is enough support for these encore entrepreneurs that are starting careers later in their lives? What resources can they turn to (aside from the book)?
I'm not completely sure that encore entrepreneurs need different kinds of support than younger social entrepreneurs. They turn to the same kinds of places as younger entrepreneurs with a social bent — sustainable MBA or MBA-like programs and social venture boot camps, social venture incubators, and mentors.

There are some programs springing up, like the Small Business Administration's 50+ initiative, specifically catering to the challenges of older entrepreneurs (though not necessarily those with a social mission.)

What someone needs depends on a lot on what kind of background they come from. Someone who has a track record of running successful businesses will need very different kinds of support than someone who's new both to the social venture field and to entrepreneurship.
Something definitely kicks in when you cross the threshold of a big birthday, like 50 or 60. Regardless of what you've done earlier in life, there is a sense that what you do with your remaining time should matter. And even if you don't know exactly what you want to do, you probably have a good sense of what part of the world's troubles speaks to you most personally.
I see a few common threads. Legacy and the fate of future generations are common motivators. Which is why we see so many encore entrepreneurs interested in programs around youth — mentoring, foster care, education are all popular areas. Improving the way health care is delivered and making life easier for our aging population and those that care for them are also big areas of interest for encore entrepreneurs. Many baby boomers have lived through serious health issues themselves or have had experience caring for a partner or aged parent. So it's not surprising that those experiences are natural influences.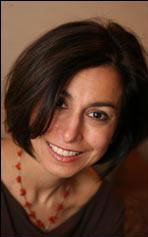 Marci Alboher is a vice president of Encore.org,
the leading nonprofit organization making it easie
for millions of people to pursue second acts for the greater good.
Follow Marci (@heymarci) and Encore.org (@encorecareers) on Twitter.