Glendale Adventist Medical Center (GAMC) recently held a ribbon-cutting event to kick-off its Live Well program, a special program for those 55+ years of age to assist them as they navigate through the health care system.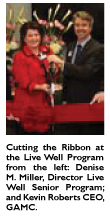 GAMC's Live Well program offers monthly education seminars, discounts on health screenings, discounts in GAMC's Terrace Café, assistance in finding the right doctor, and discounts in GAMC's gift shop. There are also health and wellness program discounts at the GAMC Therapy & Wellness Center, consultations on health insurance, retirement and financial planning consultations, as well as regular e-updates with news for the 55+ Community.

The Live Well program is supported by corporate sponsor Leisure Glen; Scholl Canyon Estates, and Casa de Glendale, which is providing a location and community outreach for an upcoming foot clinic and screening scheduled for March. Los Angeles County Supervisor Mike Antonovich has provided Live Well with a grant to cover discount transportation so seniors can get to their doctor's appointments, lab and radiology tests and monthly hospital luncheons.

There is a free Live Well program as well as a Comprehensive Senior Program (annual dues $25 for an individual or $45 per couple), which includes some additional services. The Comprehensive program offers a dedicated phone line for information on scheduling outpatient visits, a medical bill review with a patient financial representative, a quarterly medical consultation with GAMC Doctors of Pharmacy, annual flu shot clinic. For more information call 818.409.8091.