By: Elsie Krikorian



In established tradition the Armenian Consulate General hosted the annual general meeting and luncheon of the Los Angeles Consular corps. Third largest in the world (after New York and Hong Kong), the Los Angeles Consular corps includes almost 100 Consulates General, Consulates and Honorary Consulates. On the last day of January 2013, the House of Armenia in Glendale opened its doors to host the most representative consular event of the year followed by a luncheon and a cultural program. At the invitation of the Consul General of Armenia, the Los Angeles County Supervisor Michael Antonovich, appeared before the consular community as a keynote speaker. Past guest speakers of this event hosted by Armenia include the 35th Governor of California George Duekmejian and the US Secretary of Navy, Paul Ignatius. Picture from the left: Consul General of Armenia, Grigor Hovhanissian; and keynote speaker, Los Angeles County Supervisor Michael Antonovich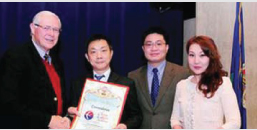 China Eastern Airlines Recognized by Fortune Magazine as "the Most Innovative Company in China 2011," China Eastern Airlines, headquartered in Shanghai, is one of the three largest major air transport companies in China. In 2011, nearly one million passengers departed from or arrived at LAX on non-stop flights from China. Picture from the left: Los Angeles County Supervisor Michael Antonovich; Mr. Huaxin Zhang, General Manager of China Eastern Airlines, North America; Mr. Sean C. Shi, Deputy General Manager, Los Angeles; and Linda Chen Board of Supervisors
--------------------------------------------------------------------------------------------------------------------------------------------------------------------------------

Burbank Interim City Manager Ken Pulskamp has promoted Joy Forbes to become the City's new Director of the Community Development Department (CDD). Forbes currently serves as Deputy City Manager for the City of Burbank, a position she's held since January 2009. Prior to that, she served 13-years in CDD, finishing as Deputy City Planner before her move to the City Manager's Office four years ago. The Community Development Department is responsible for City Planning, Building, License and Code, Transportation, Housing, and Economic Development. Forbes replaces Greg Herrmann who retired in December 2012.

Woodbury University has announced the appointment of David P. Dauwalder, Ph.D., as executive vice president and provost,

effective April 1. Dr. Dauwalder will act as the chief operating officer of Woodbury, leading the university's academic enterprise and helping to visualize and refine academic priorities. He is currently provost and senior vice president for academic affairs at the University of New Haven, West Haven, Connecticut. He also served as provost and vice president for academic affairs at California State University, Stanislaus and Central Washington University. "David's expertise in strategic planning, budgeting, and program development will be crucial as Woodbury focuses on a future of excellence," says Luis Ma. R. Calingo, Ph.D., president, Woodbury University. "His commitment to transparency and shared governance, combined with his global connections, will help our historic institution reach even higher levels of competitiveness and distinctiveness."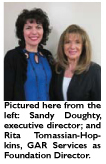 Rita Tomassian-Hopkins has recently joined Glendale-based GAR Services as Foundation Director. Hopkins career is in the non-profit sector spanning over two decades during which she has held positions as Juvenile Diabetes Foundation, March of Dimes, also served as executive director of nonprofits' Los Angeles Chapter. "I am very excited to be part of GAR and working in collaboration with all stakeholders to grow our Foundation to the next level, both fundraising and friend raising, states Hopkins. Pictured here from the left: Sandy Doughty, executive director; and Rita Tomassian-Hopkins, GAR Services as Foundation Director.

The Burbank-Glendale-Pasadena Airport Authority, owner and operator of Bob Hope Airport, has elected new interim officers to

head the Authority Commission. The election followed the resignation of former Airport Authority President and Pasadena Commissioner Chris Holden, who assumed office in the State Assembly in December. Glendale Commissioner Raffi Manoukian was elected President. Commissioner Susan Georgino of Burbank was elected Vice President, and Commissioner Steve Madison of Pasadena was chosen to be Secretary. The Burbank-Glendale-Pasadena Airport Authority is a joint powers authority formed by the three cities to own and operate Bob Hope Airport. The other current commissioners are: Don Brown and Bill Wiggins of Burbank; Dave Weaver and Frank Quintero of Glendale; and Terry Tornek of Pasadena.

San Bernardino's Interim City Manager, Andrea Travis-Miller, was voted in as the San Gabriel Valley Council of Government's new executive director. For the first time in 17 years, the San Gabriel Valley Council of Governments has a new executive director. She will replace Interim Executive Director Fran DeLach, who will step down, DeLach also worked as city manager of Covina and Azusa. The COG is made up of 31 cities, Los Angeles County and local water districts and has worked on building railroad overpasses with its subsidiary, the Alameda Corridor East, as well as helping cities meet the state's new A.B. 32 rules for reducing greenhouse gas emissions through energy efficiency proposals.



The Arcadia Chamber of Commerce is pleased to announce that Jim and Shelly Romo have been named Citizens of the Year for 2013-14. The couple has devoted a lifetime of volunteer service to the community of Arcadia through scouting, schools, church and myriad organizations. Shelly, who taught in the Glendale School District, has been President of Assistance League of Arcadia twice and been named Most Valuable Member by the organization. Jim has been President of the Arcadia Unified School District Board of Education twice during his 10 years on the board, and also served two terms as President of the Arcadia Educational Foundation. Jim is a partner in the law firm of Atkinson, Andelson, Loya, Rund & Romo, The Romos will succeed Alice Wang, this year's Citizen of the Year, at the 2013 Citizen of the Year / Installation Dinner to be held on March 21 in the Chandelier Room at Santa Anita Park.

The San Gabriel Valley Economic Partnership (SGVEP) hosted a Speaker's Luncheon Series event recently at Mt. Sierra College's auditorium. The purpose of the luncheon was to provide a platform for high profile business leaders to discuss topics of significance and educate members of the community. The topic: Are you safe?, was presented by Glendale's Chief of Police- Ronald De Pompa, Covina's Chief of Police- Kim Rainey and Pasadena's Chief of Police- Phillip Sanchez. The distinguished speakers discussed the impact of California prison realignment on businesses and our communities. Kristen Stabb, College Director, also addressed the crowd discussing the importance of education and the impact on individuals, families and communities.

The Pasadena Tournament of Roses Association's Board of Directors confirmed R. Scott Jenkins as president for the 2013-2014 Tournament year. Jenkins will provide leadership for the 125th Rose Parade January 1, 2014. Jenkins revealed "Dreams Come True" as the theme for the 125th Rose Parade. "The 2014 theme is a reminder that not only is it possible to reach seemingly impossible goals, but that by boldly pursuing those goals, we have actually attained them," said Jenkins. "Jenkins has been a volunteer member of the Tournament of Roses Association since 1982 and was elected to the Executive Committee in 2003. For additional information on the Tournament of Roses please visit the official website at www.tournamentofroses.com.



Edmund Tse, M.D., has been elected chief of staff at Huntington Memorial Hospital, effective immediately. A native of Hong Kong Dr. Tse now leads a medical staff of more than 800 active physicians in serving residents of the greater San Gabriel Valley and beyond. Dr. Tse is a diplomat of both the American Board and Nephrology and the American Board of Internal Medicine. He is currently a member of Pasadena Nephrology Medical Group, which is comprised of physicians specially trained to diagnose and treat conditions affecting the kidneys or renal system. He also serves as co-medical director of Huntington Dialysis Center in Pasadena. "Dr. Tse is tremendously passionate about his profession, our hospital and the patients he serves," said Stephen Ralph, president and CEO of Huntington Hospital. "We know that this commitment and enthusiasm will carry over into his new role of chief of staff." For more information visit: www.huntingtonhospital.com.

San Gabriel Councilman David R. Gutierrez has been re-elected to Chair and El Monte Mayor Pro Tem Norma Macias has been elected as Vice Chair of the Board of Directors of the Alameda Corridor-East Construction Authority (ACE), which is responsible for a $1.7 billion program of constructing 22 roadway-railroad grade separation projects in the San Gabriel Valley. Gutierrez has served as Chairman since January 2012 and has been a member of the ACE Board of Directors for four years. First elected to the San Gabriel City Council in 2001, he has served as Mayor three times and has represented the City on the San Gabriel Valley Council of Governments and Independent Cities Association, where he previously served as President. Macias has been a member of the ACE Board of Directors since January 2012. First elected to the El Monte City Council in 2009, she currently serves as the City's delegate for the League of California Cities.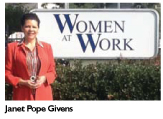 Women At Work recently announced the appointment of Janet Pope Givens as Assistant Director of the Pasadena-based agency. Women At Work is the only non-governmental, bilingual career and job resource center serving Los Angeles County.
Working with Executive Director Robin McCarthy, Givens is responsible for managing day-to-day operations, exploring options for new client programs, increasing awareness through marketing, media relations and online presence. Givens retired in 2011 after a 26-year career with the City of Pasadena where she served as public information officer for the Pasadena Police Department and adjutant to the chief of police. She also managed special assignments in the City Manager's Office as assistant director of Northwest Programs and special assistant to the city manager. For more information visit www.womenatwork.org.

Caltech president Jean-Lou Chameau plans to resign and move to a university in Saudi Arabia. Chameau, a native of France who has led Caltech since 2006, plans to leave sometime later this year. Chameau will become president of King Abdullah University of Science and Technology, which began enrolling students in 2009. His wife, Carol Carmichael is also resigning from Caltech, where she was involved several projects including a sustainability initiative. "Until recently, Carol and I believed we would complete our careers at Caltech and retire in Pasadena," Chameau said in his statement. We did not expect, however, to be presented with a unique and life-changing opportunity: to lead the recently created King Abdullah University of Science and Technology (KAUST). "As I considered accepting the position at KAUST and as I spoke with individuals involved in its founding, I was struck by the attention paid to establishing a culture of excellence, and how its planning had been influenced by great institutions from around the world, including Caltech."

The Burbank Channel Dominates Golden Mike Awards, with Five Victories: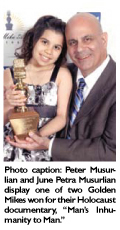 Musurlian wins four; Lutz wins one. Lead by Peter Musurlian's four victories for reporting, shooting and editing, The Burbank Channel topped all other Division "B" competitors -- TV stations with fewer than 49 employees -- at the 63rd Annual RTNA Golden Mike Awards Banquet. Garnering five Golden Mikes, put The Burbank Channel in a tie with Division "A" powerhouse Los Angeles television stations: KCBS/KCAL and KNBC. This event was organized by the Radio & Television News Association of Southern California, was held at the Hilton Universal City/Los Angeles. Musurlian won for Best Sports Reporting and Best Videography for "The Burroughs High Mountain Biking Team." Lutz, who also won a Golden Mike for the story, won for Best Editing of a Feature Story. Musurlian, a six-time Los Angeles Area Emmy nominee, also won Golden Mikes for Best Videography and Best Editing of a Hard News Special, for: "Man's Inhumanity to Man," a 16-minute Holocaust documentary, produced for young audience and presented by seven-year-old reporter & interviewer, June Petra Musurlian
Photo caption: Peter Musurlian and June Petra Musurlian display one of two Golden Mikes won for their Holocaust documentary, "Man's Inhumanity to Man."