By: Rebecca Mikkelsen




For two decades, the San Gabriel Valley Economic Partnership (SGVEP) and the San Gabriel Valley Council of Governments (SGVCOG) have collaborated to create a stronger business climate in the San Gabriel Valley. The groups work together in a number of ways, including co-sponsoring events and uniting in positions of interest to the region's businesses.
"We have ongoing conversations about the need for additional business services in our region and while each organization pursues its own projects, we also work together to deliver services to our community," explains Cynthia Kurtz, President, San Gabriel Valley Economic Partnership. "For example, sometimes when the SGVCOG seeks grant funding for a project, we will collaborate because as a non-profit organization, we have access to grants that the COG, as a Joint Powers Authority, does not."

The state government's withdrawal of economic development funding has prompted the groups to be even more resourceful. The SGVCOG and SGVEP are working with the Los Angeles Regional Small Business Development Center (SBDC) Network Lead Center to expand the services of the small business technical assistance program, primarily funded by the U.S. Small Business Administration, and implement new Small Business Development Centers in the San Gabriel Valley. Currently, Pacific Coast Regional SBDC, with the support of the Pasadena Chamber of Commerce and City of Pasadena, operates a satellite office at the Foothill Workforce Investment Board, located at 1207 E. Green Street in Pasadena, and the Long Beach City College SBDC manages a satellite office in the Mission District of the City of San Gabriel at the Alta Pasa Community Improvement Center at 415 S Mission Drive in San Gabriel's Mission District. The LA SBDC Network's Lead Center, based at Long Beach City College, is moving forward with plans to open SBDCs at Pasadena City College and University of La Verne. Both of the new centers are expected to open within the year.
San Gabriel Valley Economic Partnership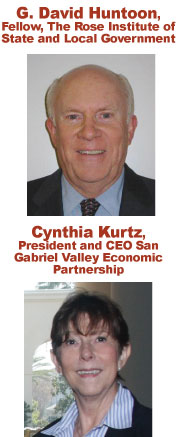 You can't claim to be a great place to do business unless you know why you are a great place to do business. The San Gabriel Valley is a great place and we know why. Under the watchful eye of the Regional Marketing Committee, the San Gabriel Valley Economic Partnership undertook a study to find out what local businesses say about the SGV. They had plenty to say.
"It is close to what counts" is the number one reason the San Gabriel Valley is the place for business. Successful businesses need to be close to customers, markets, materials and employees.

When you are in the SGV you are close to it all.
"You can get to other places quickly" whether it is Orange County, downtown LA, or the Inland Empire there is a freeway or a light rail line that will get you there quickly. When your destination is farther away, the regional airports at Burbank (Bob Hope Airport) and Ontario provide close, convenient access to anywhere in the nation.
"It's 400 square miles of talent." Every community is close to an institution of higher education providing a skilled workforce and a steady supply of opportunities for research and product development.
The SGV will "make your CFO happy." Lower commercial lease rates help the bottom line. And there is room to expand or consolidate locations for greater operating efficiencies.
"SGV cities are business friendly." They welcome new and expanding businesses and want to be helpful. Each year the Los Angeles Economic Development Corporation (LAEDC) convenes a panel of economic experts to review Los Angeles cities and reward those that are business friendly. In the last three years, four SGV cities - Alhambra, Monrovia, Duarte, and West Covina - have been rated number one most friendly in their size category. Many others have been recognized for their business friendly programs.
The San Gabriel Valley regional economy has turned the corner. Slowly, businesses are beginning to fill vacancies and expand. In 2012, nine percent of the region's businesses said they created and filled new positions. Thirty-six percent filled vacant positions and 22 percent did both. In 2013, the Partnership is expecting to see continued job growth and economic expansion.
With stronger consumer confidence and a growing economy, the San Gabriel Valley is well positioned to grow and expand. There are very few other locations that can offer all these amenities. The SGV is open for business. www.valleyconnect.com

San Gabriel Valley Council of Governments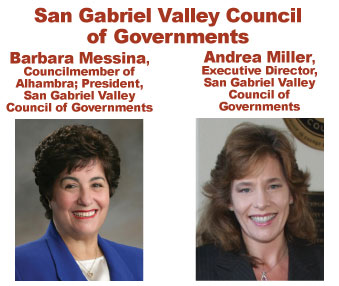 The San Gabriel Valley Council of Governments (SGVCOG) was founded in 1994 as a Joint Powers Authority (JPA). Its membership includes the 31 incorporated cities in the San Gabriel Valley, three Supervisorial Districts representing the unincorporated areas in the San Gabriel Valley, and the Valley's three water agencies.
Our mission is to serve as a unified voice to maximize resources and advocate for regional and member interests to improve the quality of life in the San Gabriel Valley. Our members have found that by working together on areas of common interest, we are able to achieve more for our residents, businesses and the larger community. At the same time, we are proud of our region's rich diversity reflected in the unique characteristics of the Valley's 31 cities and numerous unincorporated communities.
Over the past twenty years, the SGVCOG has had many significant accomplishments that have benefitted our region. They include:
Transportation
• Passage of state legislation (SB 1847 Schiff) and formation of the Pasadena Blue Line Construction Authority to build the 13.6 mile Metro Gold Line light rail from Downtown Los Angeles to Pasadena, which was completed on time and under budget. This project improves mobility in region and was funded by $850 million in local, state and federal funds.
• Formation of the Alameda Corridor East Construction Authority to construct grade separations for busy intersections of rail and vehicular traffic. This project improves safety and resulted in over $1 billion in federal, state and local funding for this project.
•Formation of a Metro West San Gabriel Valley Sector Governance Council to represent the transit needs of the West San Gabriel Valley to the Los Angeles County Metropolitan Transportation Authority. The purpose of this initiative was to improve bus service to the eight San Gabriel Valley cities not served by Foothill Transit.

Environment and Open Space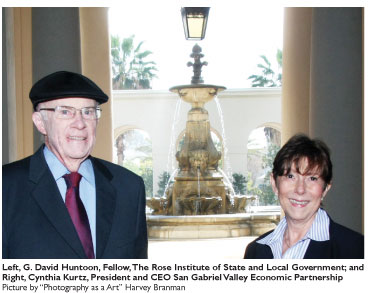 • Passage of state legislation (SB 216 Solis) and formation of the San Gabriel and Lower Los Angeles Rivers and Mountains Conservancy to plan and fund open space projects in this urban region. This was the first State conservancy since 1965 and is the nation's largest urban conservancy. Since its creation, the Conservancy has received more than $50 million in federal, state and local funds to protect open space in the San Gabriel Valley.
• Administration of the San Gabriel Valley Energy Wise Partnership with Southern California Edison. The program assists our cities in reducing the energy usage in municipal facilities, lowering operating costs and improving the environment.
• Administration of a grant from Southern California Edison to help cities plan long-term to reduce energy usage by developing greenhouse gas (GHG) inventories and energy action plans. These plans provide a blueprint to reduce both municipal facility usage and community-wide energy usage and comply with AB 32 (Nunez) and other State and Federal requirements.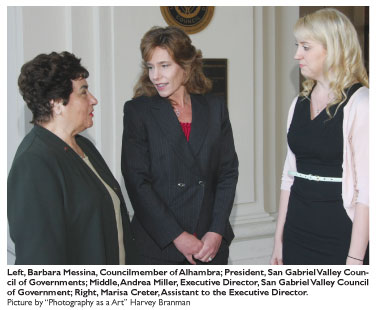 Housing, Homeless and Economic Development
• Completion of a two-phase needs assessment as the preliminary step of implementing a regional strategy to deal with homelessness. The study identified local priorities for addressing gaps in the homeless service delivery systems in San Gabriel Valley, specifically a dearth in permanent supportive housing units. Since then, the SGVCOG has developed and implemented short and long term strategies to alleviate homelessness in the region.
• Partnership with the San Gabriel Valley Economic Partnership (SGVEP) to reinstate Small Business Development Centers (SBDCs) in the San Gabriel Valley. The Pasadena City College SBDC opened in late 2012, and the University of La Verne SBDC is on schedule to open their SBDC in the coming months. Additionally, a satellite office opened in late 2012 in the City of San Gabriel.

Resources for more information: San Gabriel Valley Council of Governments: www.sgvcog.org; San Gabriel Valley Energy Wise Partnership: www.sgvenergywise.org.