By: Richard King



During my first trip to China in 1979, there were no hotels for foreigners, so we stayed in government guest houses which were obviously "bugged". Restaurants for foreigners were very limited and the bicycle traffic was overwhelming. How times have changed in the past thirty years! And much of the change is due to the expansion of tourism in China and the US.

Today travel to and from China is an important revenue source for businesses in the US. Unlike thirty years ago, 85% of tourism from China to the US today is leisure tourism. There is a great opportunity for US businesses to benefit from the arrival of these travelers. Hotels, restaurants, local shops and services are all to benefit from this inflow.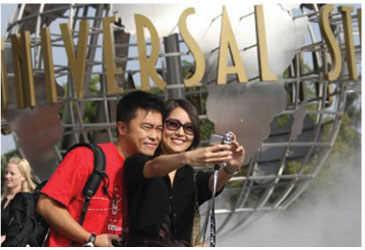 Due to strict government regulations, mainly from the challenges for Chinese nationals to procure a visa, the US receives a small percentage of all Chinese outbound visitors. In Shanghai and Beijing, over 1,000 people wait in line every day to try to get a US visa. The US Consul General in China, Linda Donohue has said that the visa demand has increased by 40% in one year. These visas do not include the student visas which number around 50,000 per year.

California was one of the largest overseas markets for Chinese tourism in 2011. Los Angeles in particular had a banner year in 2012 with 459,000 visitors from China, with annual increases. Considering our fortuitous geographical placement businesses that cater to the retail, restaurant and hotel sectors are well placed to receive the benefits of this influx of visitors.

In China there are now over 6,000 hotels that cater to foreign tourists. Lower end options have been traditionally restricted to Chinese nationals; however the trend is that more "zhusus" (basic accommodation of less than $30) and hostels are slowly becoming available to all. There are now five star hotels in every major Chinese city, with the target audience being foreign nationals and wealthy Chinese.

Luxury travel companies like Abercrombie and Kent, and Kipling and Clark have tours of historical importance with lectures by scholars to educate their customers while on the tour, starting at $7,000 and going up to $15,000 or more for a two week stay. First class air flights to Beijing can be as high as $23,000 for a round trip fare. Here in California, which holds the largest population of people with Chinese ancestry in the US (48%), there are travel agencies dedicated expressly for this market segment.

Tourism in China has become a major economic vehicle for China and the US. The tourism infrastructure in China, hotels, travel agents, tours, etc. is expanding rapidly and will have a significant influence on business in the US and China. We must continue to promote tourism between the two countries because it is a useful tool emphasizing business and positive relations between the two countries.