By: Brenda J. Trainor



Small businesses can sometimes have a hard time competing with the 'big dogs' because the cost of looking professional can sometimes be prohibitive. Coming up with good print materials and sophisticated services once required either expensive consultants and contractors, or a huge capital outlay for the equipment needed to create professional materials and products good enough to be competitive with the products created by the big multi-national corporations.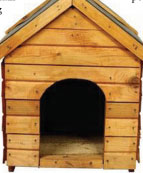 But the affordability of information technologies is changing the operational picture for small businesses and is allowing even the small mom and pop shops to present themselves and their products and services on a par equal to the big guys.

I found some great examples of creative technology use by small businesses at a recent convention: the "Groom and Kennel Expo" took place at the Pasadena Convention Center in February. The event is a fairly typical trade show and is an opportunity for pet businesses to gain valuable knowledge with seminars and competitions, and for suppliers and clients to meet and trade, and for grooming businesses to show off their skills and products. It draws thousands of attendees, some of whom compete in grooming contests.

The grooming business is pretty fascinating -- it is comprised substantially of small independent operators who have a strong local focus. And while the big box stores run by major corporations are clearly making inroads into this market for pet products (think Petco and PetSmart), the service side of this market, like grooming, is still substantially comprised of small independent operators.

The pet care business is no small industry - expenditures in this field have seen steady growth for over 20 years and this year will approach $55 billion in the US alone. With this much being spent, how can the small operators compete with the threat of the big corporations? Simple: just effectively use information technologies to create improved services and products and look as good as the big dogs in the marketplace.

The convention I visited was put on by Barkleigh Productions (www.barkleigh.com), a firm that has grown as a resource for the pet grooming industry since 1979. Starting out with a newsletter called GroomOgram (remember when telegrams were hi tech?), Barkleigh has expanded its media and event operations and now has about half-a-dozen pet industry publications in its control and hosts several trade shows for pet care professionals in various areas of the country. And while traditional print trade magazines are a substantial part of their communications mix, this company has become a multi-media operation with extensive web-based services and a substantial video operation.

Barkleigh adds to their convention experience with a strong TV element - providing coverage of the grooming competitions and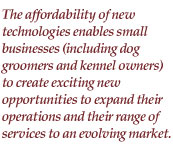 select sessions and interviews. The production is streamed on the Internet accessible via a web link. People not at the convention could go to the link to watch the some of the sessions and the competitions, and those at the convention could log on after hours to watch their own performance. The video coverage adds an entertaining dimension for attendees as well as exhibitors, even if it isn't exactly a broadcast quality production. A few years ago, such TV coverage would have been prohibitively expensive for a convention this size -- there simply weren't enough professionals or production companies available at a price to justify the expense. But with "pro-sumer" video equipment that can capture high-definition pictures and field production packages that fit into portable cases, this market is very different now -- enabling a highly-professional addition for a relatively low cost, and adding value to the convention attendees and an additional product to a wider potential audience base for their services.

The Expo featured nearly 100 vendors demonstrating and selling their products. Another good example of a small company using affordable technologies was Dream Dog Productions (www.dreamdogproductions.com). This firm produces educational materials for dog care professionals, publishing books and training materials about dog behavior for dog trainers and dog daycare operators. One of the principals of Dream Dog, Robin Bennet, co authored a book with Susan Briggs, owner of another independent small business, Crystal Canine (www.crystalcanine.com). The book, Off-Leash Dog Play, is a guide for dogs social interactions that was the product of these dog professionals' expertise. These women have operated their dog care and dog training businesses and saw a need for professional services to advance the quality of professionalism in the field. They joined forces and have expanded their collective operations to include services for dog care professionals that include consulting, coaching, seminars, staff training, and financial management and guidance.

To offer these services, they have become multi-media production professionals: they have written books and created training materials that include extensive photographs, visual aids, posters, workbooks, and DVDs as part of a curriculum package. What makes this operation a great example of technology use, is that these entrepreneurs didn't hire writers, photographers, videographers and publishers -- rather they created the products themselves, at home, using Mac computers, some stock photos, a lot of photos and videos they shot themselves and then edited and produced the DVDs on their home computers with editing software and a small scale duplicator. And while some of the print production required outside contractors, the operations of these companies is something that the principals have entered into collaboratively, sharing resources with each other via services like Dropbox and other internet-based technologies. They have expanded their traditional dog care careers into a successful educational and consulting operation using affordable information technologies.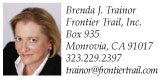 The affordability of new technologies enables small businesses to create exciting new opportunities to expand their operations and their range of services to an evolving market. Keeping up with new services and using new ways to communicate them is a key to surviving in this dog-eat-dog business economy. Even if you are not in the dog care profession, you will benefit from learning some of these new tricks.