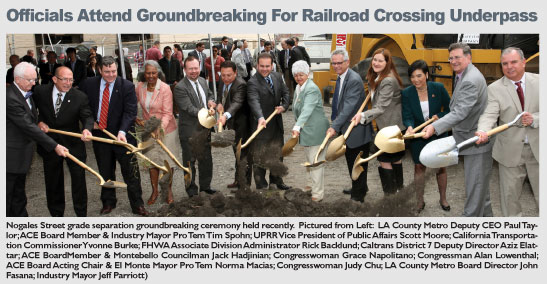 Federal, state, local and railroad officials gathered for a groundbreaking ceremony for a $110.5 million six-lane roadway underpass and a double-track railroad bridge to be constructed over Nogales Street, immediately north of the Pomona (60) Freeway in the City of Industry and unincorporated Los Angeles County.

The crossing is used daily by about 40 freight trains, 12 Metrolink commuter trains and 42,680 vehicles and is ranked no. 5 in the State for grade separation priority based on congestion and collision metrics..

"This important project will reduce vehicle emissions, eliminate collisions, train horn noise and vehicle delay and create nearly 2,000 jobs over three years of construction," said El Monte Mayor Pro Tem Norma Macias, Acting Chair of the Alameda Corridor-East Construction Authority (ACE). "We thank our funding partners for providing the support needed to move this project into construction."

"I strongly support the ACE Construction Authority and its grade separation program, which is a priority for our region and in Sacramento," said State Senator Bob Huff, Vice Chair of the San Gabriel Valley State Legislative Caucus and a founding Board Member of the ACE Construction Authority.

"Los Angeles County Metro is contributing more than a third of the overall ACE program funding through Measure R and other countywide sales tax measures and is committed to remaining a significant sponsor of this important rail-roadway grade separation program," said Metro Deputy Chief Executive Officer Paul Taylor.

The project is an investment in a program of grade separations along the Alameda Corridor-East Trade Corridor, which accommodates about 60 percent of the containers moved from the nation's busiest container ports in the San Pedro Bay to the rest of the country via the region's rail network. The Union Pacific Railroad mainline is one of the busiest sections of freight rail in the nation, with a current daily total of 40 trains per day projected to increase to 104 trains by 2025 as trade rebounds at the San Pedro Bay ports, the nation's busiest container port complex.