By: Elsie Krikorian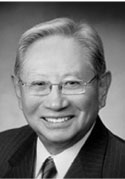 Edward Keh will be honored as the first recipient of the "Glendale Memorial Hospital Humanitarian of the Year award". Ed has spent 32 years as a pioneering developer of Retirement and post-acute care centers, headquartered in Glendale. Healthcare Management Services provides life-giving support to a truly underserved market. Ed has spent 12 years as an advocate of the programs and services of Glendale Memorial Hospital as well by serving on both the Community and Foundation boards and providing generous financial support. For more information call (818) 502-2375.
--
China Eastern Airlines Recognized by Fortune Magazine as "the Most Innovative Company in China 2011." China Eastern Airlines, headquartered in Shanghai, is one of the three largest major air transport companies in China. In 2011, nearly one million passengers departed from or arrived at LAX on non-stop flights from China. Pictured: Supervisor Michael D. Antonovich, Mr. Huaxin Zhang, General Manager of China Eastern Airlines, North America, Mr. Sean C. Shi, Deputy General Manager, Los Angeles, and Linda Chen Board of Supervisors, Supervisor Michael D. Antonovich welcomed the new General Manager of China Eastern Airlines Mr. Huaxin Zhang.
--
Huntington Memorial Hospital has announced that Kevin L. Andrus has joined the hospital as executive director, public relations, reporting to Jane Haderlein, senior vice president, external affairs. Andrus comes to Huntington Hospital from Seton Medical Center in Daly City, CA where he has been serving as vice president of business development, marketing and communication since 2011.
--
Keller Williams Glendale had a night to remember at their Grand Opening on January 31st, 2013. Over 300 guests attended the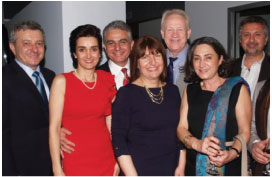 festive event that christened the brand new build-out of offices on the 4th level of the Americana at Brand. Keller Williams made its official move to the Americana at Brand in Fall of 2012. The highly anticipated event brought together not only Real Estate Agents all across the county, but also well-known individuals and dignitaries of the city of Glendale. Local company, Kitchen 12000, catered the event with delicious appetizers, beautiful centerpieces, and more. Team Leader, Charles Banfield, was, and is, very honored and proud to stand at the helm of such an amazing market center. Together with Nick Avedissian and Mike Derian, Operating Principles, and the agents of Keller Williams- their goal is to build careers worth having, businesses worth owning, and lives worth living.

--
The planned expansion of Art Center College of Design's South Campus recently received a significant endorsement when the College was awarded a grant of $1 million from The Ralph M. Parsons Foundation. The grant, which will be used to defray the cost of the 2012 purchase of a former U.S. Postal Service property at 950 South Raymond in Pasadena, will enable the College to extend its educational reach and resources while invigorating art and design education. The expanded South Campus is expected to be ready for use by students and faculty by September, in time for the beginning of the 2013--2014 academic year. Art Center President Dr. Lorne M. Buchman, noting the grant's significance, says, "Building upon the unprecedented support of our alumni for the acquisition of the former USPS building, The Parsons Foundation's grant signals to the community the growing importance of the creative professions to the economy and our world. We are profoundly grateful to The Parsons Foundation for sharing Art Center's vision of exceptional art and design education."
--
Katherine Aguilar Perez-Estolano of Pasadena has been appointed to the California High Speed Rail Authority. Perez-Estolano is an adjunct professor at the University of Southern California School of Policy, Planning and Development and co-founded Estolano LeSar Perez Advisors LLC in 2011. Perez-Estolano was executive director of the Urban Land Institute's Los Angeles District Council from 2008 to 2011, vice president of Forest City Development from 2005 to 2008 and executive director at the Transportation and Land Use Collaborative of Southern California from 2000 to 2005. Perez-Estolano was deputy mayor of the City of Pasadena from 1998 to 2000 and transportation manager for the City of South Pasadena from 1996 to 1998.
--
San Fernando Valley Council of Governments Makes its Mark
In an unprecedented showing of regional unity, a team of high-profile valley leaders brought home an initial set of priorities for improving transportation in the greater San Fernando Valley region. At a recent meeting of the LACMTA Metro Board of Directors, a set of proposals sailed through unanimously on a motion to have Metro "formally recognize" the projects. The motion was made by County Supervisors Antonovich and Yaroslavsky, Director Mel Wilson and Glendale City Councilman Ara Najarian, who also serves as Chairman of the San Fernando Valley Council of Governments. Long-time valley leader and Metro Director Richard Katz also worked to gain support for the motion. Some had argued that the valley region was shortchanged in the past, and the first step to achieving "geographic equity" would be to set specific goals and projects to weigh in on future funding opportunities. The list of priorities had been under consideration, but had only officially been approved by the SFV COG on March 14th.These will comprise the foundation and initial building blocks for what is being referred to as the Valley Mobility Matrix—a framework for cons
--


Governor Edmund G. Brown Jr. recently traveled to The People's Republic of China to meet with Chinese government and business leaders, highlight bi-lateral trade and investment opportunities between the two regions and open a new California foreign trade and investment office. The Governor was joined by a delegation organized by the Bay Area Council that includes approximately 75 business, economic development, investment and policy leaders from throughout California. Senior administration officials will also accompany the delegation. The trip follows more than a year of significant diplomatic and business exchanges between the State of California and China. In February 2012, Governor Brown welcomed His Excellency Xi Jinping, then-Vice President, and now President of China, to California. During the visit, Governor Brown announced his intention to visit China, open a trade and investment office and form a China-California Joint Task Force to drive more collaboration, investment and trade between California and China. The State of California has not had a formal presence in China since the previous foreign trade offices were closed in 2003.

VEDC is proud to announce the appointment of Pegi Matsuda as their new Board of Directors Chairwoman. This selection marks a first in VEDC's 37-year history where a woman will hold the Board Chair position. Matsuda is a successful leader with over 30 years of experience. She is a Valley business advocate and also serves as a board member for VICA, is a founding board

member of ACG-101Corridor and she is also a member of the board of trustees for Woodbury University in Burbank. Pegi Matsuda is the Senior Vice President, Community and Market Development for Valley Presbyterian Hospital (VPH). "On behalf of VEDC, I am pleased to welcome Pegi Matsuda to her new role as Board Chairwoman," stated Don St. Clair, VEDC Past Board Chairman. "I look forward to working with Pegi and together, with the VEDC Board, to continue guiding the future of the company." Also announced was new roster of VEDC Board of Directors Officers: Nishen Radia, Focal Point Partners as Vice-Chairman; Scott Aney, City National Bank as Secretary; John Marquis, Vallarta Supermarkets as Treasurer; Ariel Berrios, Buchalter Nemer as Member at Large and Don St. Clair, Woodbury University as Past Chairman. VEDC is the largest non-profit small business lender in California offering direct micro and small business loans through programs including SBA Community Advantage and SBA 504 loans. For more information visit www.vedc.org.