By: Richard King



China has made inroads into appealing to western travelers and business people. I recently looked at the Hilton Hotels website and tried my hand at booking a meeting space. It was as though I was booking a space for a meeting room here in the Los Angeles area. Once I entered into the form my "requirements", I waited and I was informed that I had to send in my request via email and that a customer service agent would get back to me. Sound familiar? The funny thing is that I had the exact same experience with trying to book a meeting room here in the US.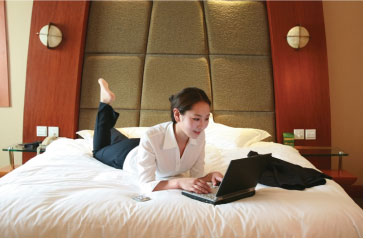 So with all of the improvements China and the hotel chains have made, there some things that have not changed. One still needs to make personal contact with a customer service person in China (or elsewhere) to ensure that your meeting or conference will go smoothly. So it is back to basics, building personal relationships.

How do you choose which hotel or resort will fit your business needs in China? This is the tough choice. There are over 70 international hotel and hospitality brands in China today. These account for only 20% of the total top end hotels. The other 80% are Chinese owned and operated. The difficulty with trying to set up a conference at a Chinese run hotel or resort is the language and cultural barriers. Western oriented meetings prefer quiet rooms where there is up to date audio visual equipment. Rooms without sound protection can be an issue in China, as ambient noise is something that Chinese nationals are used to and do not notice. This is just one example of the care needed in selecting the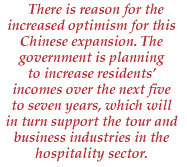 best place for your meetings and conferences while in China.

The recent economic downturn has hurt the hospitality industry, however there are still many companies entering the market. Hilton Hotels is a relative newcomer to the country and has plans to build many new hotels over the next five years. China is the Intercontinental Hotels Group's second biggest market after the United States. They plan to have the same amount of rooms in China as the US by 2025. There is reason for the increased optimism for this Chinese expansion. The government is planning to increase resident's incomes over the next five to seven years, which will in turn support the tour and business industries in the hospitality sector.

One of the main issues that comes up frequently is the low retention rate of employees in this sector. Along with this challenge is the cultural differences in service expectations. Bridging this gap is one of the major focuses of the larger players.

So if you are planning on having business meetings in China or are planning a trip to some of its amazing natural or cultural sites, you will need to find reliable partners in China that can meet your specific needs. Despite the fact that so much business is on the web, there is no comparison to a personal realationship.