By: Elsie Krikorian



Eric Michael Garcetti, won in a nonpartisan election for Mayor on May 21, 2013, defeating city Controller Wendy Greuel. Garcetti is an outgoing member of the Los Angeles City Council, representing the 13th District. Garcetti was elected to the Los Angeles City Council in 2001 and reelected in 2005 and 2009. He succeeded Alex Padilla as President of the City Council on January 1, 2006 and was re-elected as President at the beginning of the Council's subsequent terms in 2007 and 2009. Garcetti declared his candidacy for mayor of Los Angeles in September 2011A member of the Democratic Party, Garcetti Garcetti is the son of the former Los Angeles County District Attorney Gil Garcetti.


The City of Glendale Appoints Brian Ganley as the new Chief Information Officer (CIO) to oversee the Information Services Department (ISD). Brian Ganley replaces former Director Ed Fraga. Mr. Ganley will oversee the three divisions of ISD which provide Applications Support, Technical Support and Wireless Communications to the City of Glendale. Brian Ganley previously served as the Information Technology Manager for the City of West Hollywood. Brian's resume and references are replete with the customary achievements and accolades," said City Manager Scott Ochoa. "The trajectory of his career, punctuated by his experience with modern technology platforms and operating a demanding internal service department, has prepared him for this new challenge."

Assemblymember Chris Holden has named Joe Fransen and Awards by Champion as the 41st Assembly District Small

Business of the Year. "I am pleased to recognize Joe Fransen for his dedication and hard work in San Dimas and the San Gabriel Valley," stated Assemblymember Holden. "Joe is a success not only because of his business acumen, but because he gives back to the community through the countless hours he contributes in both San Dimas and La Verne." For more than 20 years, Awards by Champion has been a fixture on West Arrow Highway in San Dimas where Joe Fransen's community service awards are almost too numerous to mention. He has served as President of the San Dimas Chamber – twice. With a passion for music, he created the Wednesday night, Music in the Park summer program which is still going strong two decades later. He currently serves as Chair of the McKinley Children's Foundation, and has donated countless hours to the La Verne Chamber, San Dimas Coordinating Council, San Dimas Historical Society and Route 66 Heritage. "20+ years in the community is a strong testament that a business has shown excellence in customer service and in producing a quality product. said Marlene Carney, Southern California, Cal Chamber.

City of Burbank Receives 'AAA' Credit Rating
The City of Burbank's "strong local economy" and "very strong financial position" have prompted the highest credit rating possible from Standard & Poor's (S&P) Rating

Service. S & P recently informed the City's Financial Services Department that the credit rating agency has affirmed Burbank's 'AAA' issuer credit rating (ICR), saying the City's outlook is stable based on the following: • Strong local economy and steady tax base growth, as well as its convenient, attractive location, with easy access to the greater Los Angeles area • Strong income levels coupled with extremely strong market value per capita • Very strong financial position, with an available general fund balance of more than 36% of expenditures. "You can't do any better than an "AAA" credit rating from Standard & Poor's," says Cindy Giraldo Financial Services Director for the City of Burbank. "This just reaffirms that, despite a tough economy, Burbank's commitment to sound fiscal decisions has resulted in a robust economic outlook." The entire report is attached to this news release or can be view by visiting S & P's website at
standardandpoors.com.

Andrew Schneiderman, of South Pasadena, has been appointed to the California Fair Employment and Housing Council. Schneiderman has been vice president and general counsel at the California Commerce Club Inc. since 1994. He worked in multiple positions at Parker Milliken Clark O'Hara and Samuelian from 1987 to 1994, including associate attorney, attorney and equity partner. Schneiderman was an associate attorney at Sternberg and Associates from 1982 to 1987. He is a board member at Imagine LA and has performed pro bono work at Public Counsel Law Center since 2008. This position requires Senate confirmation and the compensation is $100 per diem.

George Krikorian, of Palos Verdes, has been appointed to the California Horse Racing Board. Krikorian has been president and chief executive officer at Krikorian Premiere Theatres since 1983, and president of George Krikorian Stables LLC since 1997. He was the president of Krikorian Enterprises Inc. from 1974 to 1985 and was the real estate branch manager for Tarbell Real Estate Company from 1971 to 1974. This position requires Senate confirmation and the compensation is $100 per diem.

Denise Miller, of Glendale, has been appointed to the California Occupational Therapy Board. Miller has been director of Live Well Senior Program at Glendale Adventist Medical Center since 2011. She has served in various positions at the Glendale Adventist Medical Center, including manager of physician relations and coordinator of occupational and hand therapy from 2001 to 2011. Miller was a self-employed consultant from 1998 to 2002 and director of industrial therapy and training at Key Method Inc. from 1990 to 1998.

Supervisor Michael D. Antonovich joined BYD President Stella Li, Lancaster Mayor Rex Perris, local leaders and community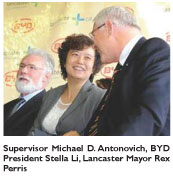 members at Wednesday's opening ceremony of the BYD Lancaster Electric Bus Manufacturing Facility and the BYD Energy Module Manufacturing Plant. "Just as the pioneers had a dream when they settled in the Antelope Valley, Mr. Wang Chuanfu had a dream when he founded his company, BYD -- "Building Your Dreams," said Antonovich. "Today – those dreams are becoming a reality. Walking in the footprints of the Antelope Valley pioneers, BYD is bringing jobs and economic vitality to our region" Initiating the partnership that led to the development of BYD's operations in Los Angeles County, Supervisor Antonovich and his wife, Christine first met BYD when he spoke at the World Economic Forum in 2008. "We were pleased to initiate this vital partnership working with Lancaster Mayor Perris, city officials, and City Manager Mark Bozigian to locate this assembly plant in here in the Antelope Valley," he said. "We look forward to its continued success bringing jobs to our communities. With the largest port complex in North America, great weather, and a large consumer market, Los Angeles County is a superb home for BYD industries." Pictured here from the left: Lancaster Mayor Rex Perris; BYD President Stella Li; Supervisor Michael D. Antonovich. (Photo by the AV Press)


Kevin A. Roberts, president/CEO of Glendale Adventist Medical Center, received the Glendale Chamber of Commerce award as 2013 CEO of the Year. Roberts was among a select group of community leaders honored at the Chamber's Annual State of the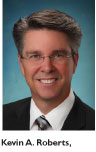 City and Awards Luncheon before nearly 500 attendees at the Hilton Glendale. "Kevin Roberts is CEO of our city's largest hospital, but this does not prevent him from being involved in the community," said Jeanne Brewer, Chamber Immediate Past President, in making his introduction. "It dawned on me that this award has much less to do about me than it does about how you feel about the amazing institute I represent – Glendale Adventist Medical Center," said Roberts. "I am blessed to inherit this institution and it is our passion to see it flourish and to provide world-class care to the citizens of Glendale and Foothill communities. In fact, if you or a family member or friend has received services at Glendale Adventist in the past six months, you should have noticed a difference in your experiences. "I am honored to receive this recognition on behalf of all the amazing doctors and caregivers at Glendale Adventist.