By: Elsie Krikorian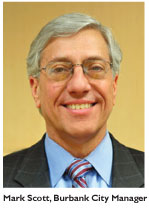 Burbank City Council has reached an agreement with veteran city administrator Mark Scott to become Burbank's next City Manager. Mr. Scott currently serves as City Manager for the City of Fresno, a full service city, in which he oversees multiple departments, a staff of 3,100 employees, and an annual budget in excess of $1 billion. Mr. Scott has extensive city management experience including 20 years with the City of Beverly Hills, 14 of which were as City Manager. He has also served as City Manager for the cities of Spartanburg, South Carolina and Culver City, California. In addition, Mr. Scott has a Master's of Business Administration from Stanford University and is a 35 year member of the International City Management Association. Mr. Scott will replace Ken Pulskamp, who joined the City of Burbank in December 2012 to serve as Interim City Manager until a permanent replacement was selected.

Twelve winners from Los Angeles and Ventura counties were honored in observance of National Small Business Week by the Los Angeles District Office of the U.S. Small Business Administration (SBA) and the Los Angeles Area Chamber of Commerce.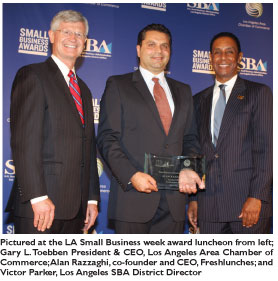 This year's Small Business Person of the Year went to Alan Razzaghi, founder and CEO of Freshlunches, Inc. Northridge. "These entrepreneurs, champions and resource partners have a story to tell and it's one of opportunity, growth and community. They definitely embody the best attributes of what people think of when they hear the words – entrepreneur and champion," said Victor Parker, Los Angeles Small Business Administration (SBA) district director. The Los Angeles District Office's Small Business Week award luncheon was held at the Westin Bonaventura Hotel. More than 500 small business owners and supporters joined the U.S. SBA and the Los Angeles Area Chamber of Commerce during the training sessions, a small business expo, and awards luncheon. Entrepreneurs and small business owners from various industries competed from Los Angeles, Ventura and Santa Barbara counties and were nominated by local trade associations, chambers of commerce and business organizations. For a complete write-up of the 2013 Small Business Week Award Winners please visit: http://www.sba.gov/sites/default/files/2013_SBW_LADO_Winners.pdf

The California Department of Public Health Drinking Water Program (CDPH DWP) submitted a corrective action plan to the US Environmental Protection Agency (US EPA) that addressed 29 specific issues raised by the federal government in April. "This administration is committed to ensuring safe drinking water for all Californians as evidenced by Governor Brown's signature on AB 685, which establishes a state policy that every Californian has a human right to safe, clean, affordable and accessible drinking water," said Dr. Ron Chapman, CDPH Director and state public health officer. In the letter to CDPH, the US EPA noted $455 million in unspent federal funds allocated to the Safe Drinking Water State Revolving Fund as of September 2012. The action plan submitted reflects the distribution of $84 million to water projects across the state. CDPH will disburse nearly $200 million in total funds in fiscal year 2013-14 and in the following two fiscal years, will disburse an additional $600 million, to help water systems deliver safe drinking water to their communities and put CDPH on track to meet the targets set by the US EPA. The US EPA is expected to respond to the corrective action plan by July 1, 2013. The plan is available on the CDPH website; www.cdph.ca.gov.



Pasadena Tournament of Roses Foundation President Jacqueline Howard distributed grant checks totaling $100,000 to 28 civic, educational and cultural organizations in the San Gabriel Valley at the Tournament of Roses Foundation Grant Awards Reception. Seven of the 28 organizations funded were first-time grant recipients. The Foundation assists charities in the Pasadena area by funding sports and recreation, visual and performing arts, and volunteer motivation and leadership development. These grants, ranging from $1,600 to $7,600 will help support new and ongoing programs benefiting children, teens, adults and seniors. For additional information on the Tournament of Roses please visit the official website at www.tournamentofroses.com.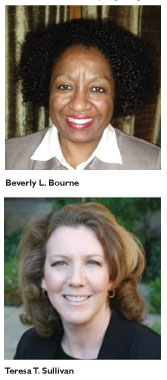 Governor Edmund G. Brown Jr. recently announced the appointment of Beverly L. Bourne, Rupa S. Goswami and Teresa T. Sullivan to judgeships in the Los Angeles County Superior Court. Beverly L. Bourne, of Altadena, has been a deputy alternate public defender, senior trial attorney at the Los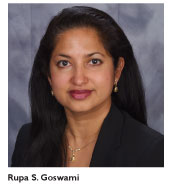 Angeles County Alternate Public Defender's Office since 2004. She held multiple positions at the Los Angeles County Public Defender's Office from 1995 to 2004, including deputy public defender and paralegal. Rupa S. Goswami of South Pasadena, has served in multiple positions at the U.S. Attorney's Office, Central District of California since 2001, including deputy chief of the general crime section and the domestic security and immigration crime section, project safe childhood coordinator and assistant U.S. attorney in the cyber crime section, the terrorism and organized crime section and the general crime section. She fills the vacancy created by the retirement of Judge Gary E. Daigh. According to the South Asian Bar Association of Southern California, Goswami will be the first South Asian American woman judge ever appointed in California. Teresa T. Sullivan of Altadena, has served as deputy district attorney at the Los Angeles County District Attorney's Office since 1999. She was a trial attorney at the Law Office of Jo Kaplan from 1997 to 1999. She fills the vacancy created by the retirement of Judge Charles D. Sheldon.