Business Life has had he honor of recognizing local Women Achievers for the past 23 years in Los Angeles County. This year, 27 remarkable women were selected based on their commitment, selflessness, and determination to gve back and make a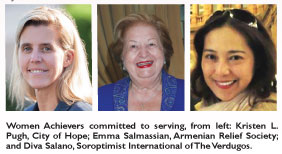 difference in our communities. They are mothers, sisters, daughters and prominent leaders in various fields. They are important, innovated and intelligent women who lead by example, who inspire those around them and who break new ground.
Congratulations to the 24th Annual Women Achievers of 2013! Business Life Salutes you. Business Life Magazine gave its women achievers the option of responding to a series of questions. Below are their profiles and answers with minor edits by our editors.
Helen McDonagh
Co-owner
Massage Envy Spa, Glendale
Helen McDonagh is co-owner of Massage Envy Spa, Glendale. She began her career in 1986 working for the software development company Nantucket Corporation and remained in the high tech industry for almost 17 years before beginning her endeavor with Massage Envy.

Helen is an executive Board Member of the Downtown Glendale Association, a Board member of Glendale Adventist Medical Center Foundation, Glendale Police Foundation, and Glendale Healthy Kids. Helen is an active member of the Glendale Chamber of Commerce, Glendale Armenian Chamber of Commerce, Glendale Latino Association, and Glendale Kiwanis Club. She is involved in many local causes including Glendale Arts, Glendale Young Professionals, Glendale Youth Alliance, Glendale Community College, and LA Arthritis Foundation.

In 2011, The Glendale Youth Alliance and Glendale Latino Association named Massage Envy Spa, Glendale Employer and Business of the year. In 2012, the Glendale Chamber of Commerce named Massage Envy Spa, Business of the Year, and Senator Carol Liu named Massage Envy Spa Glendale the California Small Business of the Year in her district.

Helen is a native of Northern Ireland and holds a Bachelor's Degree in Business Administration. She lives in Los Angeles with her husband Andrew Garsten and their children Sarah and Niall.


Lisa Pitney
Vice President of Government Relations
The Walt Disney Company

Lisa Pitney has been the Vice President of Government Relations for The Walt Disney Company since 2003, with Disney since 1996, and in corporate government relations since 1991. As the Vice President of Government Relations Lisa strives to work with state and local governments to continue generating world-class entertainment and media, and the jobs and economic activity that accompany it. She feels privileged to represent a company that is beloved by so many people.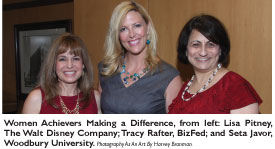 Lisa feels fortunate to have a series of career mentors. One in particular, Nick Franklin, taught her all he knew about lobbying and, equally important, how to manage well in a corporate environment. She tried to "pay-back" his kindness by talking with students interested in corporate government relations, hoping to share some of the valuable lessons she has learned.

As a parent, she sees her definition of success in the happiness of her two children. As a Disney cast member, her definition of success is in continuing to help the company thrive—a company that brings happiness to children of all ages. She feels that it is wonderful to have a job where the two definitions of success are so compatible.




Zita Lefebvre
Director of Operations
and Community Relations
Cartoon Network Studios

Zita LeFebvre is the Director of Operations and Community Relations for the Cartoon Network Studios. Cartoon Network is a Turner Company owned by Time Warner. She started with Turner in 1993 at Hanna-Barbera Studios. In 2000 Cartoon Network Studios (CNS) opened their doors in Burbank.

Zita has been in Studio Operations for 20 years and for the past several years has grown the position by creating a Community Outreach Program for CNS Burbank. The Community Outreach led to a Garden Club at Robert Louis Stevenson (RLS) Elementary School, reading buddies program, student mentoring and supporting the Wellness Program at RLS. This year they are supporting the RLS Garden Club to include building a raised planter bench to enable any disabled students to participate in growing fresh vegetables and flowers. Zita also started a Young Writers Program for local schools and created animated short films, Mr. Pike by Lilly Hughes of RLS and You Are Special by Sherryn Sim of Jordan Middle School, which is up for an award at the Ottawa Film Festival.

She is a former board President of Family Service Agency of Burbank, and still works actively with them. Zita says their Art Therapy Program is an amazing resource for the City. When kids are unable to speak about their problems, they are sometimes able to draw their concerns and help their therapist see the issues. The art is very powerful, moving, and emotional enough to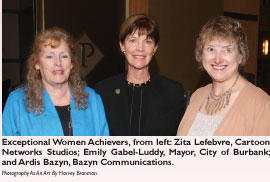 bring tears to your eyes.

Zita's definition of success is that she is happy and content, with a wonderful family, a job she enjoys and the health and friends to appreciate it all.



Ardis Bazyn
Owner & Founder
Bazyn Communications

Ardis Bazyn has been an inspirational speaker, business coach, and writer for over 25 years. Bazyn Communications networks with many nonprofit and business organizations to achieve its goal of inspiring others. The American Business Women's Association (ABWA) gives scholarships to women to further their business and professional careers. Ardis says several mentors helped her build her business and leadership skills. She has mentored many blind and visually impaired students, entrepreneurs, and boards of directors.

When she lost her eyesight at age 20, Ardis became involved in organizations and networked with others to learn skills, meet people who could help her, and build relationships. She found she could assist others by providing training and writing books to improve their lives.

Her advice to others who are considering entrepreneurship is to investigate your strengths, your skills, your motivation, and possible target market. The best advice is to be persistent and build relationships.

She has had three careers, and after finding that her volunteer efforts in speaking and writing were more meaningful than her business, she earned the needed credentials to start her current career. She feels blessed by the positive feedback she's received from those she has inspired.



Barbara Martinoff
Secretary, Board of Directors
Women at Work

Barbara Martinoff is Secretary of the Board of Directors for Women at Work and has been a member since 2009 after her retirement. Her career at the City of Los Angeles included grants administration and strategic and operational planning. Her current activities include volunteering on boards and consulting. Her successes include moving up the professional ranks when it was challenging for women to move ahead; active in organizations helping women and children; and helping family members with mentoring and other resources.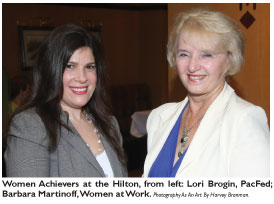 Barbara's career mentors helped develop her professional management and operational skills. In return, she mentored other women. Her positions required strong management relationships skills in facilitating projects with competing interests. Her advice to others is to have integrity in all dealings within the organization and community.

Currently, Barbara is working on resource development to support Women at Work clients seeking employment services. Barbara says high unemployment rates for women head of households is a great social concern. When an employer hires a woman they help support her family. Some companies now hire women part time to avoid paying for medical care benefits. Many women are juggling several part-time jobs to survive. Barbara is a strong supporter of the Affordable Care Act.



Carmen Vargas
Senior Vice President-Public Finance
Cabrera Capital Markets, LLC

For over three years, Carmen Vargas has been the Senior Vice President of Public Finance for Capital Markets, LLC. She has been in public finance for over 15 years.

Carmen's parents and older brother were her mentors throughout her career. When she began her career, there were few women in the industry from whom she could seek advice. Mentorship is extremely important to Carmen, and she has served for the past three years as a board member for the national organization of Women in Public Finance (WPF). The mission of the organization is to provide mentorship and networking opportunity for women in her industry.

Carmen is a board member for Mothers' Club in Pasadena and a board member of the YWCA Pasadena Foothill Valley, both organizations working to ensure that students and adults receive the support they need to succeed in school, work, and family life. The mission of YWCA is to eliminate racism and empower women.

One of the greatest social concerns for Carmen is the lack of women who hold State and Federal elected positions. She feels it is important for our leaders to reflect the voter base, and it is her hope that more women will continue to run for local office and continue toward State and Federal positions.



Cindy Cleary
Director of Library, Arts & Culture
City of Glendale

Cindy Cleary is the Director of Library, Arts & Culture for the City of Glendale. She has been director since 2008, and she worked for Glendale in the Library system since 1979 in a variety of positions. She is also the Secretary of the Glendale Educational Foundation (GEF), and provides staff support to the Glendale Arts and Culture Commission. Both organizations reflect her passion for education and the arts.

One of the priorities in her job is "Inclusion" which they define as engaging the breadth and depth of cultural diversity in the community. Cindy is proud that her organization plays a role in cultivating respect for differences and bringing people together through their programs and services. One of their current initiatives is to expand their resources. Their goals include developing a series of life skills workshops, providing easier access to resources for people on the road to citizenship.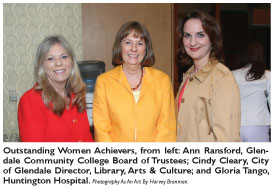 Cindy believes that if you are happy you are most likely a successful person. She feels that there is no better measure of her success than what she has achieved as a daughter, wife, mother, and friend. She is pleased that her organization has been able to enrich the lives of others in the community.



Diva Salano
Executive Assistant to CEO
Breitburn Energy


Diva Salano is a resident of Glendale and works as Executive Assistant to the Co-Founder and CEO of Breitburn Energy, an independent oil & gas master limited partnership headquartered in Los Angeles. She has been with the firm working for the CEO for over 12 years.

Diva feels that gender equality is the greatest social concern for women today, saying that throughout history, in every country in the world, and in every society, workplace or community, women and girls face additional obstacles and discrimination solely based on their gender.

She is continuously involved with Soroptimist programs and projects. She has received recognitions and commendations from the Soroptimist Region and from her local Soroptimist Club. She received the "Highest Fundraising" trophy for their recent Breast Cancer event and for assembling the most teams. She has held several positions in the organization, and is involved with the club's Eliminating Teen Dating Violence.

Diva's mother is her mentor, and has been Diva's model and inspiration. She helped Diva make good decisions and reach her career goals. Her mother lifts her up when she is down and lends a hand to go on. Diva's organization mentors high school students and single mothers trying to get back into the workforce.



Emily Gabel-Luddy
Mayor, City of Burbank

Emily Gabel-Luddy is Mayor, City of Burbank. She is a landscape architect by training and early practice. She worked for over 30 years in public service, first designing parks, then in city planning, a zoning administrator, and finally establishing the Urban Design Studio in LA City Planning. After leaving her City job, she ran for public office because she wanted to continue public service. She has been an elected official for over two years. She chairs the Domestic Violence task Force, which she restarted because she was not satisfied that women (and men) in the community were being well served in this critical area. She feels no one should have to live in fear and isolation.

Emily is interested in equal pay for equal work, right to privacy, and in women making their own decisions. In Burbank, the department managers are almost all women, and says the workplace looks very different from when she started her first job more than 30 years ago. She feels we need to keep working on this, and support one another to help balance home, family, and job.

Her first mentor was Mr. John Seiler, who showed her how an idea can become real. She mentors others daily, and teaches at USC with graduate students on their masters' design projects.




Emma Salmassian
Treasurer
Armenian Relief Society
of Western USA (ARS)
Sepan Chapter

Emma Salmassian is Treasurer of the Armenian Relief Society of Western USA (ARS), Sepan Chapter. She has had over 35 years of uninterrupted Nursing experience. She began her career as a Nurse's Aide while attending college and completing a nursing education, culminating in an academic degree and ultimately receiving a Professional Registered Nursing License from the State of California.

Although Emma is also a graduate of the Faculty of Foreign Languages from the University of Tehran, she prefers to work in the nursing field, as she receives greater satisfaction by helping the sick.

Emma was among the pioneering founders of the Armenian Nurses Association. She is also a member of the Armenian American Doctors Association. Emma is a founding member of the Boys and Girls Ararat Homenetmen, Armenian organization dedicated to the education of sports and scouting. She is a member of the ARS Javakhk Fund committee, active in raising funds to advance the welfare of an Armenian community in Georgia.

Emma feels that the dedication and attention to her immediate family has been the hallmark accomplishment of her life. The Salmassians have two children: Eric, an Emergency Room Medical Board licensed Physician, and Jennifer, a University graduate with advanced degrees, working as a professional teacher.




Gloria Tango
Nurse Manager, Oncology Department
Huntington Hospital
Gloria Tango has been the Nurse Manager in the Oncology Department at Huntington Hospital for 16 years, and in nursing for 20. She also sits on the Bioethics Committee. Her goal is to continue to mentor those entering the nursing profession to reach their full potential. One of her favorite quotes is, "Change is the only constant." She says she has learned to embrace change and view it as an opportunity to create something new and better and to come out feeling empowered.

Twenty years ago someone saw leadership potential in Gloria as a young nurse. "When someone gives you an opportunity, don't say no. Even though it may be intimidating, take it and find your passion, that's what you will excel in."

She feels that it is important to build on strengths and value differences. Gloria looks for that in the Nurses and leadership students that she mentors. Her own career mentor has been Executive Director Gloria Sanchez-Rico, who taught her to stay calm and focused during challenging times, and at the same time embrace change. Her personal mentors are her husband Elias, and children Alexa and Adam; and her parents for instilling a strong work ethic and a love for learning.


Hasmik Keyribarian
Executive Director
Armenian American Medical Society

Hasmik Keyribarian is the Executive Director of the Armenian American Medical Society (AAMS). She has been with AAMS for 16 years and has worked in the medical field for 20 years.

AAMS was founded in October 1985 in Los Angeles by a group of Armenian-American physicians who believed it was necessary to ally Armenian healthcare professionals in order to cultivate professional relationships for mutual advancement, and to contribute toward the improvement of health and health services rendered to the communities in the homelands and the diaspora. Since then, AAMS has grown to over 500 members and is currently the largest Armenian diasporan medical professional society in the world.

Hasmik had three mentors, and feels it is because of them that many opportunities were presented to her. She says success is when your colleagues and peers look to you for advice and leadership, it is when you set goals that positively affect the lives of many people. She feels that when you have made an impact in your workplace or the community, and you are satisfied with the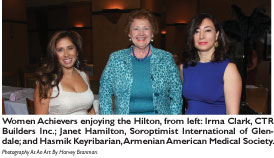 outcome, then you know you have achieved success. She feels that she has had much success in her career, and still has many more goals to accomplish.



Irma Sanz Clark
President of CTR Builders, Inc.

Irma Sanz Clark is President of CTR Builders, Inc. She is a general contractor and has been in the contracting business for 25 years; she has owned CTR Builders for 19 years.

Irma provides contracting services of commercial and residential spaces. The business specializes in distinctive kitchen and bath remodeling. Her goal is to provide employment to deserving individuals while providing a needed service to the community.

Irma advises other women trying to break into this male dominated industry, to keep their eye on the goal, and to do one thing that scares them every day. "What you want is outside of your comfort zone, so keep moving forward and do not place a lot of importance on negative comments."

Her definition of success is feeling fulfilled, which encompasses many things to her; including pride in what she does, happiness, accomplishment, contribution, freedom of expression, and lots of cash. Irma says she is active in wonderful women's organizations, including Relief Society for the Church of Jesus Christ of Latter Day Saints. She enjoys helping women improve their lives, and sits on the board of Financial Fit Foundation, which helps women learn how to be financially independent.



Janet Hamilton
Soroptimist International of Glendale
2nd Vice President in charge of Fundraising

Janet Hamilton is the 2nd Vice President in charge of Fundraising for Soroptimist International of Glendale. Janet is the chair of a committee that develops and executes strategies to raise funds for approximately 12 projects each year. Her group distributes the funds they raise to programs in the community and throughout the world, improving the lives of women and girls.

Janet remembers many managers and department heads who mentored her during her career as a purchasing manager, and she feels blessed with the support she received. She now mentors others in her career and in her philanthropies. She feels that having several careers helps grow skills and confidence, and feels that staying passionate, trying new things, and saying "yes" helped her path unfold.

Being involved in civic and community organizations allows Janet to improve her community. Because of the funds raised by her committee and contributed to the various programs, she has seen lives change. She treasures the memory of watching the surprise of a homeless person when he realized strangers were willing to give him a helping hand. She is grateful for the friendships development while serving others.

Her greatest social concern is the number of people currently unemployed, and the unstable economic environment.



Ann Ransford
President Glendale Community College
Board of Trustees

Ann Ransford is President of the Glendale Community College Board of Trustees; she was elected in 2009. Her career in education, and her many years as an employee of Glendale Community College, motivated her to run for trustee. Her role as a Trustee includes ensuring that the college remains accredited, that it remains fiscally sound, and to hire good leadership in the role of college president.

She feels that one challenge for women today is achieving top positions in the workplace and in the community. She believes raising a family while also continuing a career or community involvement is always a challenge, and feels that although there are more men taking responsibility for child rearing, fewer men are attending educational institutions.

When Ann was young, she felt that receiving national recognition would be her definition of success. She feels she has achieved that, as the executive director of Los Angeles Careers for Older Americans.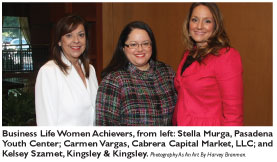 She looks forward to the day when affordable health care coverage will be available for all citizens of California and the nation. She believes with most people covered, spending will reduce with the need to pay for emergency services that are now used as the primary source of health care.



Kelsey M. Szamet, Esq.
Attorney at Law
Kingsley & Kingsley, APC

Kelsey M. Szamet, Esq. is a plaintiff's attorney presenting employees in wage and hour matters, discrimination, and wrongful termination matters. She also specializes in class action litigation. Kelsey has been practicing law since 2008. She is employed at Kingsley & Kingsley, APC located in Encino. She hopes to continue representing employees in all aspects of employment-related litigation.

Kelsey would like to counsel employers on how to follow the law through training and development. She says there are many well-intentioned employers who are not educated about the issues that affect them, what the law requires of them, and do not even realize they are exposing themselves to substantial liability.

Kelsey is Vice-President of the Board of the YWCA Pasadena-Foothill Valley. She is thrilled to support and be involved with an organization whose mission is "eliminating racism, empowering women".

Success to Kelsey is being happy in the moment, but recognizing how you can continue to learn and grow; always striving to improve yourself; and focusing on helping those around you. She feels that the greatest social concern facing women today is that a state like Texas would consider passing an anti-abortion bill (and North Dakota already has a similar law in place).



Kristen L. Pugh, MPA
Associate Vice President
Government and Community Relations
City of Hope

Kristen L. Pugh, MPA is the Associate Vice President for Government and Community Relations at City of Hope in Duarte. She manages community-wide programs, collaborates with local elected officials on legislation and community events, and advocates on issues related to hospital operations and medical research for City of Hope in Sacramento and Washington DC. She also serves as a member of City of Hope's Senior Leadership Team. She has been in her current position for eight years. She has worked for congressional members or in government relations roles for a combined total of twenty years.

In 2005, she moved to southern California from Washington DC. Professional success for Kristen is to be passionate and invested in the organization that she represents. She started in health care policy to improve access to health care and treatment. Kristen says that health reform is the largest change in health delivery since the inception of Medicare, and it will be necessary to work together to change health behaviors that will stem the overconsumption of health care dollars. California leaders are invested in the successful roll-out of the ACA, but it will take time to get it right, and some adjustments will probably be required along the way. Patience will be critical.



Lori Brogin-Falley
Vice-President of Client Services
and Public Affairs
Pacific Federal Insurance Corporation

Lori Brogin-Falley is the Vice-President of Client Services and Public Affairs for Pacific Federal Insurance Corporation (PacFed) located in Glendale. She is primarily responsible for the administration of health benefits to employees participating in Taft-Hartley health care trust funds and private health care exchanges. She has held this position since 2009. Lori feels excited to represent PacFed during dynamic times in the health care industry. In the future, she will help expand PacFed's profile and keep the clients a step ahead of changes to federal and state health care laws.

She feels that many inspirational people have contributed to her success. Her family taught her fortitude, integrity, and loyalty in both her personal and professional life. While working at the Valley Economic Alliance, she learned leadership skills from former CEOs Bill Allen and the late Bruce Ackerman. Jim Garrison, PacFed President, has also shared his personal strengths with Lori.

PacFed is a leader in the employee benefits industry. They are prepared for change and continuously monitor developments under the Affordable Care Act. Health care reform will impact individuals and businesses in California tremendously. Implementation will require both groups to have and provide coverage, or face a penalty.



Phyllis Howard
Soroptimist International
Altadena/Pasadena

Phyllis Howard is the Soroptimist International of Altadena/Pasadena Newsletter Editor/Publisher. Her first career was in Pasadena Unified School District where she worked as a teacher, program coordinator, and finally as a professional development specialist, for forty years. Shortly after her retirement in 2003, she joined Soroptimist International of Altadena/Pasadena. Since 2004, she has served as a board member, recording secretary, and president.

Soroptimist is an organization of professional and business women whose mission is to improve the lives of women and girls in their local community and throughout the world. The values that are the heart of Soroptimist are reflected in the members' dedication and focus on the mission. All members are actively involved in fundraising and projects that support club awards and grants to local service organizations that support women and children who live in the community.

Having worked with students, staff, and parents, Phyllis' involvement in Soroptimist allows her to use her organizational and leadership skills and provides a place where her ideas and contributions are valued. She feels she has benefitted from the women who have mentored her in her transition into the volunteer world. Phyllis would like to recruit and mentor new members to strengthen the impact and stability in the community, and increase the club's visibility and community support.



Ramella Markarian
Director of Physician Development
Glendale Adventist Medical Center

Ramella Markarian is the Director of Physician Development at Glendale Adventist Medical Center. She is responsible for physician recruitment and business development aspects of the hospital. During her past four years at Glendale Adventist Hospital, Ramella consistently met and exceeded expectations and was able to contribute to GAMC's business growth. She holds a Bachelor's degree in Business Administration and a Master's Degree in Health Care Administration from California State University, Los Angeles. She has been in the health care profession for 15 years.

Ramella feels that there are many social concerns for women today, but finds the pressure facing younger women is in terms of physical appearance. She points out that studies show only 2% of women in the world actually consider themselves beautiful. She feels that what must change is not the women themselves, but definitions of beauty around the world that hold women to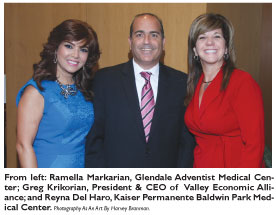 such rigid expectations.

The meaning of success for Ramella is to be happy, love what she does, constantly grow as an individual, and be able to contribute to other people in a meaningful way. She considers her mother to be her true mentor. As a role model, she inspired Ramella to dream more, learn more, do more and become more.



Reyna Del Haro
Director of Public Affairs
& Brand Communications
Kaiser Permanente
Baldwin Park Medical Center

Reyna Del Haro is the Director of Public Affairs & Brand Communications for Kaiser Permanente Baldwin Park Medical Center and oversees government and community relations, internal/external and brand communications, media relations, and community benefit for the San Gabriel Valley. She has held this position for over 13 years, and has been in the profession for 24 years.

Reyna's feels that her most important goal is to help further her organization's social mission by improving the health of its members and the communities it serves. Kaiser Permanente has been committed to providing culturally responsive care for many years. Their goal is to highlight the unique model of care that is coordinated by their health care team all in one convenient location using electronic medical records.

Reyna considers Covered California enrollment as a tremendous opportunity to improve both health care access and the overall health of Californians. Kaiser is offering plans that give members access to their entire integrated health care system, and in January 2014, Medi-Cal will expand and will see the elimination of "pre-existing conditions." Reyna feels these actions take our nation closer to health care coverage for everyone, which has been a goal that Kaiser has been working on for decades.



Ruth Sowby
Glendale News-Press
Columnist/Writer

Ruth Sowby is a columnist and writer for the Glendale News-Press. The Glendale News-Press has an increasing online presence with the goal of reaching the greatest number of Glendale residents in any and all demographics. Ruth's says her news reporting career was a result of serendipity. In 1964 she won a contest looking for girl and boy teenage reporters. She says about 3,000 teens applied, and she was the lucky girl chosen for the job. Later, Ruth received a doctorate in education from USC, which gave her the opportunity to teach on the college level. She feels her career success is a combination of serendipity and hard work.

Ruth says she has been her own mentor, and has her greatest opportunity to mentor others while teaching at GCC. Her definition of success is the opportunity to love your family and your work. She doesn't feel there is a serious social concern for women, and feels that if a woman doesn't put obstacles (real or imagined) in her way, the sky's the limit.



Seta Javor
Senior Executive Assistant to the President
Secretary to the Board Of Trustees
Woodbury University

Seta Javor is the Senior Executive Assistant to the President and Secretary to the Board of Trustees for Woodbury University. She has proudly been at Woodbury University for the last 23 years. Her goal is to make a difference in the students who study at Woodbury. First, by being available as a conduit of communication between them and the President's Office and Administration. She offers students the feeling of having personal recognition within a large educational institution.

Her husband Mike, whom she met as a colleague at her first job in the United States, saw the potential she had and helped her gain confidence in herself. He encouraged her to find a good position that she enjoyed. Success to Seta is making a difference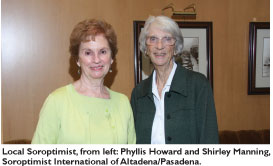 in someone else's life, seeing that someone gets ahead in life, does well, and becomes a great person. She feels that she has achieves success on a daily basis when students, or other individuals, tell her how much she has touched their lives

Although she has not changed careers in the past 26 years, her role has changed with each new era of academic leadership and new priorities.


Shirley Manning
Soroptimist International Club

Shirley Manning retired from public relations, fund-raising and publishing, and continued to stay busy in volunteer activities. She has been a contributing member of the Soroptimist International Club of Altadena/Pasadena for more than 30 years. She says her club attracts new members by bringing help and relief to needy women and children in the community. Working together, the members accomplish as a group what each member could not accomplish alone.

Success for Shirley is seeing a need, developing a plan and watching it make a positive difference for others though imagination, cooperation, and hard work. She is proud of the status women are achieving in business and government, but recognizes the sacrifice that goes with it. Having raised a family, she is concerned about the impact of careers on the quality of life for children and families.

Soroptimist International provides Shirley with the support and camaraderie of a group of women she admires, and enjoys planning and working with all the members. Following her own diagnosis and treatment for breast cancer 22 years ago, she helped organize a celebratory and informational gathering for women with breast cancer. Silver Saturday continues today and will take place on October 5, 2013.



Stella R. Murga
Executive Director
Pasadena Youth Center (PYC)

Stella R. Murga is the Executive Director of Pasadena Youth Center (PYC), a non-profit organization she established to prepare youth for college and careers. She has held this position for 13 years, having transitioned from her vocational counseling business, serving disabled adults for 25 years.

Stella's goals are achieved through the Pasadena Youth Center, which are to provide youth with tools for personal and professional growth, so that they can achieve their goals and have a positive impact on their lives and on the lives of others.

Although Stella did not have a mentor, she had individuals who believed in her and her vision. They gave her the courage and support she needed. Her husband has been her greatest champion, consultant, and critic. She mentors others, because she believes it is her responsibility to share what she has learned through her mistakes and successes.

She calls herself a social service entrepreneur and her motivation has been to serve the disadvantaged. She remains enthusiastic, because she is able to implement strategies that lead to clients' success. Their success is her greatest reward. Stella feels that becoming an entrepreneur requires passion, planning, financial, and professional resources, and personal support. She took every advantage to learn and hone her skills, which gave her the confidence needed to pursue an independent path.



Tami DeVine
President
Crown City Media, LLC,
Pasadena, CA

Tami DeVine is President of Crown City Media, LLC, and creates exciting TV shows, commercials, and promotional videos for television, Internet, and film. Tami provides broadcast TV consultation internationally, restructuring news departments for a smooth operation and viewership growth. Tami is an expert media trainer who teaches aspiring Journalists. She is also a motivational speaker, and has been the head of Crown City Media for 8 years, working in news and television for 16 years.

She created her business after seeing a need for hyper local TV news. She began by working with people who had been laid off, and who wanted to try working in TV. She trained high school and college students and interns.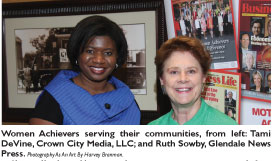 Her definition of success is helping someone realize their dream of working in TV. She feels she has accomplished that, and would like to help people on wider scale. She is grateful for the help she received toward success, and credits her husband Chavel DeVine, her family, many friends who have supported her, and God.

She believes one of the greatest social concerns for women is that so many don't know their value and worth as a person, and financially, as a worker. She feels that after they know their worth, it will show on the outside, and others will know it too.



Tracy Rafter
CEO of IMPOWER, Inc.
Founder, CEO of BizFed
Tracy Rafter is CEO of IMPOWER, Inc., a specialized business advisory focused on aligning unusual partners to tackle strategic transition or start up. She is also the Founding CEO of BizFed, the Los Angeles County Business Federation, strengthening the voice of business for LA County. For over 20 years, she was a daily newspaper publisher, most recently at the LA Daily News, leading up to the BizFed creation.

BizFed was created to strengthen the voice of business and to foster better public policy and economic conditions for communities to thrive through power in numbers of organized, diverse, informed business owners and leaders throughout So Cal. BizFed was created to educate and inform government officials, media, and those making decisions impacting how we start, compete, and expand our businesses and jobs for Californians. Tracy says their concept was unique, and says they have been called a labor union for business owners.

She credits her father and mother as her mentors, and says they showed her bravery, creativity, discipline, and how to work through and with others to get things done, while never accepting the status quo. Tracy mentors her teenage daughters.