The Los Angeles County Economic Development Corporation (LAEDC) recently announced the finalists for its 2013 Most Business-Friendly City in Los Angeles County award. The cities of Glendora, Lancaster, Paramount, Pico Rivera, and Santa Monica are finalists for the population 50,000 and over category, and the cities of Artesia, Bell Gardens, El Segundo, La Mirada, and San Gabriel are finalists in the population 50,000 and under category.

One winner from each category will be announced live at the 18th Annual Eddy Awards® on Thursday, November 14th, at the Beverly Hilton in Beverly Hills. Inaugurated in 1996, the Eddy Awards gala has become the most important economic development award program in the state of California. In 2006, the LAEDC created the "business-friendly" award category to recognize cities within the County that are proactively promoting business-friendly programs and services.

The finalists were selected based on the following criteria:

• Demonstrated commitment to economic development as a priority
• Excellence in programs and services designed to facilitate business entry, expansion, and retention
• Economic development activity over the past three years
• Competitive business tax rates and fee structures
• Availability of economic incentives
• Effective communication with and about business clients

Each of the finalists has created a business-friendly environment that encourages businesses to locate or expand in their respective communities.

Cities With Populations of 50,000+



City of Glendora
Chris Jeffers
City Manager

The City of Glendora has been repeatedly included in the Kosmont-Rose Institute Cost of Doing Business Survey (Kosmont-Rose Survey) among the least expensive cities to conduct business in L.A. County. The City offers an online Business Resource Guide and permit system available 24/7, competitive fees and lease rates, business workshops, quality infrastructure, distinguished schools, and numerous parks and entertainment options. Glendora was a "Most Business Friendly City" finalist in 2012.



City of Lancaster
Mark Bozigian
City Manager

With its pro-business attitude and approach to encouraging business growth, Lancaster has been recognized as one of the least expensive places to conduct business by the Kosmont-Rose Survey. The City's economic stimulus package, streamlined permit process and reduced transaction fees have spurred economic, community and real estate development, including the award-winning downtown revitalization project, transforming the downtown area into a vibrant urban center, with 50 new businesses and hundreds of new jobs. Lancaster was a 2006 "Most Business Friendly City" finalist and was named the 2007 Most Business Friendly City in LA County.



City of Paramount
Linda Benedetti-Leal
City Manager

With its convenient proximity to four major freeways, low cost of doing business, numerous incentive programs and a business-friendly reputation, business is booming in Paramount. Among the City's most highly-prized business friendly programs are: the City's streamlined permit process; fast-tracked approvals; and low licensing and permit fees relative to neighboring cities. Paramount's new "Business Services" page on the City's website includes online business licenses; available retail, office, and industrial locations for sale or lease; and no-cost business assistance resources. The City invests in its future with the Paramount Education Partnership, aiming to improve educational outcomes, increase per capita personal and median household income levels, and provide businesses with prepared workforces. This is the first year Paramount has been a finalist for the "Most Business Friendly City in LA County" award.



City of Pico Rivera
Dr. Ronald Bates
City Manager

The City strives to continuously review, revisit and revise regulatory and entitlement process systems when they impede economic development and job creation. Pico Rivera's Business Assistance Program includes outreach, workshops, site selection assistance, façade improvements, business surveys, online business resource center, and monthly newsletter advertising new businesses and local employment opportunities. Pico Rivera endeavors to provide counter approvals and responses to applicants within 24 hours, and the City is in the process of adopting a film-friendly ordinance. Pico Rivera was a finalist for the 2012 "Most Business Friendly City in LA County" award.



City of Santa Monica
Rod Gould
City Manager

Santa Monica values its businesses, making support of businesses a top priority by offering exceptional incentives and unparalleled accessibility. The City recently streamlined its planning and permitting process to make it less complicated. Other business friendly incentives include: business license waivers for struggling small businesses; direct financial assistance and reduced operating costs; and a downtown parking incentive. The City partners with public and private organizations to offer workforce training programs, site selection assistance, business workshops for small business owners, access to loans and financial assistance, and free one-on-one business consulting. Santa Monica was a 2012 "Most Business Friendly City in LA County" award finalist.

Cities With Populations of 50,000 And Under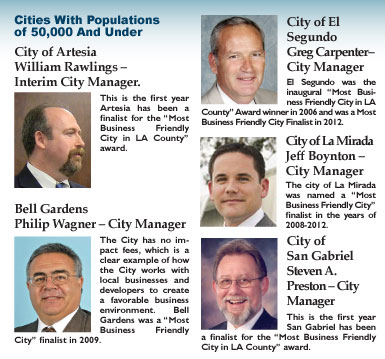 The Eddy Awards were introduced by the LAEDC in 1996 to celebrate individuals and organizations that demonstrate exceptional contributions to positive economic development in the region. The Awards have grown to recognize cities for their business friendliness and, most recently, to distinguish educational institutions for their work advancing regional economic development goals. For more information about the Eddy Awards®, visit www.laedc.org/eddy.

The LAEDC, the region's premier economic development leadership organization, is a private, non-profit organization established in 1981 under section 501(c)(3). Its mission is to attract, retain, and grow business and jobs for the regions of Los Angeles County.