At the 18th annual Eddy Awards on November 14, 2013, the Los Angeles County Economic Development Corporation (LAEDC) recognized the City of Lancaster as the Most Business Friendly City with a population greater than 50,000 and the City of La Mirada as the Most Business Friendly City with a population under 50,000.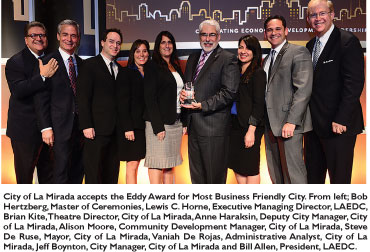 "This year's Most Business Friendly Cities, Lancaster and La Mirada, understand that domestic and global competition for jobs, businesses and entire industries has never been fiercer," said Bill Allen, LAEDC president and CEO. "The City of Lancaster vigorously competes by training its residents for tomorrow's jobs, not for yesterday's; by keeping costs and fees down to attract new businesses and jobs; and by supporting its start-up sector, which will drive the city's economic growth in the future."
City of Lancaster is considered one of the least expensive places to conduct business by the Kosmont-Rose Survey, Lancaster's economic stimulus package, streamlined permit process, and reduced transactions fees have spurred economic, community and real estate development. The downtown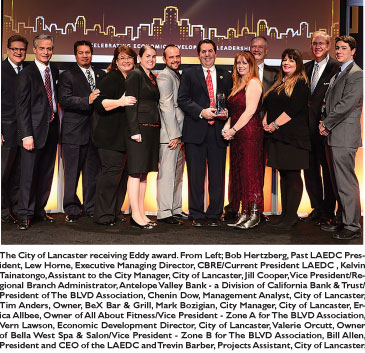 revitalization project created a vibrant urban center with 50 new businesses and hundreds of new jobs.
City of La Mirada develops and follows a strategic plan for economic development, and assists businesses with tax savings, low fees for business licenses and development, minimal red tape, quality customer service, expedited permit processing, and online business licenses. La Mirada was recognized in the Kosmont-Rose Survey as an inexpensive place to conduct business, and ranked 34th Best Place to Live in America by CNN and has achieved a low unemployment rate of 6%.
LAEDC also recognized three private sector honorees for their outstanding leadership in economic development throughout L.A. County; SpaceX, University of Southern California, and Yang Ho Cho.