By: Brenda Trainor



My husband remembers how exciting it was when his family got a color TV - the first in their neighborhood - and it was a great reason to have everyone over to watch football, long before having Super Bowl parties was an accepted social phenomenon. And those of us who've been around awhile remember the world of broadcast TV with only three networks, or maybe four once public broadcasting came into the market.
Then along came cable, first a simple way to overcome the challenges of over-the-air reception (how many rooftop antennas do you see in your neighborhood today?), and then a coveted service to get commercial free programming and movies such as on HBO.
But TV was something we watched on our television sets at home -- not like today where we watch videos at home and at work, and in the car, and at work. And we don't watch television shows, now we watch videos on our computers or iPads or smart phones. And the video we watch might be live-streamed, or time shifted from a DVR (very rarely a VHS anymore) or from a web site, we watch videos on YouTube, and TV shows from HULU, or subscribe to NetFlix to get an entire TV series as well as movies, since we can now affordably get huge plasma screens to set up a home theater.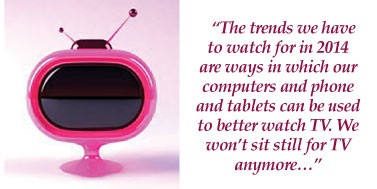 We don't really need television sets anymore -- what we need is a broadband connection and almost any little electronic device. Our viewing habits are as mobile as we are -- so we bring videos to our worlds of work and play as well as leisure at home. In our work world we use video on various channels: we have teleconferences and webinars, we watch on our computer screens and our mobile phones, and incorporate television sets into our workplace - either in conference room or desk tops or lobbies or break rooms. We watch nanny cams and puppy cams for fun, and monitor news and events for vital business information. Not only does the security staff need something to watch other than a parking lot camera, the CFO needs to watch the financial news channel, and the staff needs to watch the traffic report before heading home.
Television, or video information, is no longer a simple entertainment asset in our homes; video communication is a critical component of business interactions. From marketing to consumer education, to staff development to shareholder relations, today information must be made available in a visual format for distribution to all kinds of devices. We distribute video information via web sites, corporate in-house channels, on virtual private networks, via emails, or on VIne and Facebook.
These days, a lot about the way we watch TV has changed -- very few people watch broadcast networks anymore -- that free, over-the-air common staple of mid-century American life. Sure, we still watch the network programs, but we watched them over cable or satellite, and now over the Internet, and not off cable at all.
Yes, the trend now is that even cable is going away. We're watching our favorite programs and video information off the Internet, or from our DVRs and our computers that have downloaded the programs. We don't want to have to subscriber to 150 channels of TV, we want to select which channels or which programs we do watch.
The trends we have to watch for in 2014 are ways in which our computers and phone and tablets can be used to better watch TV. We won't sit still for TV anymore -- we want to take it with us! Look for devices and gizmos that will facilitate getting programming to be more portable and for programming that has greater utility.
Yes, once a husband could get a Watchman and tune in a football game while he sat in the shopping mall while the rest of the family shopped. But those days of easily accessible free TV are long gone. The things we know about TV are continuing to change, and it will be fun to see how many more big box TV's will be sitting on the curb, replaced by the flat panels and smart phones, and how much more prevalent video will be in all aspects of our lives, and how much more it is going to cost us to get it.