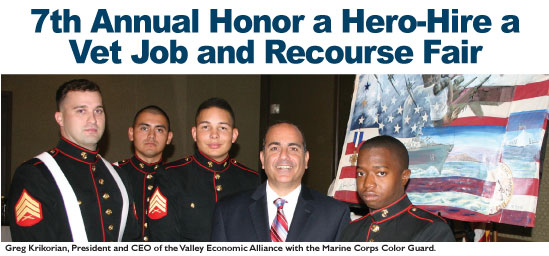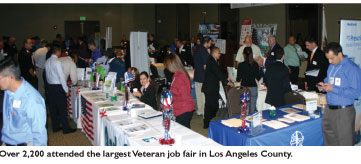 Over 2,200 job seekers including veterans from local military bases who have returned from active duty participated in the 7th annual veteran job fair held on Thursday, October 24, 2013 at the Airtel Plaza Hotel in Van Nuys. This was the largest Veteran Job and Career Fair of its kind in Southern California. Featuring more than 86 quality employers and 16 resource organizations, Veterans and community job seekers were provided the opportunity to fill more than 2,500 confirmed job openings and many were interviewed on the spot.

The Welcome Home Veteran Hero Breakfast officially opened by honoring Veterans and Veteran-friendly businesses. The ribbon cutting ceremony opened the doors to more than 2,000 job seekers, providing the opportunity for them to meet one-on one with employers looking for talent.

"The Valley Economic Alliance is committed to helping our Veteran Hero's and job seekers get back into the workforce and once again we are pleased to join with the California Employment Development Department in co-presenting the Honor a Hero Hire a Vet Job and Career Fair said Greg Krikorian, President and CEO. "It was truly heartwarming to see all our veterans having an opportunity to connect with our local businesses for employment opportunities. We were overwhelmed with the response of veterans seeking a job opportunity!"

The event was sponsored by Aerojet Rocketdyne, Walmart, Wells Fargo, CallSource, Los Angeles Daily News, Bank of America, Bobrick, Citizens Business Bank, Maximus, Metro, NASA Services and Vons.

About The Valley Economic Alliance

The Valley Economic Alliance (TVEA) is a non-profit economic development organization founded in 1994 to connect businesses with the resources and leaders of the San Fernando Valley. Its mission is to strengthen the economy and improve the quality of life in the Valley's five-city region: Burbank, Calabasas, Glendale, Los Angeles and San Fernando. VEA provides free professional business technical assistance, workforce training, networking opportunities and information resources. Visit www.thevalley.net or call (818) 379-7000 for more information.