By: William R. Boyd, Jr.



While the Tri-Cities (Burbank, Glendale and Pasadena) office market vacancy increased to 17.2%, within the 23.5 million square feet of office space at the end of 2013, the fourth quarter of 2013 experienced a positive net absorption of 236,000 square feet.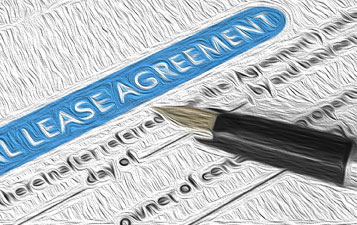 The Tri-Cities office market vacancy had decreased to 15.4% at the end of the fourth quarter of 2012.

The market's increase in vacancy is largely attributable to Disney's vacating the 3900 West Alameda building in Burbank which added over 450,000 vacant square feet to that city's available office space. However, the new ownership of that building has announced significant improvements will be made to the building and, according to CBRE, tenant interest has already been confirmed for third quarter 2014 occupancy.

According to information published in the Los Angeles Business Journal, the corridor experienced a net loss (in vacancy) of approximately 465,000 square feet that was vacated in 2013 but that net vacancy was reduced by the fourth quarter's positive net absorption.

Glendale and Burbank were the only cities to experience negative net absorption (leasing) for 2013 while Pasadena experienced 10,000 square feet of positive net absorption for the year. Burbank's continued negative absorption in 2013 caused that city's vacancy to increase to 19.8% of the city's 7.2 million square feet of office space which is up from a vacancy of 13.6% at the end of 2012. This current Burbank office space vacancy is at historic levels and unique given the market's single digit vacancy for the last two decades.

The Pasadena office market performed the best of the three cities over the past year as its modest absorption in 2013 helped reduce that city's vacancy to 13.1% at the end of 2013 from its 13.2% vacancy one year ago. Glendale's vacancy also improved slightly to 20.5% currently from 20.7% as of last year at this time.

Most observers are cautiously optimistic that Burbank will be able to lease the amount of added vacant space on the market within the next two years. "Burbank's media district experienced single digit vacancy for many years and we're optimistic that the entertainment industry's historic appetite for office space will continue," said Linda P. Lee, a Senior Managing Director of the Glendale office of the Charles Dunn Company. Craig Stevens, a commercial broker with Colliers International, confirmed that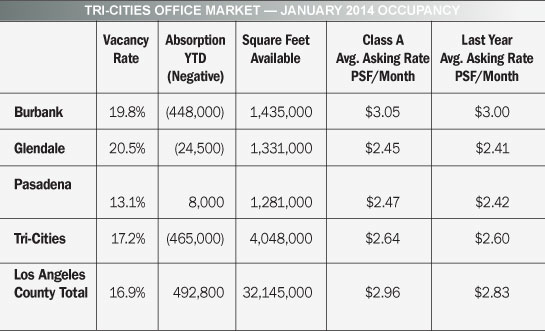 the 3900 West Alameda building in Burbank is "ground zero" within Burbank's Media District and is expected to receive a lot of tenant interest. Stevens had worked with the building's developer and assembled the land for the building's development in 1988.

The quoted rental rates of all three cities increased in 2013 and are quoted on a fully serviced basis per rentable square foot per month at $3.05 in Burbank, $2.47 in Pasadena and $2.45 in Glendale. Glendale's leasing activity in 2013 included Carl Warren and Company leasing nearly 15,000 square feet at the 701 North Brand office tower in the fourth quarter of 2013.

The Glendale Galleria office tower announced that it will have a full office floor (approximately 16, 400 rentable square feet) available in the second quarter of 2014 which will be the most available space that the office tower has had in the last ten years. The popular Glendale office tower has had Glendale's highest occupancy rate for an office building in the city for the last several years.

The amount of Tri-Cities office space vacancy, 4 million square feet within its 23.4 million square feet total, and moderate leasing activity throughout the Tri-Cities market, continues to create outstanding office space opportunities for those few tenants in the market seeking office space or those tenants looking to renew their current lease obligation.
William R. Boyd, Jr.
Senior Managing Director
Charles Dunn Company, Inc.
100 West Broadway Suite 510
Glendale, California 91210
Tel 818 550-8200
Fax 818 550-8221