By: Greg Krikorian



The journey for the Krikorian family, started in Connecticut and reached into Glendale in 1990, where Business Life Magazine was launched, as a business lifestyle journal in living four-color magazine format. This year Business Life Magazine celebrates it's 25th Anniversary of publishing and serving the community, both business, professional and civic, with a goal was to capture the "pride and vitality" of the region and the entrepreneur spirit of the people. We thank you for your endless support and look forward to seeing you at the 25th Annual Women Achiever's celebration on Monday, September 29 at the Glendale Hilton.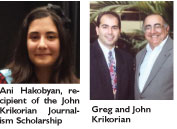 We are proud and pleased to announce the first recipient of the John Krikorian Journalism Scholarship, in honor of my father
Ani Hakobyan is currently a senior at Herbert Hoover High School and the Editor-in-Chief and Opinion Section Editor of the school's The Tornado Times. She is involved with Hoover High School's Latin Club, Debate Club and Armenian Club. "To me, there is nothing more fulfilling than writing opinion articles, interviewing district officials and creating pages. Getting the physical copy of the paper and feeling it crinkle in my hands brings me not only pride and joy, but also relief that I was able to be in charge of such a massive job and actually accomplish my goal," said Hakobyan in her personal essay in support of her application toward the scholarship.
Hakobyan plans to double major in Political Science and Communications. She also plans on getting a master's degree in International Relations and a Juris Doctor in International Law. Hakobyan aspires to intern at The Los Angeles Times and The Guardian, work for the State Department's Bureau of Public Affairs, Public Relations Department and study abroad to Russia and South Korea. "I highly enjoy the unfolding of world affairs, hurriedly writing to get a story done, and raising people's awareness. I strongly believe that I have the stamina, ability, and dedication to accomplish all this," Hakobyan ended.
Besides politics and writing, Hakobyan is passionate about reading, history, traveling, children's rights, and learning foreign languages.
About the Scholarship: John Krikorian was the founder, editor and publisher of Business Life Magazine which has provided the Verdugo and surrounding areas with local business and economic news for over 25 years. Mr. Krikorian was also instrumental in identifying diversity within the business community and providing ways in which stellar business men & women could be identified and recognized. His passing in 2013 inspired Business Life Magazine & his family to create an award that would recognize a deserving student who possesses career goals in journalism, publishing, marketing or business.