By: Linda Lazar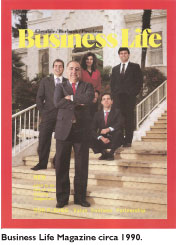 "The ability to communicate is essential to creating a bridge between ideas and their accomplishments. These are exciting and dramatic times for anyone who is trying to communicate effectively. New forms of media continue to emerge daily, as the face of the market changes. Quality communication requires frequent reevaluation of where you are, where you want to go, and where the world is going."
— John Krikorian, founding publisher, Business Life Magazine
As we begin another year of publication, we are especially excited to celebrate our 25th anniversary!
"Congratulations to the Krikorian family and your staff on the 25th anniversary of Business Life Magazine. Your leadership and dedication to the magazine's coverage of business and life in the San Gabriel and San Fernando Valleys, Pasadena, Glendale and Burbank has had a very positive impact on our region and its people. Los Angeles County appreciates its reliable and unbiased reporting and information for businesses and stakeholders as well as current information on local resources and vital topics including the Bob Hope Airport, the Gold Line and Women's leadership and achievement. May God Bless you and all of your associates with many years of continued growth and sustained dedication to the business communities that look to your leadership." MICHAEL D. ANTONOVICH, Los Angeles County Supervisor
Cal-Conn Enterprises, Inc. was founded in 1989 with the belief that great ideas rely on quality communication to succeed, and this concept gave birth to Business Life Magazine's debut issue hitting the presses in 1990.
"It's hard to believe Business Life has been a sign of the times for 25 years! A truly wonderful accomplishment. Others tried before, but the Krikorians have made it happen. Business Life has been a unique resource for the Tri-Cities, both in terms of creating a forum for business information and in its community involvement. Congratulations and many happy returns – and many more issues into the future!" VICTOR J. GILL, Director, Public Affairs and Communications, Burbank Bob Hope Airport
Business Life was the brainchild of publisher John Krikorian and his wife Elsie, who served as editor in chief. John and Elsie's son, Greg, spearheaded the marketing department, serving as the executive vice president of development.
"John Krikorian used his God-given talents in publishing and journalism – in establishing Business Life Magazine to spread wealth, kindness, and good will throughout our community. Many businesses and individuals' lives changed for the better because of Business Life Magazine. Thank you Business Life and thank you Krikorian family for your dedication and love to our community." ELIZABETH MANASSERIAN, Park Place Properties, Inc.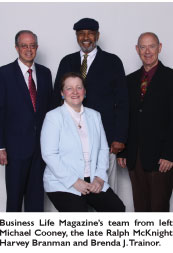 In 2013, following John's passing, Greg Krikorian assumed the duties of publisher. In the spirit of his father's legacy, Greg continues to operate the company with the help of the next generation of Krikorians.
"Through the years, Business Life has continued moving forward. Every lesson my father taught us, we carry on with us. It was always country and community first for my father, and we are following in his legacy as we begin our next 25 years." GREG KRIKORIAN, President and CEO, The Valley Economic Alliance
Greg begins this position with over 30 years of experience in marketing through major publications, such as the New York Tribune and the Detroit News, where he received the Creative Advertising Award. He values community work through various boards, such as the Verdugo Hills Boy Scout Council and is presently an elected member of the Glendale Unified School District, having served as president.
"Over the past two decades I worked with the Krikorians on committees, and councils for numerous community, regional, and business organizations. John was a mentor and a friend – and I know he was a mentor and friend to many, many others as well. Clearly, the Krikorians understand better than most that business is about creating and sustaining relationships; and, in turn, that good relationships strengthen the communities that we live and work in. In the early 1990s, John recognized the rapidly changing demographics in our region. He saw these changes as an opportunity for interaction and the right time to empower others, including small businesses, family businesses, and women-owned businesses. Business Life Magazine is a connector—connecting private to public, small business to large, and this family enterprise has served as a hub that has guided many in our region to resources, business, and community solutions." MARSHA RAMOS, former Mayor of Burbank
When Business Life launched its debut issue, the cover story featured mayors from Burbank, Glendale, and Pasadena who offered their opinions about the future of the region. Throughout the years, local leaders have been continually invited to share their thoughts and opinions about important issues, changes, and transitions for their communities.
"Many civic changes have occurred in the last 25 years, and in the next 25 we would like to see local control stay local. Both Sacramento and Washington DC are reducing local control by de-funding, regulations, and regionalization. That removes the community from the decision making process. The Krikorians are true civic leaders! Congratulations on a well-earned 25 years." TONY TARTAGLIA, Regional Public Affairs Manager, SoCalGas
For 25 years, Business Life has been the only four-color business journal magazine in the region, serving readers and advertisers in Los Angeles County—from the San Fernando to the San Gabriel Valleys. The magazine continues as a communication resource for community leaders and local business people to become informed and stay connected.
"Business Life has been the quintessential local news source for the tri-city market. Arriving as a new City Manager in 2012, Business Life was one of the key resources that helped me get up to speed in my new territory. With a legacy of service to Glendale and its surrounding cities, Business Life has established an admirable roster of accomplishments. From recognizing important citizens and leaders to providing key economic data, Business Life continues to be a must read for decision-makers. The City of Glendale applauds Business Life for 25 years of service. We look forward to your continued growth. Glendale is in the beginning stages of a 'renaissance' period, with a newly emerging hub of vibrant, sustainable business activity. We're looking to Business Life for 25 more years of insightful local information, interesting commentary, and timely economic data to help us navigate these new and exciting waters." SCOTT OCHOA, City Manager of Glendale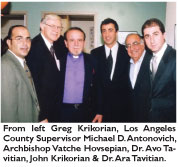 In February 1996, recognizing the rapid growth of the Internet and e-commerce, the publishers decided to launch a Web site, BusinessLife.com, to serve the community as a long-term communication resource for business. Today, the site continues to progress and is available for those who are interested in business in the state of California.
"I want to congratulate Business Life on its 25th anniversary, and to express gratitude for the significant role that the publication plays in the business and organizational life of our region. Business Life is on the forefront of developments and individuals who are influential in shaping our community. It is an important role, and one which I value. Once again, congratulations and best wishes." BILL BOGAARD, Mayor of Pasadena
Over the years Cal-Conn Enterprises introduced new opportunities for communication to the community by offering numerous events, workshops, and forums with overwhelming success—often partnering with other groups and organizations. For example, the U.S. Small Business Administration partnered with Cal-Conn to offer workshops that help small businesses grow and learn more about the areas of finance and negotiation. Additionally, Business Life looks forward every year to presenting a banquet to celebrate Business Life's Women Achievers.
"Of special note to me was the annual Business Life fall issue of Women Achievers. Each and every year it highlighted the professional work and community accomplishments of women. Hundreds of women in our region have been featured on the cover of Business Life Magazine, which has a readership of 100,000. In 2010 John Krikorian initiated a Women's Achievers Conference, which was launched to provide opportunities for networking – business to business, employers to employees, programs and services; and it includes workshops that educate and inspire." MARSHA RAMOS, former Mayor of Burbank
Business Life supports many new business start-ups. Several are multicultural and women-owned businesses that seek news and information relevant and informative to their needs. The publication strives to provide and produce important multicultural business information and events.
"Congratulations to Business Life Magazine on your 25th anniversary! Upon my arrival to assume the presidency of Woodbury University two years ago, the late John Krikorian had taken the lead in introducing me to various members of the Burbank-Glendale-Pasadena community. I am certain that many other community leaders have benefited from such generosity. Since it's founding, Business Life Magazine has been instrumental in promoting Woodbury's educational programs to the people of the San Fernando and San Gabriel Valleys. Congratulations again and best wishes for the next 25 years of contributions to the community!" DR. LUIS MARIA R. CALINGO, President of Woodbury University
Over the course of 25 years, the publishers have continued to stay involved in the community, serving on many boards, past and present, including the County of Los Angeles Human Relations Corporate Advisory Council; Los Angeles County Small Business Commission; County of Los Angeles Area Agency for Agency; Glendale Adventist Medical Center Advisory Council; Pasadena's Mayor Disability Committee; Pasadena Special Olympics; Foothill-Pasadena Branch of the Los Angeles Urban League; Glendale-La Crescenta Red Cross Chapter; Glendale President Advisory Council; Burbank and Pasadena Chambers of Commerce; Consumer Advisory Panel for Sempra Gas Company; and Woodbury University President's Executive Council.
"On a personal level, both John and Greg help my career immensely. When I started my public affairs career in the early 1990s, I knew no one in the Burbank, Glendale, and Pasadena areas. John Krikorian took me by the hand and introduced me to all the movers and shakers in the community. He did this without knowing if SoCalGas would partner with his publication or not. That's how you build long term relationships. On every level. John and his family became part of the community when they came to Glendale in 1989. Business Life and Senior Living Magazines are the Krikorians and they are the publications. The Krikorians are civic and community leaders that help drive local legislation, elect community leaders, and shape their community." TONY TARTAGLIA, Regional Public Affairs Manager, SoCalGas
Business Life Magazine has received many awards and recognition over the past 25 years, including the U.S. Small Business Administration's State of California Media Advocate award; Soroptimist International Improving Status of Women for 20 country region; Business Executive of the Year by the Business Professional Women's Association; Armenian Relief Society for Improving Life for New Immigrants; California Senior Legislature Certificate of Appreciation; the Fabulous First Honoree Award by the Pasadena Enterprise Center; and the Los Angeles County Human Relations Commission recognized Business Life as a member of their Corporate Advisory Committee, along with numerous recognition's from various civic, commerce, and government officials.
"The San Gabriel Valley Economic Partnership congratulates Business Life Magazine for being the premier business publication serving the San Gabriel and San Fernando Valleys for the past quarter century. For 25 years, Business Life has played a critical role in keeping businesses up to date on current topics and uniting the voices of business on important issues. We at the Partnership look forward to 25 more years of working together to continue to enhance the quality of life for all of our Valley communities." CYNTHIA KURTZ, President & CEO, San Gabriel Valley Economic Partnership
During the last 25 years, while publishing for readers in the business community, the Krikorians noticed a communication void in the senior community and decided to introduce Senior LIVING Magazine, which offers news, information, and advertising to the growing demographic of baby boomers. Over the next 25 years, types of communication medium will change and transition, and Business Life will transition with it.
"The two greatest transitions that will occur in the next 25 years will be the increasing role of technology in public life and the need to address the aging population. As residents become more reliant on technology to access and share information, government needs to adapt to this change by better utilizing technology to educate and inform the public and gather public input. This could include wider utilization of social media and more interactive technology to engage all sectors of the public. At the same time, our region needs to prepare to support the aging population as baby boomers reach retirement age and lifespan increases. In California, the elderly population is expected to grow more than twice as fast as the total population. Local government needs to prepare for this shift by ensuring there is appropriate and adequate housing stock and services to meet that population's needs. The San Gabriel Valley Council of Governments looks forward to working with our 35 member agencies to develop innovative plans to address these and other changes." BARBARA MESSINA, Councilmember, City of Alhambra
Business Life Magazine has been privileged to serve our region with news and information for 25 years. We gratefully appreciate and acknowledge all the business owners, entrepreneurs, community leaders, and readers who have contributed to each issue and helped us grow. Our county's population has grown considerably over the last 25 years, and communication mediums have drastically shifted. As our population continues to grow, the need for quality and reliable communication will increase. John Krikorian stated many years ago when he began Business Life that new forms of media will continue to emerge daily, and quality communication requires frequent reevaluation. We will remember and carry on every lesson that John instilled in us while always looking forward to meet the needs of each changing era. We look forward to serving the communication needs of our region for the next 25 years.