By: Angela Amirkhanian



Every year since 1963, the President of the United States has issued a proclamation announcing Small Business Week, which recognizes the critical contributions of America's small business owners and entrepreneurs. According to the U.S. Small Business Administration, more than half of Americans either own or work for a small business, and they create about two out of every three new jobs in the U.S. each year. With a focus on access to capital and lending/financial programs for small business, banks in the San Fernando and San Gabriel Valley regions were asked about incentives, programs and opportunities they have for small business equipment and property financing, what business lending related challenges they experience for small businesses in the LA County and what new programs, projects and plans are in place to meet new and future challenges that will impact small business.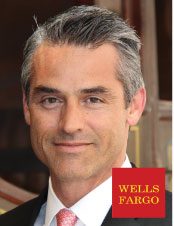 Wells Fargo Bank
Bryan Moeller
Director of Small Business Banking
L.A./Orange County region
We know from our work with business owners, that they need more than our products and services; they're seeking advice and support on a range of business topics. This year, we are launching a major new initiative to support small business owners. Through this new initiative, Wells Fargo will provide resources, guidance and services focused on helping more small businesses achieve financial success. We will announce details starting in May.
SBA programs are as important today as ever, and we continue to provide these loans for thousands of small businesses in a variety of industries, including retail, service, manufacturing and medical. Small businesses make up 99% of U.S. employer firms and 64% of net new private-sector jobs in our economy (according to U.S. SBA Office of Advocacy). We're proud that Wells Fargo has loaned more dollars to small business owners than any other bank for more than a decade (2002-2012 CRA data). Through SBA lending, Wells Fargo offers financing to a segment of creditworthy small business owners who may not be able to obtain a conventional loan or loan terms that meet their business needs. For instance, if a business has limited liquidity for a down payment, a shortfall in collateral to secure a loan, or a more highly leveraged balance sheet, an SBA loan may be the right alternative for that business.
Helping business owners meet new and future challenges, and reach their financial goals – in business and personally – is an everyday activity in our banking stores. In fact more than 60% of the small business customers we serve today started with a personal banking relationship with us. Our leadership in small business is an important part of our success as a company.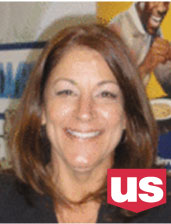 U.S Bank
Lisa M. Espindola

Vice President & Sales Manager

Business Banking Finance

LA, Kern & Ventura Counties
Over the past 150 years, U.S. Bank has been proud to serve our consumer and business communities across the United States. We are a respected financial services company that is highly rated by the respective ratings agencies.
U.S. Bank has devoted more than twenty business development officers dedicated to finding credit solutions for our businesses throughout the San Gabriel, Ventura, Kern and Greater Los Angeles areas. Our solutions include business equipment finance that allows customers to have access to funds to purchase equipment with a simple one page application. Our commercial real estate loans are used to purchase or refinance owner-occupied commercial real estate or investment real estate including Multi Family, Strip Malls and Retail Centers.
We also offer Small Business Administration (SBA) loans for business acquisition, real estate finance and start-up companies. One of the biggest challenges for small businesses is maintaining acceptable business and personal credit history, and demonstrating adequate profitability to support debt obligations. Our business development officers will work closely with business owners to guide through these challenges and assist them with their financing solutions to finance all of their financing needs.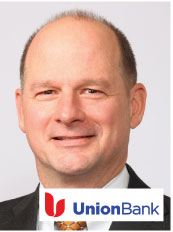 Union Bank
William (Bill) Schleifer
Senior Vice President & Business Banking Group
Lead Regional Vice President
Union Bank specializes in small business commercial real estate loans, lines of credit and equipment term loans. Additionally through our strategic alliance with Marlin Business Services Corp, Union Bank offers equipment leasing; together we offer up to 100 percent financing on equipment leases. Union Bank's flexible commercial real estate financing to small business owners includes conventional and SBA products. In Los Angeles County in 2013, we financed more than $165 million in small business commercial real estate loans, including first-time purchases and refinances. Since 2010, Union Bank has increased small business lending by 400 percent, and we intend to remain focused on small business lending.
Earlier this year, we announced the results of the annual Union Bank Small Business Economic Survey, which found that small business owners were generally optimistic going into 2014. Certain industries, however, continue to face challenges through the economic recovery, which is also a challenge in small business lending. We also often hear from small business owners that the loan process is too complex and lengthy. Simplifying the process and providing assistance every step of the way were also two common discussion items during a recent Union Bank roundtable for multicultural business and organization leaders.
Union Bank continues to play an important role in the Los Angeles small business community with sponsorships, educational seminars and introducing small businesses to community based finance lenders. In 2013, Union Bank contributed $40,000 in support of various programs in Los Angeles. We also referred small businesses to community based finance partners, resulting in more than $100,000 in microloans.
Entrepreneurs and consumers want and need to feel more confident about the lending process and the options available to them. We're working to enhance educational programs for entrepreneurs, and as always, we continue transparency with every program and process.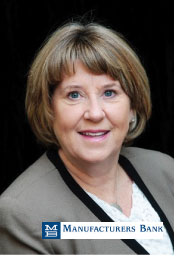 Manufacturers Bank
Leslie A. Lyons
Vice President & Manager
Business Banking Group
Manufacturers Bank opened its doors over 50 years ago to serve the growing apparel industry in Los Angeles. Over the years, the Bank's market scope has expanded to serve the needs of California's diverse middle market business community. We recently celebrated the one year anniversary of our newest branch on Brand Blvd. in Glendale. Manufacturers Bank understands that companies have growing needs outside traditional bank loan programs. That is why we offer an array of lending solutions that include a variety SBA loan programs. Most commercial loan products offered by Manufacturers Bank can be enhanced with the guaranty of the SBA.
Three key benefits of our enhanced loan products:
· Longer terms
· Lower down payment
· More options for collateral
We provide the following product offering:
· SBA CAPLine - Line of Credit for Working Capital
· SBA 7(a) - For expansion, equipment, buying another business or cash flow
· SBA 504 - To purchase, build, improve or expand owner occupied commercial real estate and equipment.
Manufacturers Bank offers a full suite of loan products to accommodate the needs of medium size businesses. If you are looking for competitively structured and priced financing contact Leslie Lyons. We will customize your loan to fit your exact needs. For more information, call (818) 240-4550.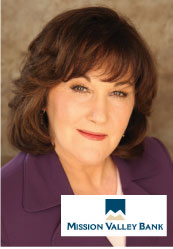 Mission Valley Bank
Tamara Gurney
President & CEO
Mission Valley Bank is a full-service, independent community business bank that is locally owned, community minded and relationship driven. We offer financial solutions many community banks don't, including SBA Financing, Accounts Receivable Lending, Merchant BankCard Processing and Equipment Financing, just to name a few.
What sets Mission Valley Bank apart from other banks is the dedication to our customers' success. Our business bankers work with clients to build long-term relationships and workable solutions. In fact, the MVB Team has earned the reputation as Most Trusted Advisors – Business Banking by the San Fernando Valley Business Journal for the past three years (2011, 2012, and 2013).
As a Preferred SBA Lender, Mission Valley Bank has access to capital and money to lend. Our business bankers have a keen understanding of funding options available to businesses in today's market, as well as extensive knowledge of the local business climate.
If you have questions about SBA Lending, Accounts Receivable Financing, Equipment Financing, Merchant BankCard Processing, Commercial Real Estate Lending or Full Service Business Banking, or just curious as to how a different banking relationship could positively impact your bottom line, call an MVB Business Banker today. For more information, visit MissionValleyBank.com.