By: Elise Kalfayan



Employers were looking for nurses, CAN's, medical assistants, caregivers, coaches and trainers for disabled adults and much more at Los Angeles Valley College (LAVC) on April 17. The Valley Economic Alliance's 2014 Career Fair and Health Expo drew a crowd, with exhibitors collecting resumes from visitors to the campus as well as students.
Silver Sponsor Naked Juice gave visitors to their colorful truck a choice of juice drinks and blends to taste. Bronze Sponsor Van Nuys/Los Angeles World Airports promoted it's free Aviation Career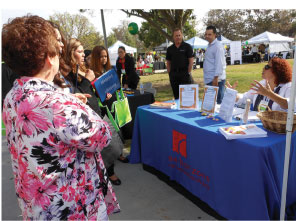 Education (ACE) summer program. Airport Guide Dee Lewis said two week-long programs are open to 25 middle school and 25 high school students. The sessions run all day, lunch provided, and will introduce students to aviation management. "We visit Southwest Airlines, JPL, air traffic control centers, and go out to see Air Force One during the week," Lewis said.
Cambrian Homecare's recruiter Nhi Thai said that the company services children with disabilities, seniors, and workers injured on the job. It hires CNAs and LVNs, but also hires many caregivers who do not have nursing credentials. Thai said there was a lot of interest from the job seekers at the Fair and she had a folder full of resumes.
Metro was busy collecting applications and resumes. HR Assistant Jenny Nguyen said that LAVC students had visited the table interested in bus driving jobs or internships. "Metro partners with LAVC and Bridge Source to train drivers, and we have a very big hiring drive for veterans." Nguyen noted that Metro was named a 2014 California Employer Advisory Council Veterans Employer of the Year for its proactive stance in veteran hiring.
LegalShield's Michele Wilson was on hand as an Executive Recruiter. "We are looking for entrepreneurial types who are interested in becoming sales representatives," Wilson said. LegalShield also develops recruiters to attract full-time and part-time sales people.
Goodwill Southern California had lists of job opportunities for both its main office location and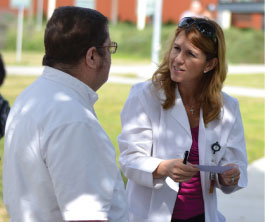 retail outlets. Business Service representatives were also signing people up for interviews Goodwill conducts for other employers. They were highlighting interviews to be conducted for Six Flags the next day.
Heavy Industrial Personnel's Hector Ottoniel was signing up LAVC students training to be machinists. "We focus on skilled labor, mainly in the San Fernando Valley, but we cover all of LA County. Our focus is to help manufacturing and aerospace companies find the trained labor they need," said Ottoniel. "We have machinists, quality control personnel, engineers, AutoCAD specialists, and shop supervisors in our database."
LAVC's Respiratory Therapy program had most of its students and interns in scrubs. Brandon Alayon and other interns were offering pulmonary function tests and distributing information on how to stop smoking. Alayon said there were 25 Valley College students in the program, which included hospital training and intern hours. His class will be graduating on June 9.
Sponsors also included Southwest Airlines, Gold Sponsor; Valley Presbyterian Hospital, Bronze Sponsor; Costco Wholesale, Sherman Oaks Hospital, Providence Health and Services; Silver Sponsors and Business Life Magazine, Media Sponsor.