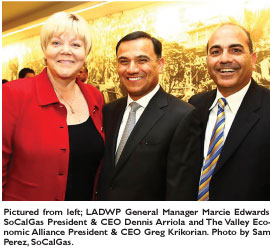 Business and community leaders from across the Los Angeles area gathered at the Gas Company Tower in downtown Los Angeles to welcome new Los Angeles Department of Water & Power (LADWP) General Manager Marcie Edwards. The reception celebrated Edward's return to Los Angeles following more than a decade with the City of Anaheim. Edwards ran Anaheim Public Utilities for 13 years prior her appointment as Anaheim City Manager in July 2013. Edwards is the first woman to lead the nation's largest municipal utility. During the reception Southern California Gas Company (SoCalGas) President & CEO Dennis Arriola presented Edwards with a L.A. Dodgers hat to welcome her back to Los Angeles. Pictured from left; LADWP General Manager Marcie Edwards, SoCalGas President & CEO Dennis Arriola and The Valley Economic Alliance President & CEO Greg Krikorian. Photo by Sam Perez, SoCalGas.
You can't be in healthcare, unless you care-was the theme amongst Human Resources professionals from hospitals in the greater San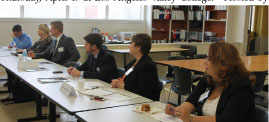 Fernando Valley at the Hospital HR Dialogue on Thursday, April 17 at Los Angeles Valley College. Hosted by The Valley Economic Alliance and Regional Higher Learning Consortium, HR professionals shared employee training best practices, critical employee still sets and how to access state dollars to reduce incumbent training. Hospitals discussed & shared what positions they have difficulty finding qualified applicants, nursing training programs for new staff, specialties and qualities they look for in an employee, Employment Training Panel and funding. Deborah Gac from Providence Health & Services shared that the most important skills and qualities they look for in applicants are organizational values, communication abilities, customer service skills, grace under pressure, resourcefulness, collaborative and tech savvy. "We aim to build a person, rather than build a skill," Gac added.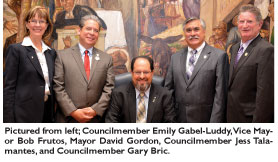 Dr. David Gordon was elected the new Mayor of Burbank on May 1, 2014, during City Council's annual reorganization meeting. Mayor Gordon replaces Emily Gabel-Luddy who served as mayor for the past twelve months. Council also elected Bob Frutos to serve as Vice Mayor. Mayor Gordon was elected to the Council in 2006, and re-elected in 2009 and 2013. He and his family live in Burbank, where he first arrived in the 1980's and established an optometry practice, which he still manages today. Vice Mayor Frutos, who has lived in Burbank for twenty years, begins his second year on City Council and has worked in law enforcement for 26 years. Pictured from left; Councilmember Emily Gabel-Luddy, Vice Mayor Bob Frutos, Mayor David Gordon, Councilmember Jess Talamantes, and Councilmember Gary Bric.
City of Glendale and the Governor's Office of Business & Economic Development hosted the Glendale Small Business Seminar on May 6 at the Pacific Community Center. Senator Carol Liu, Assemblymember Mike Gatto, and the California State Board of Equalization (BOE) co-hosted the seminar for small businesses and strategies for success in today's economy. Seminar topics included using tax credits to finance your business, traditional & non-traditional business financing, marketing, new permit holder training, audits and compliance, recordkeeping & tax tips, government subcontracting, access to capital and so on. Entrepreneurs looking to grow their businesses and learn more about complying with state and federal tax laws had their questions answered by experts from the BOE, the Employment Development Department, the Franchise Tax Board, Internal Revenue Service, Small Business Administration, and the Small Business Development Center.
A major fire broke out Saturday, May 3, destroying the San Fernando Valley Rescue Mission and its emergency shelter, vehicle fleet,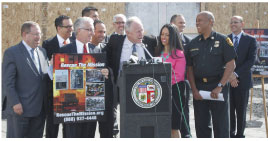 clothing warehouse & food pantry. The fire displaced 26 people, including 18 children, and decimated $250,000 worth of donated items meant for Valley families and the Mission's thrift stores. Los Angeles city Councilmembers Paul Krekorian, Bob Blumenfield, Tom LaBonge, Paul Koretz, Nury Martinez, Felipe Fuentes and Mitch Englander were present at the press conference and donated $2,500 each to rescue the mission. Nearly a dozen community and corporate partners, including NBC Universal, ABC/Disney, LA Outdoor Advertising Coalition, Westfield, the Gas Company, Vons and Wal-Mart donated $75,000 total toward the campaign. Donations can be dropped off at The Sun Valley Thrift Store located at 9007 Lankershim Blvd. Sun Valley, CA 91352. Cash donations can be made at www.rescuethemission.org.
On March 3, 2014, the San Fernando City Council selected Brian Saeki to be the next City Manager. Saeki brings more than 17 years of local government and economic development experience including Economic Development Manager in the City of Arcadia, Assistant

City Manager and Community Development Director in the City of Rosemead, and most recently as Community Development Director in the City of Downey. "I'm honored to have been selected by the San Fernando City Council. The Council's professionalism and commitment to make San Fernando a quality community makes this a very enviable place to be City Manager. I'm looking forward to getting to know the community and help the City identify new economic development opportunities to continue the City efforts to make San Fernando a great place to work, visit, and live." Saeki assumed his new position with the City of San Fernando on March 25, 2014.