By: Michael Cooney


The Cool, Practical, Fun Mini-Crossover
As I pulled up to a stop sign in Monrovia, a school crossing guard came up to the HHR and exclaimed "That's coooool!" Well, I'd have to agree. It is cool. It's also fun, economical, and extremely practical considering its cavernous storage area.
On top of that, this HHR came equipped with OnStar, available on many GM vehicles. It's worthy of your consideration and a potential life-saver—all the more so as we get along in years.
OnStar offers almost too many services to delve into here, but I'll cover a few of the more important. Operating by means of cell phone transmission towers, it works wherever your cell phone does, plus some areas your phone may not.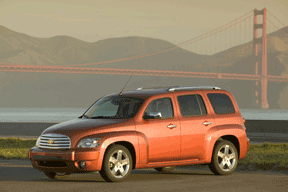 For instance, OnStar activates automatically if your air bags are deployed, signaling your location so staff can talk to you (through your radio speakers) and so help can be sent. In such an emergency, the signal sent out is of a higher strength than the regular communication signal, so you are more likely to get help even if you are out of normal cell phone range.
Having OnStar is also like having your own concierge. You can hit the talk button and speak directly with an operator to get directions to a particular address or to nearby restaurants, gas stations, banks, and so on. Neat. And if you get locked out of your car, just call OnStar and they can unlock it for you by satellite transmission. Presto!
As for the HHR itself, there's a lot to like in the way it's packaged. Its front grille and body styling take cues from the 1949 Chevy Suburban, and that styling interpretation continues within, as you'll notice in the instrument cluster and on other bits and pieces. I liked it. Retro and friendly at the same time.
Its interior is well thought out and comfortable. The seat fabric was of nice quality and feel. Very handsome. Everything seemed perfectly positioned. It's an inviting place to spend time. My only complaint was the exceptionally wide A-pillars (the pillars at each end of the windshield) which hindered the forward-side view a bit.
One surprise was the comfortable ride combined with decent handling. When pushed through tight curves, it cornered surprisingly flat, making it actually fun to drive at a quick pace.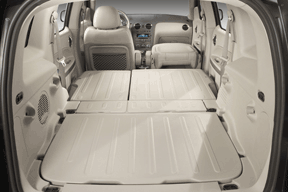 Then there's that extremely practical, large storage area when seats are folded down. You could just about camp out in there. And it's nice and flat—a well planned design.
This loaded HHR LT version stickered under $23,000 including OnStar installation and one year of service. With 4-speed automatic and optional larger 2.4L engine, this HHR was EPA rated at 23-city and 30-highway mpg. I averaged 24.7 mpg in my mix of city, freeway and mountain driving.
For a truly fun, practical, and yes, "cool" car to put in your driveway, consider the HHR. And don't forget to ask about the OnStar option. It could literally save your life.