Thanks to advances in electronics, many people are using their credit and debit cards to buy everything from groceries to gas to gifts. Unfortunately, the more people swipe their cards, the more susceptible they are to fraud. When you're out doing your shopping, consider some commonsense advice to help keep your identity, and your card's buying power, your own.
Identity theft occurs when someone steals, then uses or sells your personal information, including your name, address, Social Security number, credit card information or other identifying information. Identity thieves use a variety of methods-some sophisticated, some pretty simple-to gain access to your personal information. These can include rummaging through your trash, stealing your wallet and purse, stealing your mail (including bank statements and credit card statements, pre-approved credit offers, new checks and tax information) or using various e-mail "phishing" techniques-that is, posing as a legitimate business to try to trick you into supplying personal information.
"Even though there has been a lot of consumer-education information made available, in our experience a majority of consumers remain extremely concerned and not completely knowledgeable about identity theft," said Robert Boxberger, senior vice president of Credit Risk for the credit card division of Washington Mutual bank. "Every consumer can take some very basic, but effective, actions to prevent identity theft from occurring in the vast majority of instances."
Can you completely prevent identity theft from occurring? Sadly, the answer is no. Even if you take precautions, chances are some unscrupulous individuals will develop some type of fraudulent scam to try and defraud you. By applying common sense, however, and being extra aware, you can help stymie identity thieves.
---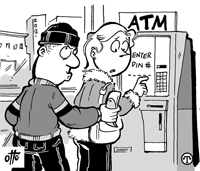 It's important to protect yourself when using
credit or debit cards at banks, stores and online.
---
Here are five easy fraud-prevention tips for your holiday shopping protection:
• Watch out for "shoulder surfers"-individuals who look over your shoulder or aim a camera-enabled cell phone in your direction as you key in your PIN or pull out your credit or debit card at ATMs, banks or stores.
• Use your free hand to block the view of your other hand and the keypad as you punch in your PIN when making a purchase or cash withdrawal.
• Place your credit card receipts in your wallet instead of your shopping bags. This will make it more difficult for a pickpocket to grab receipts out of your bag when you may be otherwise distracted.
• If you shop online, don't provide your credit or debit card information to any business unless you are certain that the merchant is legitimate.
• Beware of phishing scams that attempt to solicit your personal information by posing as legitimate Web sites. Actual banks and credit card companies will not contact you by e-mail informing you of problems with your account and requesting your account number or other personal information.
To help keep tabs on your personal information, it's wise to get a copy of your credit report at least once a year. This is one way to find out if anyone has opened up an unauthorized account in your name. Requesting your own credit report has no affect on your credit score and it can be obtained free of charge once every 12 months at www.annualcreditre port.com. Many consumers who are concerned about identity theft and fraud, however, elect to buy copies of their credit reports more often.
"It's an unfortunate reality that consumers today have to be more vigilant than ever in protecting themselves," adds Boxberger. "But by simply applying a little extra caution, you can help ensure that all identity thieves get is the cold shoulder."
AVOID IDENTITY THEFT….
Many identities are stolen from the U.S. Mail. A recent study found that, taken together, there is more fraud involving phone bills, utilities and bank accounts than credit-card fraud. The Justice Department has compiled a free resource describing 23 identity-theft scams and how to avoid them. For a copy go to pueblo.gsa.gov